You have /5 articles left.
Sign up for a free account or log in.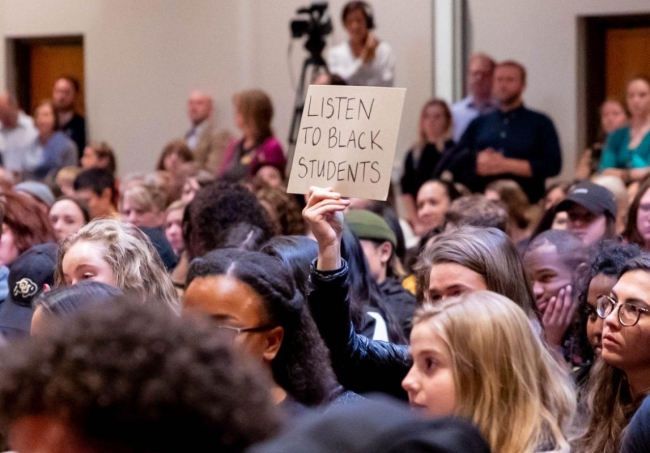 Casey Paul/CU Independent
Students at the University of Colorado at Boulder are pushing for campuswide changes in how underrepresented groups are treated at the institution after a white woman harassed a black student in a university building and called him racial slurs.
Although university officials confirmed that the woman was not a student or otherwise affiliated with the university, students from diverse backgrounds say the incident reflects larger racial tensions at CU Boulder and is just the latest example of sometimes open antagonism directed at students of color and members of other minority groups.
The woman, identified by campus police as 33-year-old Rebekah Krajacic, repeatedly harassed and directed racial slurs at the student and also got into a verbal altercation with the student's classmate. Their interaction occurred in the university's Engineering Center on Oct. 6, according to a university press release. The racist harassment was caught on video by a student and was shared with campus police. Krajacic, whom Chancellor Philip DiStefano described as a "transient," has been seen sleeping on campus.
"I've been in this country for the past five years and have been attending this school for the past three years, and I must say this is the first time I've experienced such a thing," the student targeted by Krajacic ​said in a statement released by the university. "It was obviously disturbing and uncomfortable."
Krajacic was arrested on Friday, the Daily Camera reported. Police will pursue misdemeanor harassment charges, said Candace Smith, assistant vice chancellor for strategic media relations. The university will also move to "exclude" her from campus, which means she will be cited for trespassing if seen there again, said police spokesman Scott Pribble.
"This is considered a bias-motivated harassment charge, potentially, but does not rise to a hate crime level, because there was no violence, threat of violence or property damage with the words that were being used," Pribble said.
The CU Boulder Black Student Alliance issued a list of demands to university administrators the day after the incident urging them to work with groups that represent students of color to address and prevent racism and discrimination on campus. The BSA also called on the university to provide more training for all members of the university that emphasizes supporting students of color and review reporting procedures for racist incidents.
The university currently requires online training for faculty and staff on racial discrimination upon hiring and then subsequently every three years, Deborah Méndez Wilson, a spokesperson for the university, wrote in an email.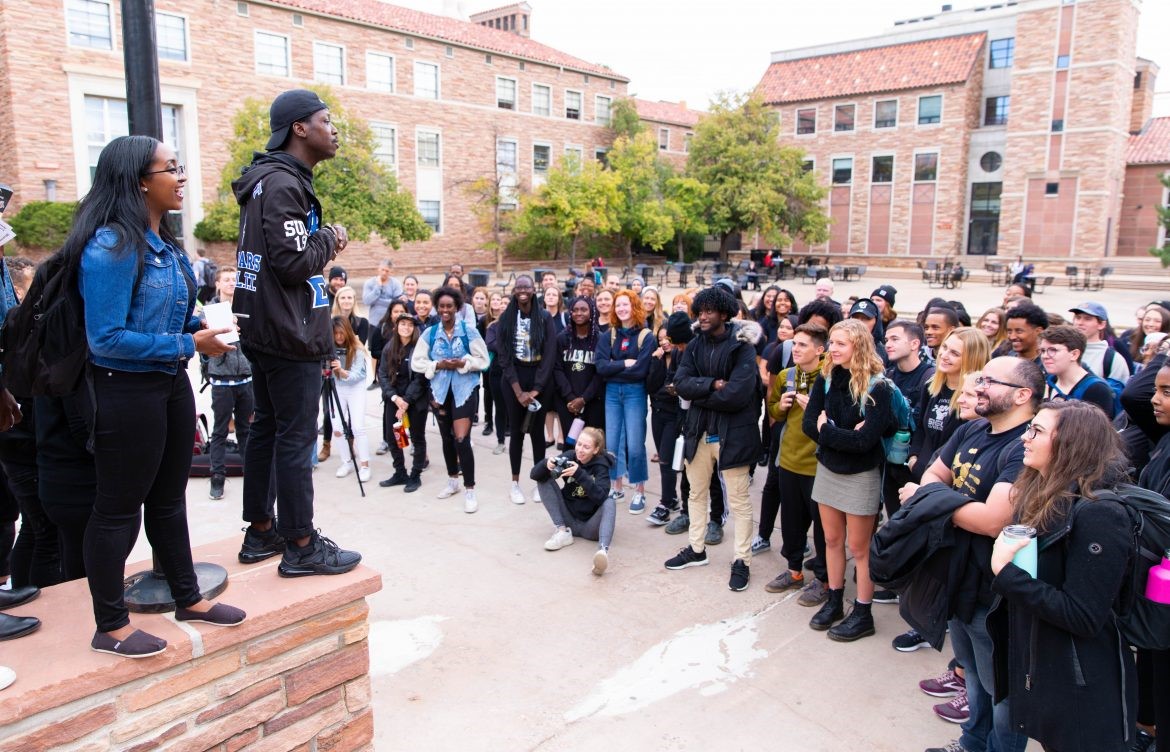 The BSA also criticized DiStefano and CU system president Mark Kennedy's initial responses to the harassment and said the university was "centering politeness over the safety of its students."
Kennedy tweeted a statement condemning the incident the evening it occurred and was criticized by students for calling Krajacic's language "racially hostile" and not "racist," although he did condemn "racist and threatening behaviors" in a subsequent tweet.
"He is going to have more things to say about the broad topic of the climate on our campuses … just not immediately," said Ken McConnellogue, the CU system's vice president of communications. "We have ongoing conversations about ensuring an inclusive learning environment for everybody."
DiStefano said the issue would first be addressed at the Boulder campus before Kennedy gets more involved. The BSA said in a statement Wednesday that it and other student groups across the CU system would hold Kennedy responsible for taking action as well.
In a note to CU Boulder students, faculty and staff on Oct. 7, DiStefano called the harassment "unacceptable" and said racism "will not be tolerated." He condemned the incident in a planned State of the Campus address on Oct. 8.
"We talk a lot about shaping tomorrow's leaders, but sometimes tomorrow's leaders shape us -- and this is one of those times," DiStefano said during the address. "This racist incident reminds us of who we are as a campus community and the need for us to be vigilant in defending our values -- and each other -- on a daily basis."
Alex Wolf-Root, the spokesperson for the CU Boulder Committee on Rights and Compensation, the graduate student union, said DiStefano did not adequately address the racial incident in his speech. Among the many students in attendance, a group of nearly 50 students dressed in all black as a protest statement walked out of the room after DiStefano stopped addressing the incident. Wolf-Root said these students have to deal with racism on campus all the time and that the CRC stands in solidarity with people of color.
"What was surprising was that it was caught on camera, not that it happened," Wolf-Root, who considers himself an ally to people of color, said of the harassment incident. "We hear that CU is not friendly to nonwhite students in many degrees."
The incident also got attention off campus -- the local chapter of the NAACP of Boulder County tweeted out a local news article describing the events and encouraged followers to "help fight racism here at home."
María Martinez, a third-year graduate student who is Latina, said she has experienced systemic racism by faculty and that it was exhibited in the material they choose to teach or not teach. She is studying equity, bilingualism and biliteracy in the School of Education and is a member of the Graduate Students of Color Collective, an interdisciplinary group.
"I'm glad that through social media we're able to become more aware of these things happening on a daily basis … but at the same time, there's also a tendency to think that these are isolated events, and we make spectacles of these events by highlighting them, when this is just one incident of many incidents that happen every day," she said. "They happen at different levels, but sometimes remain silent and hidden from everyone in the community."
Students at a campus protest on Wednesday told the Daily Camera that racist comments such as those made by Krajacic are not out of the ordinary, but the incident made them feel unsafe on campus.
"I hear words like this all the time getting thrown out there, and it's just not publicized," said Kailynn Perkins, a freshman. "I hope the school listens to our voice and realizes this is a problem and it's way more serious than they're treating it."
Max Bailey, a senior, told the newspaper that the university's response to Sunday's incident lacked authenticity.
"It didn't seem like there was a real intention to support us," Bailey said. "Moving forward, the administration has changed how they responded, and I don't know if that's from a genuine place of care or outside pressure."
DiStefano defended the university's response and noted that he also issued a statement on the night of the incident. His statement was not detailed because campus police were in the initial stages of their investigation, he said.
"I believe our students are very passionate about this issue," DiStefano said. "The first memo was general because we didn't have information, and I wanted to be sure we were accurate in what we were telling the campus community."
These initial responses by administrators did not quell the anger on campus. Walkouts and protests were held last Tuesday and Wednesday and attended by a racially diverse group of students, as leaders from the BSA and student government met with university leaders, including DiStefano, to discuss proposed policy changes.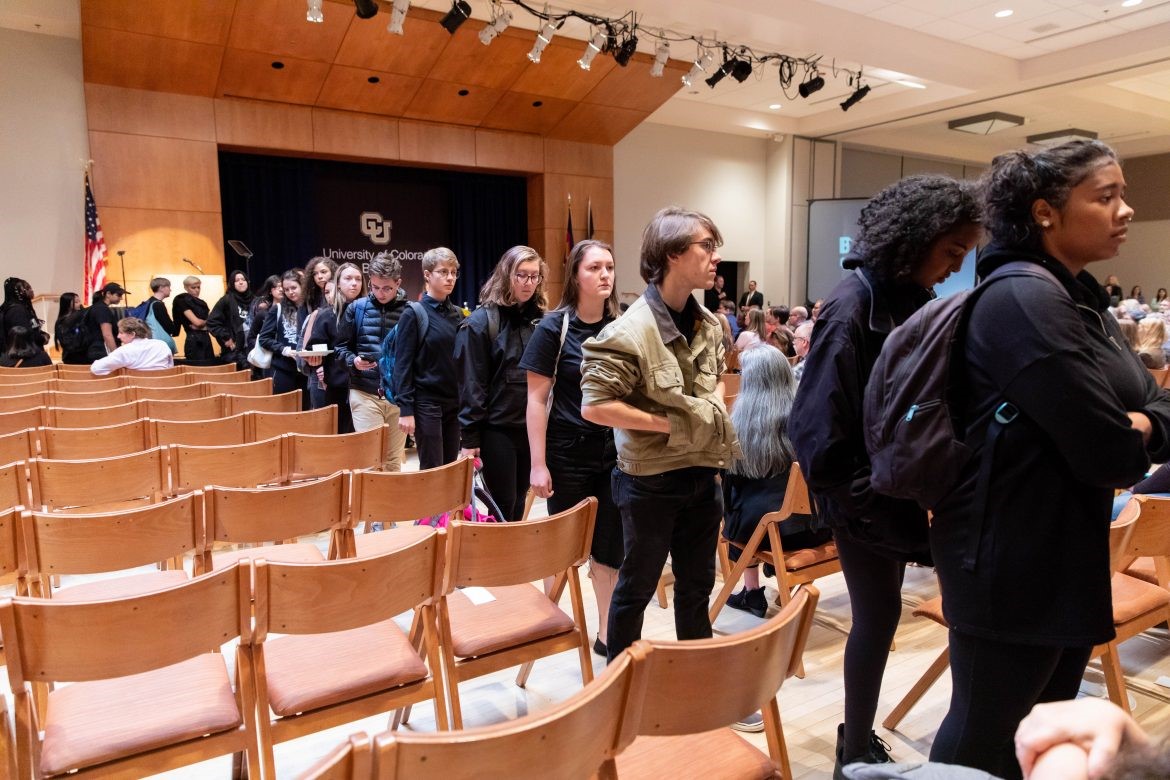 Ryan Passas, a senior and student body president, said she's never seen the campus so energized and unified around a single issue.
"The BSA leadership has been absolutely instrumental in mobilizing people in making this an inclusive movement, making sure people's voices are heard and addressing this issue as if it affects all students of color and all students in general," Passas said. "This is something we talk a lot about, and racism occurs every single day -- especially against students of color who are on a primarily white campus."
Although some white students have shown their support for students of color by participating in the walkout and protest, their level of involvement is difficult to determine when a majority of the university's population is white, Martinez said.
"When I attended the events, there were white students present, and I'm very happy that they were there to hear and get informed about what is happening in our community," she said. "But if we think about how the majority of the population is white -- the majority of the students at these events were students of color."
Only 2.7 percent of undergraduate students enrolled at the campus are black, 12.7 percent are Hispanic or Latino and 8.7 percent are Asian, while 67.3 percent are white, according to the university's fall 2019 Undergraduate Profile. Passas, who is white, said students of color tell her racism is often expressed on campus as microaggressions -- they are asked "What are you?" or "Can I touch your hair?" Sometimes students of color are the only nonwhite people in their classes, she said.
"This moment is important to acknowledge that we all have the responsibility to address racist behaviors … I'm pleased that the administration is working to address the systemic oppression that happens at our school, not just this specific incident," Passas said.
According to a BSA statement posted online Wednesday evening, conversations between students and university leaders revolved around improving reporting methods for incidents of racism and "restructuring campus policies that impact communities of protected classes."
"The BSA and other student organizations are grateful that Chancellor DiStefano and university leaders agreed to come to the table to address these issues," a joint statement released by the university said. "We recognize that there is a lot of work to do in creating equitable reform for students impacted by underlying systemic failures built into the institution."
J. Fitzgerald Pickens II, president of the BSA, declined to comment further.
There was no discussion of concrete policy changes, but the student groups and administrators, as well as the university's Office of Diversity, Equity and Community Engagement, agreed to set up future meetings to discuss specific policy changes and expansion of resources for all students -- not just students of color, DiStefano said. Some areas discussed were campus safety and mental health, and how the university could provide assistance to students who have safety concerns, stress or anxiety following the Oct. 6 racist harassment incident, DiStefano said.
"What I was most pleased about was that the students were very respectful," DiStefano said. "They want change and they're willing to work with us to change policies. That's a very positive step in the right direction."
Passas agreed that, so far, efforts by students to address racism on campus have been​ treated with urgency by administrators.
"They have given this issue the severity it deserves, and we are very happy to see students and administration working together to address this for everybody in our community," Passas said.