You have /5 articles left.
Sign up for a free account or log in.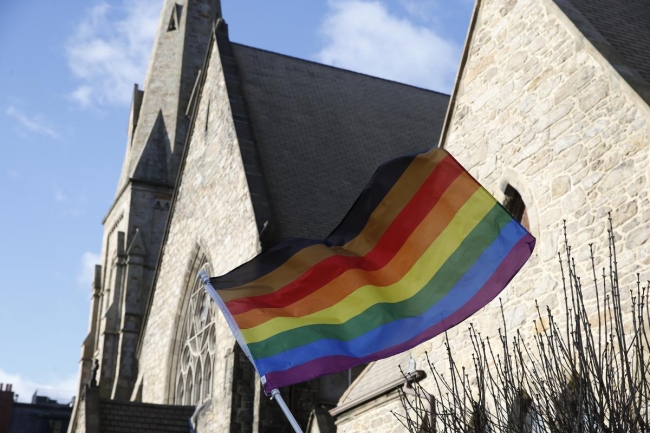 Photo by Jessica Rinaldi/The Boston Globe via Getty Images
Leaders of Methodist colleges welcomed a recent proposal to split the United Methodist Church as a possible resolution to conflict over whether to remain affiliated with the church after it moved last year to strengthen prohibitions on the ordination of LGBT individuals and the performance of same-sex marriages.
The proposal to separate the church, announced on Friday, would allow for the spinoff of a "traditionalist Methodist" denomination while enabling a new U.S. regional conference of the UMC to repeal the LGBT-related prohibitions.
Methodist colleges and seminaries broadly oppose the restrictions on LGBT clergy and same-sex marriages. Three institutions, Baldwin Wallace University, Randolph College and the University of Mount Union, formally disaffiliated, describing the church's stance on LGBTQ issues as incompatible with their own institutional values of inclusion and nondiscrimination.
If the separation protocol is approved at the church's general conference in May, it will likely prevent other colleges from also disaffiliating from the UMC, Methodist college leaders said.
"There is widespread hope among Methodist college presidents that this proposed resolution will be adopted," said Rock Jones, president of Ohio Wesleyan University. Ohio Wesleyan previously requested a postponement of its decennial site visit by the church's University Senate -- a condition for continued affiliation -- "in hopes that a resolution would be achieved that would preserve the United Methodist Church as a fully inclusive institution and thus one that Ohio Wesleyan would wish to remain affiliated."
"This proposed resolution seems to do that," Jones said.
Jones added, however, "The anxiety that I hear is among presidents who are in regions of the country where the majority of Methodists would choose to not remain United Methodist but move away with the traditionalist denomination, and presidents of colleges in those regions are feeling an anxiety that the rest of us don't feel as strongly."
Methodist college leaders have publicly spoken in a unified voice in calling for more inclusive policies within the church. The 93 college presidents in attendance for a meeting of the National Association of Schools and Colleges of the United Methodist Church (NASCUMC) in January 2019 unanimously issued a statement opposing the church's adoption of new restrictions on LGBT+ clergy and same-sex marriage.
The leaders of the 13 theological schools also unanimously opposed the restrictions, which were approved by a vote of the church's general conference last February.
"The presidents feel like the action of February 2019 put us in a situation of making a determination regarding affiliation with the church," said Scott D. Miller, president of Virginia Wesleyan University and of NASCUMC. "The feeling was that the policies and the penalties that were associated with it really were a form of discrimination, and United Methodist higher education stands for inclusiveness and fair treatment of all."
Miller said that in addition to the three institutions that disaffiliated, at least 12, including his own, put their relationship with the church on hold in hopes there would be an amicable resolution at this year's general conference.
At their meeting on Jan. 4, 85 NASCUMC college presidents signed a statement endorsing the creation of a U.S. conference of the Methodist church, which is one aspect of the proposed separation protocol. Miller said this step would "bring renewed hope to our schools for a future United Methodist Church that supports the kind of open and inclusive environment that's so vital for our campuses and the work that we do to shape principled leaders of the future."
"A lot of things can happen between January and May," when the church's general conference meets, Miller said. "But we are very much encouraged and supportive of the protocol that came from the mediation."
Miller noted, however, that if a separation is reached, the church that emerges will be smaller, and Methodist-affiliated colleges will likely receive less financial support from the church.
And while it's clear that Methodist higher education institutions, as a whole, support more inclusive church policies, Miller said about five Methodist-affiliated institutions may choose to depart the United Methodists and affiliate with the "traditionalist Methodist" denomination after its establishment.
"While the presidents of those institutions are strongly aligned with us on the NASCUMC statement and position, they understand that some of the characteristics of their own institutions may lead them to be with the new denomination," Miller said.
It's unclear if some colleges that disaffiliated in protest of the church's stance on same-sex marriage and LGBT clergy may choose to affiliate with the United Methodists again in the future.
A spokesman for Baldwin Wallace, Shawn Smith Salamone, declined to comment on whether the university might choose to reaffiliate if the proposed separation becomes a reality. She noted the absence of a final decision.
"At the current time, we continue to believe that we can best support our values and the active faith lives of our community as an independent university," Salamone said.
W. Richard Merriman Jr., president of the University of Mount Union, which also disaffiliated, said it's probably too early for the university's Board of Trustees to consider reaffiliating with the United Methodists. However, he said a university committee on ministry and mission will recommend next week to the board that Mount Union rejoin NASCUMC, the Methodist college group. NASCUMC member presidents voted on Jan. 4 to open membership to colleges that are formally affiliated with the church as well as colleges that have been historically related to the church.
Meanwhile, Southern Methodist University, which in November amended its bylaws to make clear that its Board of Trustees, and not the church, is the university's sole governing authority -- the subject of an ongoing lawsuit -- said it would not revisit that action.
"The Board of Trustees' action was taken to bring SMU into compliance with state law and our own policy of nondiscrimination," said Dianne Anderson, a spokeswoman. "SMU is committed to maintaining close connections with the church, including all branches of Wesleyan theology."
Presidents of two theological schools -- which train future United Methodist Church ministers -- praised the proposed separation plan as good for Methodist higher education.
"The younger generation will not want to continue to be involved in a church that continues to discriminate against the LGBQIA community," said the Reverend Kah-Jin Jeffrey Kuan, the president of Claremont School of Theology. "This will allow for our seminaries to focus on our mission in training leaders regardless of human sexuality."
Lallene J. Rector, the president of Garrett-Evangelical Theological Seminary, said the institution's LGBT students "have been very anxious about whether they would have a place to serve as ordained persons in the church."
"I am so heartened by the prospect of getting this resolved in a way that is respectful and that leaves the United Methodist Church intact with a capacity to keep educating and being part of higher education without this horrible blanket of worry," she said. She added that the reputations of church-affiliated colleges have been hurt by the ban on gay marriage and ordination.
"With regard to the higher education institutions, in particular, I do think that if indeed this process plays itself out, such that the protocol winds up being adopted and implemented … that would likely stem most further action regarding disaffiliation by educational institutions," said Mark Hanshaw, associate general secretary for higher education at the General Board of Higher Education and Ministry, a UMC agency. He said specific details still need to be ironed out.
"The protocol provides some broad-brush guidance around the future structure of the denomination, and there will need to be a lot of work done to further define the details that flesh that structure out, so we will have to see how that plays out," Hanshaw said. "But I will say that the denomination has really been divided over the issue of human sexuality since 1972. That was the year in which exclusivist language related to LGBTQ individuals was inserted into the Book of Discipline.
"This issue has really been a point of contention within the denomination ever since, and it has taken a lot of energy out of the denomination, energy that could have been well spent in other places," Hanshaw said. "So I don't think anyone is excited or happy about the prospect of seeing a portion of the community break away. However, I think on almost all fronts there is a desire to try to figure out how to move past this issue in a way that can allow individuals to continue to work together and to continue to support projects that have been important to the denomination, like educational accessibility."