You have /5 articles left.
Sign up for a free account or log in.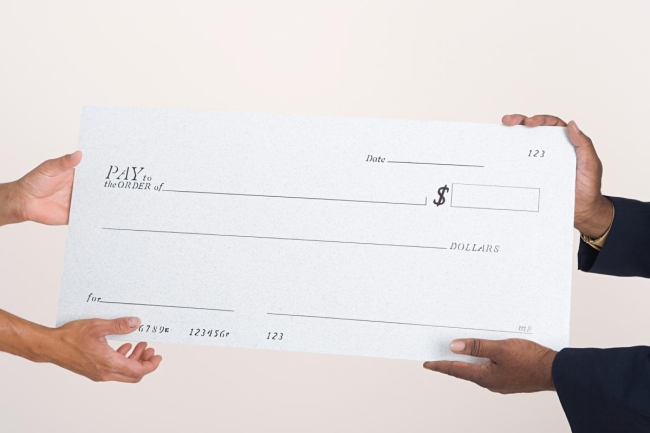 Getty Images/Image Source
Donations to institutions of higher education grew for the 10th consecutive year, but the gifts were not evenly distributed among the types of institutions, and totals were inflated by some large gifts from mega-donors like Michael Bloomberg.
The latest report on voluntary giving to higher education, from the Council for Advancement and Support of Education, or CASE, found that donations in the 2019 fiscal year reached $49.6 billion, an all-time high since the numbers have been reported. The total is up 6.1 percent from $46.7 billion in 2018. Donations grew by 7.2 percent between 2017 and 2018. The report covered information from 914 institutions. Of those, 872 institutions also reported information in fiscal year 2018.
However, a single gift of $1.2 billion from Michael Bloomberg's foundation to Johns Hopkins University skewed the results somewhat, said Ann Kaplan, senior director of the study. Other Bloomberg entities beyond his foundation brought his total contribution to $1.8 billion. Without those gifts, overall giving slowed down and just kept pace with inflation.
This slowdown "doesn't necessarily mean anything in the long term," Kaplan said.
Research and doctoral institutions saw the largest increase in gifts of all major categories the survey tracked, with a 10-percentage-point increase from last year. Baccalaureate institutions saw a decrease in giving. But public baccalaureate institutions saw a 29.5-percentage-point increase, meaning private baccalaureate institutions -- which receive the majority of the donations in this category -- experienced a 5.4 percent decrease. Specialized, master's and associate institutions also saw decreases.
One anomaly was the institution that raised one of the largest gifts: Emory University in Georgia. While Kaplan said Emory is usually far up the list, it's not often quite so close to the top as it was this year. In contrast, several normally top-raising institutions saw almost no increases, and even declines.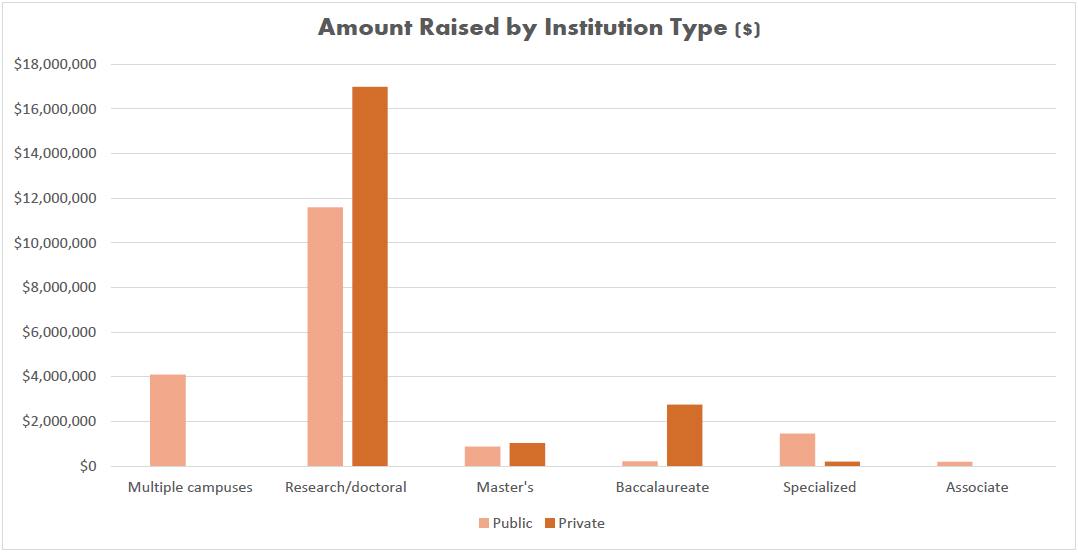 Across institutions, alumni and nonalumni individual giving decreased, while giving from foundations and other organizations increased.
Giving this past financial year was likely greatly affected by the Tax Cuts and Jobs Act, the tax reform legislation Congress passed at the end of 2017, Kaplan said. Historically, tax reform has initially repressed giving, only for it to rebound, she said.
"Philanthropic impulse isn't governed by tax law," she said.
Those whose giving is most likely to be affected by the new tax law include donors who no longer qualify for certain deductions, like the interest deductions on home mortgages. Those people may now "bundle" the amounts they give each year into larger lump sums to give every few years, as large charitable gifts could qualify them for itemization, according to the report.
These households gave relatively more in fiscal year 2018, the report states, which is reflected in how much individual giving rose that year. This past fiscal year could be the start of a break before they again give a large bundle farther down the road.
Another strategy would be to contribute to donor-advised funds in bulk and then direct that fund to pay out the donations on an ongoing basis, Kaplan said.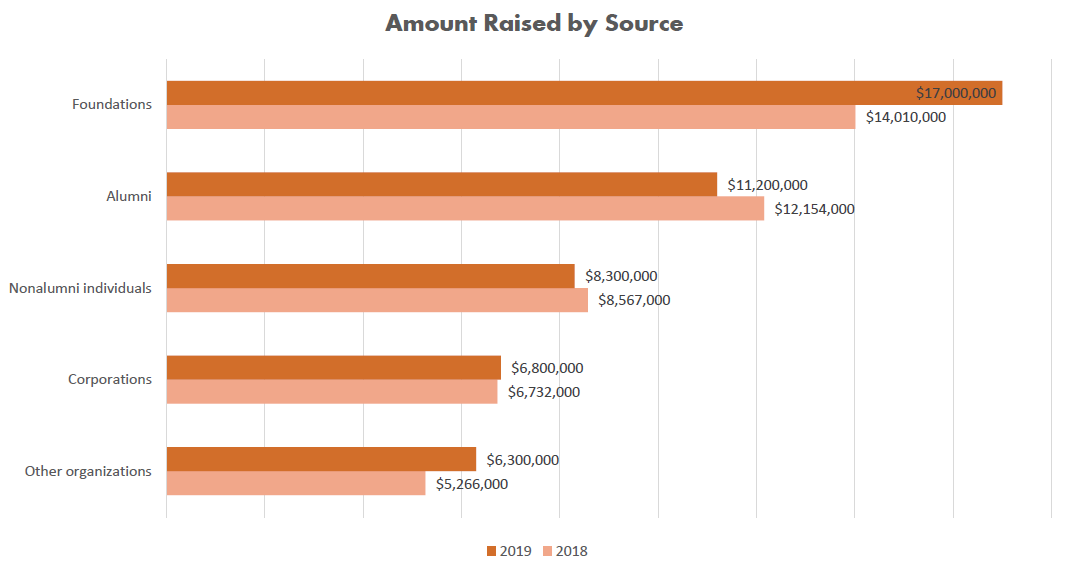 Other trends noted in the report include an increase in giving for capital purposes at twice the rate of growth in giving to current operations. Capital-purpose gifts go mostly toward restricted endowments, as well as property, buildings, equipment and loan funds. Kaplan said they tend to increase when the economy is strong.
Capital-purpose gifts tend to fund basic education at institutions more so than current operations, as 37 percent of what goes toward endowments gets passed to financial aid, 19 percent goes toward academic departments and 15 percent contributes to faculty and staff compensation. Current-operations gifts tend to go toward research.
"If it weren't for endowments, basic operating expenditures would struggle," Kaplan said.
Bloomberg's gift to Johns Hopkins wasn't the only big-dollar donation in 2018. Seven institutions reported eight single donors who each gave $100 million or more, according to the report, which is similar to last year's number of big-spending donors. Kaplan said higher education doesn't usually see many nine-digit gifts each year.
Over all, Kaplan said this was another "good year with some mixed results," though these data don't give away much on the future.
"Each year is in its own microeconomic climate," she said.