You have /5 articles left.
Sign up for a free account or log in.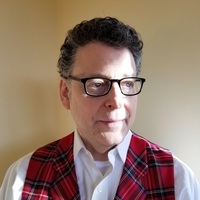 When Maurice Berger, the chief curator and research professor at the Center for Art, Design and Visual Culture in Maryland, died recently from complications of COVID-19, his shocked and heartbroken co-workers said they not only lost a dear friend and colleague but a brilliant thinker and collaborator whose scholarship and curated exhibits and projects crossed disciplines and challenged conventional thinking about race and representation in the visual arts.
Fellow visual artists, university administrators and department heads at the University of Maryland, Baltimore County, where the center, commonly referred to as CADVC, is housed, took his death very personally. But the passing of Berger was also felt elsewhere around the country, by others in his field at other universities, museums and galleries, and particularly among academics who considered him not only a groundbreaking scholar-curator-art historian but a socially conscious public intellectual whose work greatly influenced how the visual arts are presented, viewed and taught.
In the wake of the coronavirus pandemic, as well-known and obscure Americans are being felled by the deadly disease and their lives publicly celebrated or quietly overlooked, Berger's death is just the latest example that academe has not been spared in the public health crisis.
Berger died on March 22; he was 63. Four days later, on March 26, Michael Sorkin, an architect and director of the graduate urban design program at the City College of City University of New York, also died from coronavirus, according to The New York Times. He was 71 and, like Berger, an influential thought leader who promoted social justice.
Two days after Sorkin's death, William B. Helmreich, a popular New York City sociologist and scholar of Judaism, also died from coronavirus at age 74. He was a distinguished professor of sociology at City College and the City University of New York's Graduate Center, The New York Times reported.
"For us and for our students, these tragedies represent a time to reflect on lessons learned," said Freeman A. Hrabowski III, president of UMBC. "One of those lessons that Maurice truly believed is that we are all connected, that humankind is connected and that we need to talk about how we're connected."
Earlier last month, Stephen Schwartz, a longtime professor of pathology at the University of Washington School of Medicine in Seattle and a pioneer in the field of vascular biology, passed away after being hospitalized for a COVID-19 infection. He died on March 17 and was 78.
"This has become all too real," UW president Ana Mari Cauce said on Facebook, where she described Schwartz as "larger than life" and superimposed a photo of him in front of Mount Rainier, according to The Seattle Times.
From Deaths to Life Lessons
The current reality of sudden illness and death is already prompting higher ed leaders to contemplate how to negotiate and manage such uncharted waters as well as how to restart and move forward once the waves of expected deaths slow down or end.
Foremost on Hrabowski's mind is ensuring that students understand the significant social and economic implications of the pandemic and are able to place them in a domestic and global context.
"How do we prepare the next generation for life after this crisis? How do we get them ready as future leaders?" he asked. "We in the academy should be preparing to have these conversations with our students all the time."
Hrabowski said Berger "clearly believed [in] the importance of using evidence to present arguments and following that evidence wherever it leads and solving critical problems through connecting disciplines."
Berger also had "a passion for engaging with others through his work," Hrabowski said, and felt it was important for exhibit audiences "to have the opportunity to have robust and honest conversations with people of different backgrounds that cross religion, political, racial and all types of other boundaries. His work was a stimulus for those kinds of conversations, to ask hard questions and question our own assumptions."
Berger was also "a path-breaking art historian and curator," his colleagues wrote in a long and laudatory appreciation. "Maurice was a fierce advocate for social justice and an exceptionally caring human being. Through his exhibitions and writings, he compelled us to look honestly at issues of race, inequity, and their representations in visual culture." 
Tom Moore, UMBC's director of arts and culture, said Berger curated several major traveling exhibits for the Center for Art, Design and Visual Culture, including the widely celebrated For All the World to See: Visual Culture and the Struggle for Civil Rights. It is considered one of the longest traveling exhibitions and was seen in major urban centers such as Baltimore, Chicago and New York City, as well as smaller locales, such as Waconia, Minnesota, or Moscow, Idaho. It is scheduled to travel to an additional 45 venues through 2023.
"He was keenly aware of the power of those exhibitions," Moore said. Berger wanted every exhibit "to be a safe place in which each of us can discover and examine our own relationships to race and inquiry. He was happy to talk to people going through the exhibit, but he was more interested in them going through it and coming to their own perceptions, to really look inside and examine how our experiences shaped our perceptions of the world in ways that we were not aware. He wanted his work to touch anyone and everyone."
Symmes Gardner, executive director of the center, said Berger underwent "a major transition" during the course of his career. He went "from talking about the beauty of art objects and their relationships to the culture and moved into a larger dialogue about how to perceive culture and how to change a culture to become more humane and empathetic."
A Lasting Impact
Berger's death, and his life as a gay, Jewish man whose worldview was shaped in part by growing up in a Manhattan housing project with mostly black and Puerto Rican neighbors, has been widely covered in recent days. Remembrances have been posted by the Jewish Museum in New York and other venues, and an outpouring of tributes and condolences have been shared on Twitter and Facebook.
The lives and deaths of the other academics have also been similarly noted.
Sorkin was one of the most outspoken public intellectuals in the field of architecture, The New York Times reported: "A polymath whose prodigious output of essays, lectures and designs, all promoting social justice, established him as the political conscience in the field."
The Times article described him as "a natural radical who saw architecture through a political and social lens," and who "advocated for housing and green energy rather than prisons and malls, and for citizens to participate in the design of their own urban destinies."
Helmreich was the author of Against All Odds: Holocaust Survivors and the Successful Lives They Made in America (Simon and Schuster, 1992), which the Times described as "a data-driven study that highlighted the survivors' resilience and achievements and contradicted the commonplace image of them as irremediably traumatized."
Although he wrote or edited 18 books, Helmreich will likely be most remembered for walking nearly every single block of New York City. He chronicled that experience in his book The New York Nobody Knows: Walking 6,000 Miles in the City (Princeton University Press, 2013), which describes his four years of "walking virtually every city block, all 121,000, totaling 6,163 miles," according to the Times. He chatted with strangers during his walks and unearthed "a cornucopia of colorful city sidelights; he even once approached members of the street gang the Bloods outside a Bronx housing project and asked them where he could buy one of their red jackets."
The walks seemed a fitting enterprise for a person described as "curious, gregarious and inexhaustibly energetic" -- a sad irony not lost on Jonathan Sarna, a professor of American Jewish history at Brandeis University and a friend of Helmreich.
"He was in the wrong profession for the coronavirus," Sarna told the Times. "Willie loved talking to people. Social distancing was not in his nature."
Schwartz, of the University of Washington School of Medicine, was also an adjunct professor there in the departments of bioengineering and medicine.
He was variously described by friends and colleagues as a researcher, mentor, advocate and a character. One friend wrote on a tribute page that Schwartz was "an iconoclastic individual" and "brilliantly unconventional" and characterized him as "a guy who loved to argue over beers," according to local news outlet SeattlePI.com.
"It's a lot to wrap our minds around, isn't it?" Kathy O'Dell, associate professor of art history and museum studies at UMBC, said of the recent deaths.
O'Dell, who is also a special assistant to the dean for education and arts partnerships, was a longtime friend of Berger. They both attended the Graduate Center of the City University of New York, where she earned her doctorate in art history a year after Berger earned his. She described Berger as being way ahead of his time.
"His greatest contribution is that he was doing public history long before people were using that term," she said. "He was teaching us about microaggressions before that term was even used."
O'Dell said Berger personified "all of that good, solid, intellectual, important stuff all tied up and wrapped with a bow of kindness, caring and generosity." 
He will be a tough act to follow and that's assuming anyone would even want to try, she said.  
"​There are a lot of footprints for someone to be stepping into,' she said, "My goodness he was prolific, the books, the articles. There's just so much that will provide touchstones to generations of students."
Said Moore: "I think there are some people in the world who, on some level, really are not replaceable. Maurice's work as scholar was truly groundbreaking. No one had addressed these issues and I'm not sure that anyone is engaged in these questions on the level that Maurice was."