You have /5 articles left.
Sign up for a free account or log in.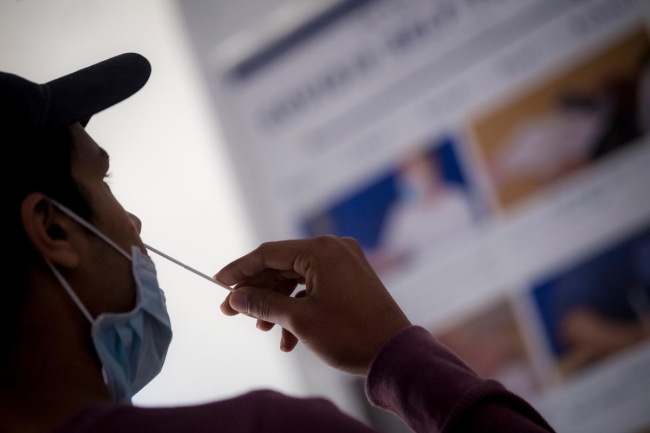 Erik Jepsen, UC San Diego
Last month, a group of college presidents and higher education leaders in Connecticut considered the question of how the state's governor should handle the return to campuses of thousands of college students in the fall. Some obviously will need to be quarantined because of fevers, coughs or other signs of COVID-19. But what worried the college leaders most were infected students who feel fine but still could spread the disease.
What was critical, they told Ned Lamont, the state's Democratic governor, was to test even asymptomatic students as they returned to campus to keep those who are infected away from other students, faculty and campus workers. The public health experts they spoke with had said identifying asymptomatic students with the disease was essential, the members of Lamont's advisory committee on reopening campuses said in a report.
The risk was so strong, the group felt, it also recommended that while colleges waited for the test results to come back, all students should be quarantined in their rooms.
Many higher education leaders, including Senator Lamar Alexander, the Republican from Tennessee who chairs the Senate's education committee, have said testing is key to not only containing the spread of the virus as campuses reopen but to reassuring students it's safe to come back.
Despite the concerns of Connecticut college leaders and warnings from public health officials, including the top infectious disease expert at the University of California, San Diego, no state thus far has required colleges to test everybody.
One factor in why states aren't going that far is cost. As colleges move up their fall schedules, with many now planning to reopen in August, they face uncertainty about how many tests will be available as well as an evolving view of who should be tested.
But some state officials are skeptical that testing asymptomatic students would do much good. According to one study, tests often wrongly show that asymptomatic people are not infected by the virus. And asymptomatic students, after testing virus-free, could be sloppy with social distancing or wearing masks.
So far only a handful of states have plans for how their public and private campuses should reopen. Others still are working on them.
For example, rather than advising colleges to test all students upon their return, Oregon's public health and higher education agencies are advising colleges to test only those with symptoms and to quarantine those who test positive for at least 10 days. Virginia, another state that has issued reopening guidance, is telling campuses to consider testing those with symptoms or those who have been in close contact with people who might be infected. As was the case with several other states, including New Jersey in the plan it released last week, Colorado's higher education office is expected to give campuses wide latitude with their testing plans.
Connecticut appears to be the closest to requiring broad campus testing. But Lamont hasn't yet embraced his committee's recommendations, in part, his spokesman said, because the thinking around who should be tested is evolving.
The state initially prioritized testing those with symptoms who had been around someone with the virus. But as tests become more widely available, the state is now considering which people without symptoms should be prioritized for testing, including those who work in nursing homes and prisons, people in low-income and densely populated communities, or who are members of ethnic and racial groups that have disproportionately contracted the virus.
A spokesman for the state's higher education system said the state is "revisiting the testing guidelines" as the state figures out how colleges fit in to Connecticut's plan for testing.
Are Tests Even Helpful?
Dr. Tom Jeanne, the deputy epidemiologist for Oregon, is skeptical of the value of testing all students because of a study published in the Annals of Internal Medicine last month by researchers at Johns Hopkins University's medical and public health schools. The study found that tests used to rule out whether someone is infected often are wrong.
Examining previous studies, the researchers said that four days before symptoms start, the tests in all cases wrongly find that people who are infected but show no symptoms do not have the disease. The accuracy of the tests improve closer to the time fevers or other symptoms show up, the study said. But even the day before the symptoms appear, two-thirds of the time the tests incorrectly show that asymptomatic people who are infected are free of the disease.
That means that as campuses try to figure out which students to quarantine, there's a good chance tests will say that sick people are healthy. And that in turn could give those who test negative a false sense of security that they won't get other people sick or that they have the antibodies to keep from getting infected.
"A negative result does not meaningfully increase confidence that a person is not infected," Jeanne said. "And just as importantly, a negative result does not mean that a person has any period of protection when they are not or cannot be infected."
And because the state has only so many tests, he said it doesn't make sense to use them on asymptomatic people when the results likely will be wrong.
Though the Johns Hopkins researchers disagree, Jeanne said, "Testing people without COVID-19 symptoms is generally not useful. We don't recommend asymptomatic testing for screening, including for return to work or school."
Instead, Oregon's June 12 guidance, like that from other states, advises colleges to take a number of other steps to guard against an outbreak, from disinfecting buildings to encouraging people to wear masks.
Also citing the Johns Hopkins study, Steve Clark, an Oregon State University spokesman, said the institution believes there are better ways to test than screening everybody as they come back to campus. Testing all students is "valuable only at that moment," he said, noting that students who do not have the virus when they are tested could get it the next day.
Over the past four weekends, health-care workers and students at Oregon State have been randomly testing people in three nearby communities to monitor whether the prevalence of the virus is rising or decreasing.
The university plans to do the same this fall, at its campuses in Corvallis and Bend and its marine sciences center on the Oregon coast. In white tents that will be set up, medical staff in protective gowns and masks will be asking students, faculty and staff members to voluntarily swab their own nostrils, with the aim of taking 4,000 samples a week.
The idea is to be able to track whether the virus is spreading. If it is, the university might need to go back to offering only online classes again, Clark said.
Angie Paccione, head of Colorado's higher education department, also said there's a better approach than testing students when they return to campus. Requiring that level of testing for all the state's institutions, even only those with residence halls, doesn't make sense, she said, with the state having colleges in urban areas as well as rural areas, where few cases currently exist.
Rather, the state's upcoming guidance will focus on advising campuses to limit the spread of the virus through innovative steps like encouraging students to stay in small groups. She likened the idea to families staying close together during the pandemic.
The University of Colorado, Boulder, for instance, is planning to test all students who live on campus, as well as those in at-risk populations, said Joshua Lindenstein, a spokesman for the university. But it will also cluster together students with the same academic interests or courses when assigning rooms in residence halls.
It will also try to create "academic cohorts" of 25 to 150 students who will be assigned to the same courses, to limit interactions.
However, a handful of institutions are planning to test all or nearly all students, including UC San Diego. The university set up testing stations this spring where it tested 1,578 students, or about a third of those who remained on campus. No one tested positive, and each test took seven minutes on average to administer, said Christine Clark, a university spokesperson. The university plans to expand the program to everyone when it reopens.
Dr. Robert Schooley, head of UC San Diego Health's infectious disease division, said tests are imperfect in identifying asymptomatic people who are capable of spreading COVID-19 because the disease may not have spread to the nose when swabs are taken, and because while the tests' accuracy is improving, it is not perfect.
But even if tests lead to identifying and quarantining only a small percentage of asymptomatic people who carry the virus, that still means those students will not spread the virus to three or four others.
"Nothing in life is perfect," Schooley said. "If you only want to do things that are perfect, you might as well just stay in bed."
The Johns Hopkins researchers who did the study in question are among those who disagree with not testing all students because of limitations with the tests.
"I couldn't disagree more," said Justin Lessler, an associate professor at the Johns Hopkins Bloomberg School of Public Health, and one of the study's authors.
Even if testing doesn't identify all asymptomatic people who carry the disease, he said, it does identify some who need to be quarantined. And colleges can follow up with those who were in contact with infected people.
"It's still incredibly useful in identifying positive people," Lessler said.
It's true that those who test negative could become infected soon after. "But it was never the case that you do one test and be done with it," he said, citing a need for follow-up tests.
Those who test negative could have a false sense of security, he said. But that's why it's important to tell those who've tested negative for the virus that "it isn't carte blanche to go out and behave as if you're uninfected," said Lessler.
In its recommendations to Lamont, the Connecticut advisory group, which included the chief of staff for the Connecticut State Colleges and Universities and presidents of the University of Connecticut and the University of New Haven, said residential colleges pose a risk, with students "sharing bedrooms or suites, bathrooms and dining halls, and living 24/7 on the campus in sustained close contact."
Recognizing questions about the accuracy of the tests, the group also recommended a second round of tests within seven to 14 days to detect those with a false negative test.
"This is a really complex issue," said Crystal Watson, a Johns Hopkins environmental health assistant professor. In addition to false negatives, tests can also show false positives, finding that a person has coronavirus when they do not.
In deciding whether to test students without symptoms, she said, a consideration is that some healthy students might be quarantined in their dorm rooms if their test wrongly says they have the virus.
The tests also can't be relied on to decide whether a student can come out of isolation, because they might wrongly find that students are virus-free when they are still infected.
Like many institutions, the State University of New York system hasn't announced its testing strategy. Frederick Kowal, president of United University Professions, the union representing the system's faculty and staff members, worries about adequate testing, particularly to protect workers at residence halls.
"It's very important when you're bringing in thousands of students to know what the status of students is," he said.
Chris Sinclair, president of United Academics, which represents faculty members at the University of Oregon, noted that the institution hasn't yet revealed its plans for testing. That hasn't eased concerns of a subgroup in the union who are working on the union's position on reopening the university.
"So far that group keeps circling back to the idea that it is really a bad idea to open the campus in the middle of a pandemic," said Sinclair, a mathematics associate professor.
The Funding Challenge
The Connecticut advisory group had called for the state to find funding to do 200,000 to 300,000 initial tests, saying the cost would be "a considerable burden on institutions, especially tuition-dependent private colleges and universities, that are already coping with substantial incremental costs and revenue shortfalls arising from the pandemic."
It's unclear how the state will pay for the testing. Stephanie Reitz, a spokeswoman for University of Connecticut, said the state guidelines and its ability to pay for testing remain "in progress."
Uncertainty over the availability of the tests and funding was a factor in the decision by Ralph Northam, Virginia's governor, to not require colleges to test all students when they come back to campus. Instead, Northam, a Democrat and a pediatric neurologist, told colleges they "should consider testing those with symptoms and those who have come into contact with those who might be infected."
That's consistent with the Centers for Disease Control and Prevention guidelines for campuses, said Julie Grimes, a Virginia health department spokeswoman. But "limited resources [are] a consideration," she said.
"A college or university may choose to test all their students," she said. "But that would require the institute of higher learning to have adequate supplies of testing materials and could afford to pay for those testing materials."