You have /5 articles left.
Sign up for a free account or log in.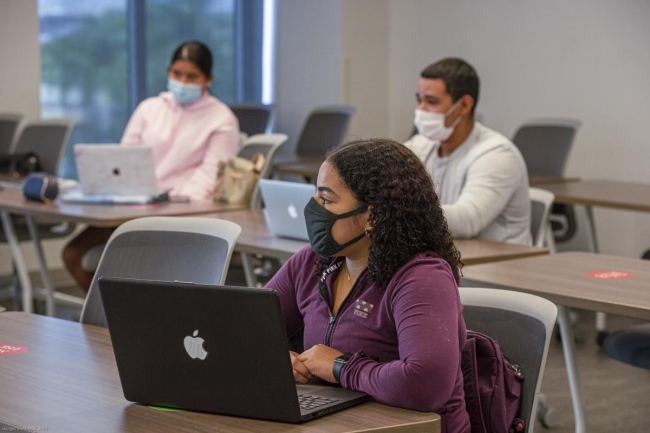 Courtesy Miami Dade College
Miami Dade College is one of the most respected -- and largest -- colleges in the country. Founded as a community college, it continues to offer those programs and now also offers a range of four-year programs. It's a commuter college, so it doesn't rely heavily on revenue from room and board fees. And it's located in Miami-Dade County in Florida, a county that's been a hot spot within a state that's also been a hot spot for COVID-19 until recently.
So why is the college reopening for in-person classes?
This is what the faculty union wants to know. What the students who created and signed petitions to stop the reopening of campus and the county itself want to know. And what public health experts want to know.
Flexibility for Students
Lenore Rodicio, executive vice president and provost for the college, repeatedly emphasized flexibility as a main driver for reopening campuses starting Sept. 28 for in-person classes.
"We recognize that our students all have different preferences for how to learn," Rodicio said, referring to several surveys Miami Dade has conducted.
The college in late August surveyed the 15 percent of students who chose not to enroll for the fall semester. One of the questions asked the students what learning modality they preferred. About 73 percent, or 1,762, said they preferred face-to-face instruction.
A more recent survey asked the same students what learning issues have been a challenge since the transition to remote learning, and 51 percent said a preference for face-to-face instruction.
The college, which serves more than 100,000 students and more minority students than any other institution in the country, suffered a sharp enrollment decline this fall due to the coronavirus pandemic. As of Oct. 8, enrollment was down 14 percent compared to last fall.
There has been an uptick of students enrolling for the college's second eight-week term, though, Rodicio said.
About 6,000 people are coming to Miami Dade's eight campuses each day, though the breakdown of staff versus faculty versus students is unknown, she said. The college requires everyone to wear face masks, has set up hand-sanitizing stations and is screening temperatures at campus entrances. The college isn't doing its own testing, but it is providing referrals to community sites if students arrive at campus with a high temperature or symptoms. Students, faculty and staff are instructed to report positive cases on the college's website.
Between Sept. 21 and Oct. 1, 39 students reported testing positive for COVID-19.
Students have the flexibility to return, if they prefer in-person instruction, but they can also remain remote, Rodicio said. There are about 35 percent more online classes this semester than in the spring.
The college serves many Latinx and low-income students, two of the populations already hard hit by the pandemic. But Rodicio said those students are having the hardest time learning online.
"A lot of it has to do with the inability to have technology at home," she said. "There's a number of different challenges."
Second-language learners have also said it's difficult to learn a language in an online format, she said.
​"We're not in an ideal situation right now," Rodicio said. "This is the most viable way for us to offer that brick-and-mortar experience for those who want it and allow for people to remain remote."
Faculty members, however, don't have the same flexibility as students. Faculty members with pre-existing conditions, or those who care for someone with a pre-existing condition, can get permission to teach remotely with a doctor's note. That provision was solidified in a memorandum of understanding for which the faculty union bargained. More than 600, out of a total 700 full-time and thousands of part-time faculty members, are still working remotely, Rodicio said.
Limited Options
Some students have voiced opposition to the decision to resume in-person courses. An online petition calling on Miami Dade not to reopen garnered more than 18,000 signatures, many from students.
​Matt Jiménez, a sophomore studying business administration, reached out to the college's administration directly with his concerns. He felt ignored by the response.
"They were like, 'Oh wow, this is so cool, you made a petition' but then ignored me anyway," he said.
Inside Higher Ed reviewed the responses from the administration. Rodicio wrote that there are other students who want to study in person, and that Jiménez can work with the Honors College to ensure he can stay remote for his classes. Eric Hoffman, the Honors College dean, wrote that he appreciated Jiménez's concerns and referred him to the campus director for help with scheduling.
But Jiménez and his friends have encountered issues trying to change their schedules so they could keep learning remotely.
"The issue is, for many classes that are not that popular, there are very limited options," he said. There is often only one honors course offered, for example, so it's by luck that the professor kept it virtual, he said.
Jiménez also worries because he has friends who are going out every weekend. Most of the people he knows aren't taking the virus seriously, he said. They do want to return to in-person classes, but he doesn't think that's a good reason to reopen.
"I don't think people should prioritize flexibility over safety," he said, adding later, "I don't think this is a question of what people want."
Dexter Rabin, a sophomore psychology major at the college, thinks it's too early to return to campus. Rabin is also president of the Florida College System Student Government Association, though he didn't speak on behalf of the association.
"When I heard that we were going back to campus, me and a lot of other students I know were worried about what the procedures would be," he said. "I'm worried about going back to campus. I haven't been back yet because my family is asthmatic."
Still, Rabin doesn't think it's wrong for the college to try to open up. But he believes students and professors should have the option to not go to campus.
"It's a very few number of people who want to go back," he said, adding that "everybody wants to [go] back under normal circumstances."
But not when they have to wear masks, stay six feet apart and worry.
Laura Santos, co-editor in chief of Urbana Magazine, the college's literary magazine, also thinks reopening was a poor decision.
She is enrolled at the Eduardo J. Padrón campus in Little Havana. It's very small, she said. Most classes are on higher floors in the buildings, and there are only three elevators -- not large enough to truly socially distance -- in the buildings. The sidewalks and hallways are also narrow, she said.
If she attended class in person, she'd have to arrive at least 20 minutes early to wait for an empty elevator, she said.
Rodicio has said that only two people can take an elevator at any time.
Santos isn't going back to campus this semester, but some of her friends have had to do so. They've told her that the stickers indicating where people should sit or stand are already falling apart.
​But she's not surprised, she said. She expected Miami Dade to reopen due to Governor Ron DeSantis's push for reopening and President Donald Trump's July threats to cut funding if schools don't reopen.
"No one wants their funding to be cut, even if they're putting students at stake," Santos said. "At the end, if you get sick, the college doesn't have to pay for the hospital bill."
Santos understands the argument for providing flexibility. But it's not actually happening, she said. She had to drop a chemistry class because the professor wasn't going to let people attend remotely.
Thankfully, he gave enough hints that she dropped it before the drop with refund date passed. The college officially announced it was reopening after that date passed.
"It's very enraging," she said. Students who dropped classes after that wouldn't get a refund (about $360 for a three-credit course) and would have to take withdrawal grades.
"A lot of people are trapped in their classes right now," she said. "Many didn't notice whether their class was blended or not [when they registered]."
Most of her friends who have returned are very worried, she said. But many couldn't afford to withdraw. Santos also has heard that some students have found ways to bypass temperature checks by entering through areas that aren't supervised.
Santos also thinks the college is being insensitive.
"It's hypocritical, because they're saying students want to go back, but when there are a lot of students saying no, they don't listen to that part," she said. "I would love to go back, but I also would love not to get coronavirus."
The college needs to think about its students, many of whom may not have health insurance because they aren't employed or they are undocumented. Immigrant families also tend to live in intergenerational households, she said, which puts more people at risk.
"Is it for the sake of learning? Because there is a way to bring learning to the virtual world," Santos said. "You cannot tell me that it doesn't exist, that you cannot provide a similar experience that is enriching at the same time. They just don't want to waste money on it." ​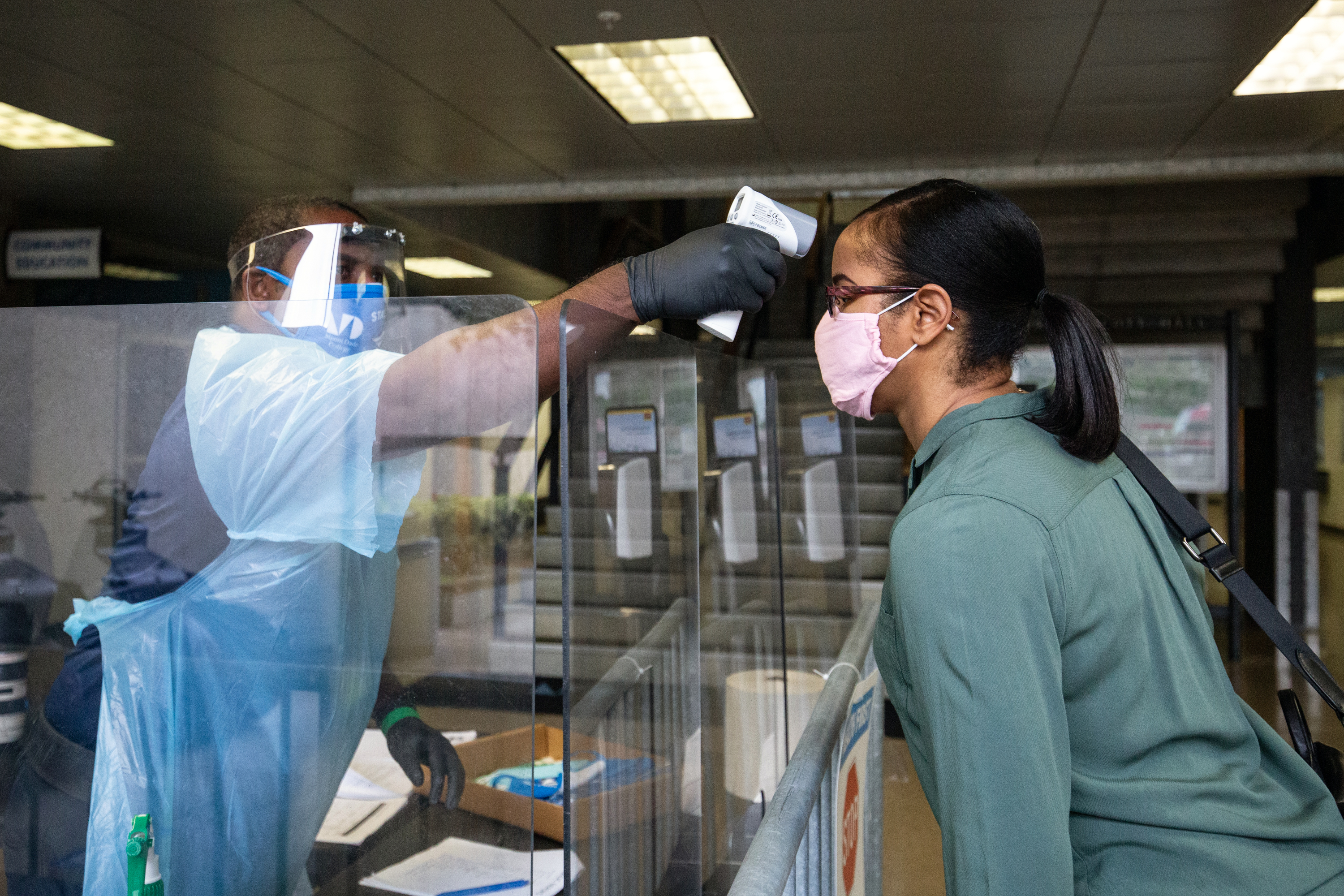 ​'Recipe for Disaster'
Reshma Ramachandran's mom is a professor at Miami Dade, and she's worried.
Ramachandran is a medical doctor and a National Clinician Scholars Program fellow at the Yale University School of Medicine. Her mom was just recently notified that one of her students reported tested positive for COVID-19, she said. The email alert, according to Ramachandran, did not include any information about what protocols her mom should take.
Ramachandran's mom declined to talk with Inside Higher Ed out of fear for her job security.
Ramachandran is concerned that the college is not doing enough to keep people safe. The local prevalence is likely going to increase, she said, as restrictions in Miami and Florida have recently loosened. The college's website offers little detail about protocols, she said, and there's no mandatory testing. Temperature and symptom checks aren't good indicators of whether someone has COVID-19, as many people who get the virus are asymptomatic, she said. It's also not likely that self-reporting will capture everyone who gets sick.
The college has said it has put in place all safety recommendations from the Centers for Disease Control and Prevention.
Her mom has been buying her own personal protective equipment, like masks, for about $20 per week, she said. Ramachandran has sent her an N-95 mask, a gown and goggles.
"On top of that, it's a commuter school," she said. "The possibility that someone is infectious, going to school and then going back to the community is just very troubling."
Her mom teaches students who work at hospitals, which Ramachandran said is a "recipe for disaster."
Her mom also lives with her dad, who is over 65 -- a population that has a higher fatality rate for COVID-19. But her mom was unable to get an exception to teach remotely, as she does not have a pre-existing condition.
"I worry that it's just a matter of time," Ramachandran said. "We're putting a lot of people at risk by opening like this."
Miami Dade's reopening plan has a lot of the basics -- social distancing, cleaning protocols, a contact tracing protocol map, rotating cohorts of students coming in person so they can distance in a classroom -- but it's missing two big pieces, according to experts: testing and transparency.
"At least random testing would be very important," said Jay Wolfson, distinguished service professor of public health, medicine and pharmacy at the University of South Florida. Wolfson is also associate vice president for health law, policy and safety, and senior associate dean for health policy and practice at the Morsani College of Medicine at USF.
"[Testing] is the canary in the coal mine, and you have to have several canaries depending on how deep you're digging," Wolfson said. "Universities and colleges are ideal locations for rapid testing on random or selective people."
About 40 percent of people who test positive for coronavirus don't have symptoms. Colleges need nearly real-time data to make decisions, he said.
"We explored the acquisition [of] rapid testing on-site over the summer so that we would have a location in the north and south ends of the county, at our North and Kendall campuses," said Juan Mendieta, director of communications for the college. "However, we did not find the right fit based on cost, process and speed. We do have places students and employees can be referred, and many testing sites remain open and operational in Miami-Dade County."
The other issue is reporting the number of cases. The college doesn't have a dashboard or report of cases on its website. It collects the information and provides it upon request. The union fought to have it publicized but had to compromise with receiving regular reports.
Rodicio said the information is already public and they didn't feel it was a good use of time, technology and expense. Mendieta added that, because Miami Dade is a commuter school, it's not necessary.
Wolfson disagrees.
"One of the tremendous issues we face in management of this disease is public trust and transparency," he said. "People have a right to know about the environments they are going into for long periods of time so they can protect themselves better. Without that transparency and without routine publication of data, the presumption is that we don't have a problem. That's not fair to students, to faculty or to the community.
"This is a community issue -- it is not a private issue that is subject to the decision of some administrators to release information, especially in a public university and public system," he continued.
​'Scary for All of Us'
Some faculty don't feel that going onto campus to teach is any better than teaching remotely right now.
Only one or two students are showing up for in-person classes in some cases, said Elizabeth Ramsay, president of the faculty union. Faculty then have to split their attention between those attending remotely and those in the room.
Ramsay believes the motive for Miami Dade's decision is political.
"Our governor is closely aligned with the president," she said. "He has ordered the reopening of the state … They're trying to force people back into these really hazardous situations."
The college has always been a jewel to its community, Ramsay said, but for the first time, it may be a bad actor.
"We teach science, but apparently our governor and our president didn't take those classes," she said.
Brooke Bovee, assistant professor of English at Miami Dade's North campus, opposes the decision to reopen because she thinks it's too soon.
She's going onto campus two days per week to teach. The largest number of students who have shown up physically so far has been two. Less than half of her students are eligible to come in, anyway, because they have to use rotational schedules due to the size of the classroom.
"One of the real challenging parts is when there are students in the physical classroom and the rest of them are at home," she said. "It's teaching two classes at the same time."
In the classroom, a camera hangs from the ceiling and makes her a tiny figure, she said. At home, she can be close to her laptop webcam, which also has a better microphone, and make eye contact with students.
Bovee would prefer the college listen to the science and keep students home for now and instead spend money on better supporting them for online learning. The college is offering emergency aid to students, as well as other scholarships, during this time.
"I was really proud of the college in the spring when we went remote," she said. "They prioritized getting students laptops, Wi-Fi and connected them to resources like food drives."
She's proud to work at the college, as are many of her colleagues, because of the good work they do in helping more vulnerable students succeed.
"This decision, I feel, is worrisome," she said. "It's scary for all of us."