You have /5 articles left.
Sign up for a free account or log in.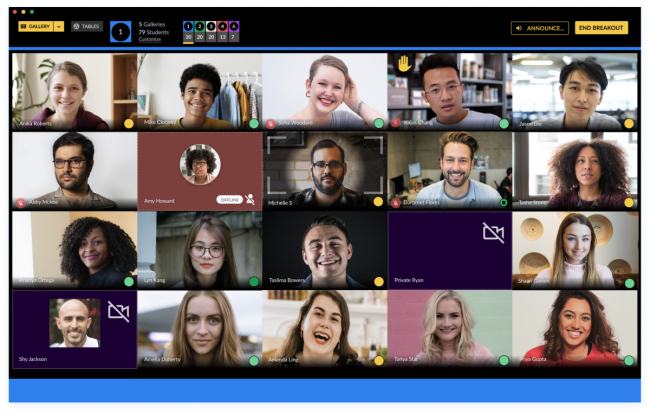 Ed-tech innovators and investors haven't missed faculty members' widespread frustration with current videoconferencing tools' limitations -- frustration that's only grown as the global pandemic drags on and many classes continue to be delivered online or in hybrid formats.
Start-up company Engageli announced today that it has raised $14.5 million in seed funding to develop a new platform for remote instruction. It's an impressive sum for a company that is just a few months old.
Unlike popular videoconferencing tools such as Zoom, the Engageli platform will be built from scratch specifically for higher education use. It will "seamlessly integrate hybrid, synchronous and asynchronous online instruction all in one platform," said Dan Avida, CEO of Engageli.
Avida's wife, Daphne Koller, is one of the co-founders of online learning platform Coursera. The couple were inspired to build Engageli after witnessing their daughters' transition to remote learning in March due to COVID-19.
"I noticed that they weren't always fully focused on the teacher or class and were clearly missing the social engagement, so we decided to find and recommend to their school a better tool than the conferencing software that the school was using," said Avida.
After reaching out to their contacts with expertise in online learning, Avida and Koller found nothing on the market they considered a good solution and decided to create their own.
Avida and Koller co-founded Engageli along with Serge Plotkin, a Stanford University emeritus professor, and Jamie Nacht Farrell, a former executive at 2U and Trilogy.
At first glance, the Engageli platform has the familiar hallmarks of most popular videoconferencing tools. Attendees' faces are organized into a grid format, and participants have the ability to message each other and virtually raise their hands while a presenter is speaking.
Where Engageli starts to diverge in capability from generic videoconferencing platforms is an ability to host breakout sessions without participants or presenters having to leave one conversation and start another in a new conferencing session.
A simple indicator gives instructors the ability to monitor the activity levels of students in different groups, called tables. Green demonstrates a student is active and engaged in conversation. Red suggests they may have dozed off.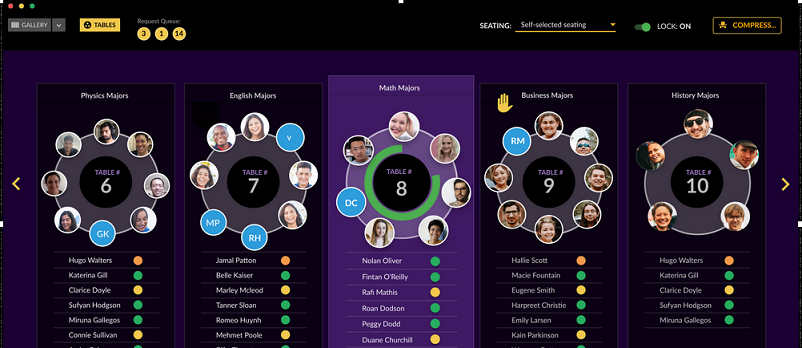 Polls and quizzes will be built into the platform and will be easy for instructors to customize, Avida said. The platform is browser-based, meaning users won't have to download an app to access class.
To assist students who may be learning in environments where internet speeds are slow, the Engageli platform takes all of the individual video feeds of participants and combines them into one feed. That has the effect of reducing bandwidth requirements.
The company is beginning a pilot program with university partners this week. It is not disclosing which institutions are participating at this time.
Avida wouldn't rule out targeting markets beyond higher ed in the future.
"For now, we are focused on higher ed institutions," he said. "While our features were designed specifically for college and university students and instructors, they are also suited for other learning environments."
Strong demand exists for a Zoom-like asynchronous learning platform designed specifically for higher education, said Joshua Kim, director of online programs and strategy at the Dartmouth Center for the Advancement of Learning and an Inside Higher Ed blogger.
The Zoom platform's beauty is its "combination of simplicity, a well-designed user interface and the quality of its audio and video connections," Kim said. "If Engageli has built a platform that retains the elegance of Zoom while offering features that are designed for synchronous online learning, then I think there will be strong interest across the higher education community to kick the tires."
The story of Avida and Koller's frustration with their children's remote learning experience driving the creation of Engageli is very similar to the story behind ClassEDU, a newly launched company from former Blackboard CEO and co-founder Michael Chasen.
Chasen announced last month that his company would build an add-on for Zoom called Class for Zoom that would make the platform more suitable for educational use. Like Avida and Koller, Chasen started the company after seeing the limitations of the tools his children were using to learn remotely. ClassEDU raised $16 million in seed funding.
A hole exists in the market for videoconferencing tools designed for higher ed use, said Phil Hill, a partner at MindWires Consulting and publisher of the blog Phil on Ed Tech. At the same time, a large amount of money is waiting to be invested in ed tech.
That reminds Hill of a previous period of high enthusiasm among ed-tech investors -- but also a lot of hype from companies in the space.
"It feels a little like 2009 all over again," Hill said.
While both Engageli and Class for Zoom will likely compete for the same customers, they demonstrate very different approaches, Hill said.
"ClassEDU has the momentum of Zoom behind it, but Engageli is being designed from the ground up," he said.
From a strategic perspective, Hill believes it makes more business sense to build a completely new product than to create an add-on for an existing product. But it is riskier. Customers may find it easier to adapt to a Zoom plugin than an entirely new product.
But Hill also pointed to the funding already raised by Engageli. Given the pedigree of the team, he said that if "anyone can do it, they can."