You have /5 articles left.
Sign up for a free account or log in.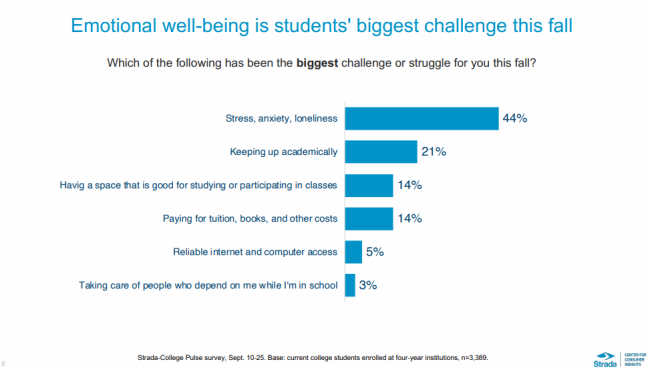 Uncertainty, instability and self-doubt have been common themes in the lives of college students during 2020 as their education and career plans shift due to the coronavirus pandemic.
These were the general feelings expressed by about 450 college students and recent alumni who responded to a small, open-ended survey conducted by a pair of 2020 graduates, and reiterated on a larger scale in a new nationally representative survey of 4,000 undergraduates by the Strada Education Network, a national organization focused on improving education and career pathways. The various responses show that heightened stress and anxiety -- whether about achieving academic success, finding future employment or paying for the next meal -- is currently dominating the student psyche.
Livia Morris and her twin sister, Julia Morris, who graduated in the spring from the University of California, Davis, gathered anecdotes through a qualitative survey in July about how students are faring during the pandemic. The survey started as a proposal for a spring Stanford University fellowship program and morphed into an independent study project. It offers an unfiltered picture of the personal struggles and collective angst held by students and recent graduates whose college and career plans have been completely upended by the pandemic.
The respondents frequently alluded to mental health challenges they're experiencing. Some students shared stories of dropping out of four-year institutions to attend local community college or taking a year off because of their strong "aversion to online learning," Julia Morris said. Recent graduates voiced worries about increased unemployment, the recession and the potential loss of job opportunities and wages in their respective industries, she said.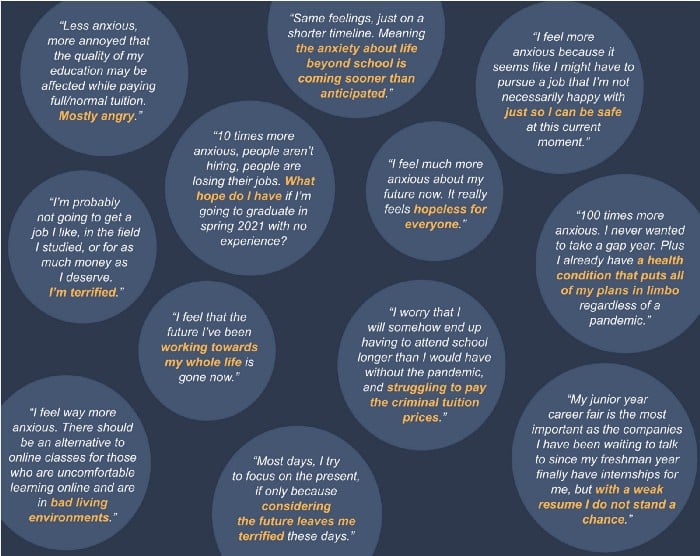 The sisters conducted the survey using a Google Form shared on various college and university Reddit channels and published the responses in an article posted on Medium, titled, "'I feel that the future I've been working towards my whole life is gone now' -- What Students Have to Say About the Coronavirus."
"The crushing uncertainty of the next few years -- and the pressure to succeed in spite of it -- can at times feel suffocating, and with no playbook to turn to, recent graduates and current students across the United States have been left feeling utterly disillusioned," Livia Morris wrote in the article.
Although the survey is a not peer reviewed and is a limited anecdotal snapshot of the realities of students' lives and futures, the findings align with the much broader set of data released Thursday by Strada Education.
Stress, anxiety and loneliness were the top challenges most students identified they were dealing with during the fall semester, and those issues outweighed stressors such as struggling financially or managing academic workload, according to the Strada survey report. Seventy-one percent of students surveyed also said "online instruction has negatively impacted their ability to learn," and 13 percent said they definitely or are likely to take longer to graduate due to the pandemic, the report said.
Strada Education received responses from a group of about 4,000 undergraduate students from 244 different institutions between Sept. 10 and 25 with the help of College Pulse, a research company, said Nichole Torpey-Saboe, director of research for Strada. The survey results reflect other recent and widespread assessments of the effect of the pandemic on students' mental health. Three-fourths of respondents said stress or anxiety has been a challenge for them, and 58 percent said they have been struggling with "feeling lonely or isolated" during the fall semester, the survey report said.
Forty-four percent of students named "stress, anxiety and loneliness" as their "biggest" challenge over other concerns, the report said. In comparison, 22 percent of respondents said "keeping up academically" was their biggest challenge this semester, and 14 percent said paying for tuition, books and "other costs" has been their primary challenge during the fall semester.
Jesse Barba, senior director of external affairs for Young Invincibles, a national group that advocates for the political and economic empowerment of youth, said the Strada findings are "very consistent" with what the organization has been hearing from students in its network around the country. Barba said increased stress and anxiety is an expected result of more widespread reliance on online-only instruction, more students living in "toxic" home environments, or not having access to high-speed internet to learn effectively and being cut off from "key" college-provided resources such as a dorm room, meal plan and health care.
"When it comes to things outside of tuition -- basic needs, housing insecurity, food insecurity -- we know that half of all college students have been affected by that even before COVID," Barba said. "If you can't get a square meal in the morning, you are more likely to fall behind your peers in the long run. Then the pandemic hit and it's even harder."
The Strada survey also showed that finances were "much more of a concern" for Black and Latino students than for their white peers, Torpey-Saboe said. Fifty-two percent of Latino students and 48 percent of Black students listed paying for tuition and other costs as a challenge they face this semester, versus only 36 percent of white students and 41 percent of students over all. Only 11 percent of white students cited financial challenges as their "biggest" struggle, compared to 19 percent of Latino students and 20 percent of Black students who responded to the survey.
Torpey-Saboe also noted that Latino students were more likely to delay their expected graduation date as a result of the pandemic than students of other races. While 18 percent of Latino students said they would "definitely" or "likely" change their expected graduation date due to the impact of the pandemic, 12 percent of white students anticipated having to adjust their graduation date.
Deborah Santiago, CEO of Excelencia in Education, an advocacy group that aims to support Latino students in higher education, said in an email that the data on Latino students' delaying their graduation are "very concerning." The Latino community has also been disproportionately harmed by the pandemic through widespread loss of employment and family income, Santiago wrote. As a result, Latino students may have had to take on more financial responsibility, she wrote.
"Over the last few years, we have seen a significant acceleration in Latinos' degree completion," she wrote. "The implications of the potential delay in completion as noted in this analysis is a slow down in the pace of completion and the lost momentum to close the equity gap in degree attainment nationally."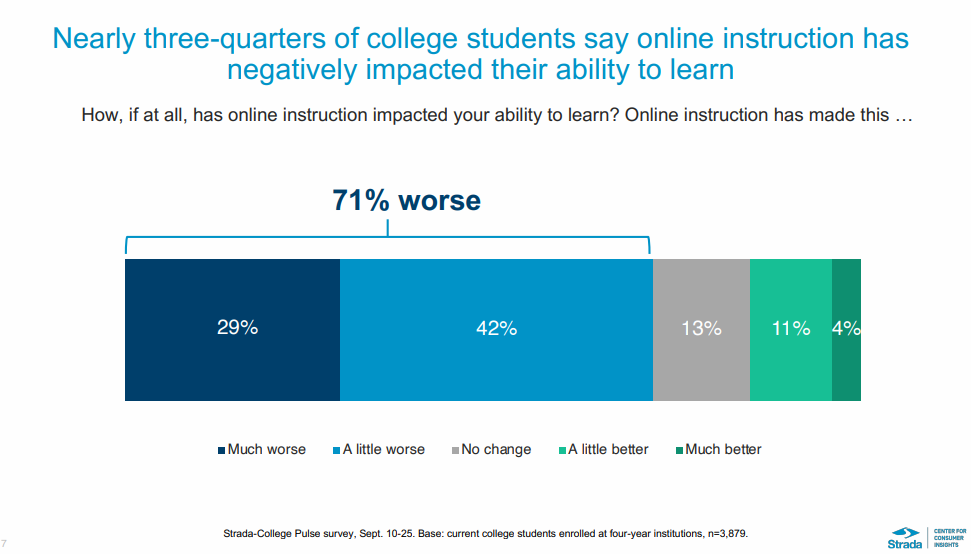 Torpey-Saboe said the 71 percent of students who said they were "much worse" and "a little worse" off academically due to online instruction during the fall semester was particularly surprising and disappointing. There was hope in higher ed circles that instructors who were not experienced in teaching courses online and had to quickly shift to remote instruction when campuses across the country closed last spring would have built up their skills by the start of fall semester, she said.
"I was surprised at the level of negativity and pessimism around online instruction," Torpey-Saboe said. "Everyone knew that it didn't go well in the spring, but there was more hope for the fall, that there was more time to prepare and adjust. We didn't explicitly ask [students] to compare fall and spring. It could still be that it's better, but over all students feel that it's worse for them than what they're used to."
Charlie DiGiorgio, a senior at West Virginia University who is studying theatrical design, said the shift to online reduced his ability to learn effectively. As part of DiGiorgio's practicum courses required for his major, he builds theater sets and works on sound and lighting for university productions. Those activities were canceled for the spring and fall 2020 semesters and pushed to later dates. DiGiorgio was in the middle of a hands-on welding class when the campus closed in March.
"Learning to weld through a computer is not exactly feasible," he said. "At this moment, I should be able to weld for shows, but I am not certified to do that."
DiGiorgio said now that WVU has reopened with a hybrid model of in-person and online classes, he's been "playing catch-up" and meeting with the professor who taught the welding class last semester to practice welding. Even if he does learn the skills he needs to do professional set design, the entire theater industry has been hit hard by the pandemic and DiGiorgio is unsure if he'll have a career path after he graduates in fall 2021. He noted that the Broadway League in New York City recently announced that it will postpone productions until May 2021.
"We're in this spot as an industry where it's like, 'oh crap,'" DiGiorgio said. "It's led to a lot of self-doubt about, can I do this, what if my field is not here in 10 years … It does lead to a lot of negative head space."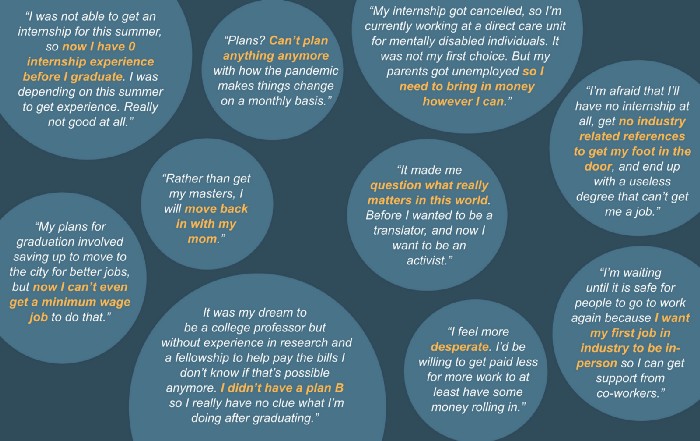 Ben Roux, a senior at Missouri State University who is scheduled to graduate in May 2021 with a computer science degree, considers himself lucky to have secured a job in software development for next year. Roux applied to about 100 software-related jobs -- in a wide range of locations and industries -- and was only invited to participate in two interviews.
Roux worries if he'll keep that job if the economy worsens. The recent loss of his part-time job on campus that paid for groceries, gas and other expenses has also amounted to added stress during the semester, he said.
"A lot of stuff is up in the air," Roux said. "We don't know what spring 2021 is going to be like … I personally like to make plans for the future, and it feels like a little of that has been taken away."
Barba, of Young Invincibles, compared what current students are facing to what college graduates experienced during the Great Recession of 2008-09. Over all, he is not optimistic about current students' economic futures and noted that there will likely be discrepancies between students of color and white students in their ability to bounce back financially.
"I hate to be stark, but I'm fearful that we will have a lost generation," he said. "We know that boomers were defined by the Vietnam War, millennials by 9/11 and the Great Recession, and Gen Z will be defined by the pandemic. They're repeating the same story that we went through as millennials. I'm not excited to see the trend continue in a negative direction."