You have /5 articles left.
Sign up for a free account or log in.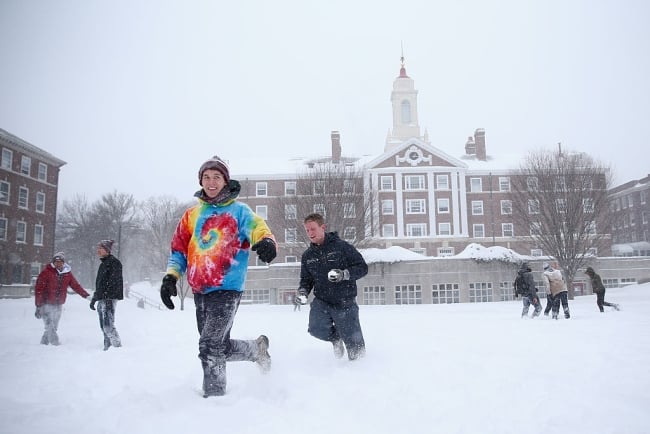 Maddie Meyer/Getty Images
Public health experts have predicted that the COVID-19 pandemic, however bad it may be right now, is going to get worse.
As cold weather arrives in much of the country, people may find themselves less likely to conduct their socializing or hobbies outdoors, where the virus has a harder time spreading, and may find themselves back inside. Though evidence is inconclusive, there is some research to support that the virus spreads easier in cold weather rather than warm. And winter also means flu season, which experts predict may strain the public health system further. At this time, it appears the encroaching season may usher in a period of decreased quality of life and increased disease spread.
None of that is likely to bypass American colleges and universities.
"COVID-19 spreads in enclosed spaces where ventilation is limited and social distancing is a challenge to maintain. As the weather cools and indications are that there is already an uptick in COVID-19 cases, colleges and universities planning to conduct in-person classes will have challenges maintaining a controlled environment," said David Vlahov, an epidemiologist and professor at Yale University School of Nursing, via email. "Some schools will decide to go fully online during the winter and early spring semester, and others will work hard to walk a fine line of providing a college experience while keeping students and faculty safe."
Bryan Alexander, a higher education futurist and senior scholar at Georgetown University, said he similarly believes the winter's cool weather and high disease burden may provide an impetus for some institutions to go remote.
Instruction that has been held outdoors, he said, is likely moving inside in parts of the country that get cold.
"The areas with balmy climates can basically keep on doing outside classes as long as they can, and that might be year-round. Whereas in the North, they have to stop now," he said. "They all have to push the students inside, and there's really no good way of doing that without risking more infection."
Some colleges have tried to encourage students to keep to the outdoors, both for studying and work, but also socializing and recreation, at least while the weather is nice. While college administrations have both lamented and cracked down on indoor student parties, public health and epidemiology experts have said offering or encouraging alternative activities is a more compassionate and effective response.
The University of Notre Dame, for example, set up fire pits, tents and Adirondack chairs on a previously unused lawn to try to get students to do their socializing in the open air. Villanova University similarly set up large tents outside campus buildings to encourage students to study al fresco. But how those efforts will fare when the air becomes frigid remains to be seen. Notre Dame has said the programming and amenities are here to stay and both universities will be heating their tents. But whether students will show up when the days are chilly and night comes earlier is still unclear.
An Eye Toward the Flu
Some colleges have taken a special interest in flu shots this year, either providing them for free, providing additional clinics or mandating all students get one before coming to campus. Cornell University, Duke University, Haverford College, Indiana University, Johns Hopkins University and Purdue University are among those who have mandated the vaccine for people coming to campus. (Most have said they will make exemptions for people who feel they cannot receive the shot for medical or religious reasons.)
Nancy Kass, a professor of bioethics and public health at Johns Hopkins University, said that's the right approach.
"Flu symptoms and COVID symptoms are fairly similar, and there will be a lot of chaos, panic and strain on the health-care system if every time someone gets a fever they call in and need to go get a COVID test," she said. "If we can reduce some of the non-COVID-related symptomology swirling in our communities, that would be great in preventing a different kind of anxiety than would usually happen if someone had a fever."
Furthermore, Kass said, getting the flu can make one more susceptible to severe complications from COVID-19. She has advocated that colleges and universities mandate flu shots, provide them freely and give students and staff flexible options for where and when to get one.
"Our public health experts tell us that the flu vaccine can help reduce the chances of illness from a dangerous combination of the flu and COVID-19. Adding the influenza vaccine to our university's existing requirements protects our community," said Kent Syverud, chancellor at Syracuse University, which is requiring the vaccine, via email. "Beyond our campus, we have a responsibility to our greater Syracuse and Central New York community. High rates of vaccination within our communities will decrease the burden on health care providers and hospital systems. Limited resources need to be reserved for the critically ill."
But flu shot mandates have engendered some backlash around the country. In Massachusetts, which is the first state in the country to require flu shots for all students (including those in college), protesters have said the decision on whether to get a flu shot should be a personal choice.
Though the University of California mandated flu shots earlier this year for all its students and staff on campus, the system is now defending itself against a lawsuit from a group of students, faculty and staff members.
"If you get a flu shot and then you get infected with SARS-CoV-2, what are the risks that that shot would have increased either your chances of getting COVID-19 or dying from it? Those studies have not been done," said Cindy Kiel, an executive associate vice chancellor for research management at University of California, Davis, and a plaintiff in the suit. "When you have no science that tells me what my risks are of getting a medical procedure and what it might do during a time of a pandemic and you haven't done the science yet, what does that make me? That makes me an experimental subject in your experiment."
Kiel said she's skeptical of some of the scientific research around flu vaccines, much of which has been funded by pharmaceutical companies, and the rarity of adverse side effects from the shot. The UC has not offered to take liability if a student or employee is injured by the shot, she said.
The plaintiffs of the case argue that the UC's order interferes with students' and employees' right to privacy and bodily autonomy, calling the justification that the flu vaccine will free up hospital beds "collateral at best." The plaintiffs also argue that the university violated bylaws in not consulting the Faculty Senate.
The plaintiffs' memorandum includes supportive declarations from several professors in health fields, including two from the University of California, who argue that a mandate is not the correct approach.
The University of California declined to comment on the lawsuit but said the flu vaccine is "critically important" to the health and safety of the campus community.
Kass said the mandates generally should be seen as an effort to keep a workplace and educational environment as low risk as possible. The idea is not at its core about making sure individuals on campus are as healthy as possible and avoiding the flu.
"Public health has a long tradition of only making a mandate when there is very strong evidence that the intervention, in this case a flu shot, is safe for the people being required to get it, is effective at doing what it's intended to do, and where it serves a role in creating a lower-risk -- in this case -- workplace," she said.
Looking ahead to next term, Vlahov, the epidemiologist, said it will be important for colleges to test students upon arrival, provide training sessions on symptoms and expectations, and issue clear penalties for breaking guidelines.
"There will need to be conversations at each campus that address local circumstances, past experience, resources and capabilities."