You have /5 articles left.
Sign up for a free account or log in.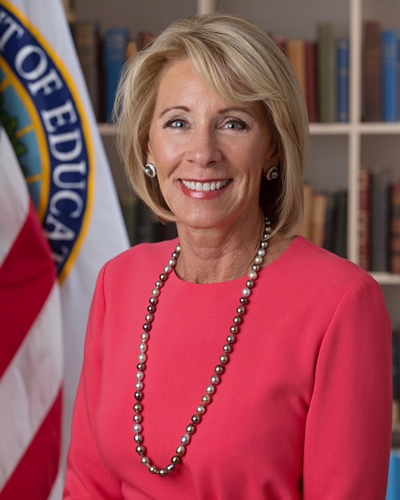 The Department of Education issued a report Tuesday accusing colleges of failing to comply with a law requiring biannual disclosure of all foreign gifts and contracts totaling $250,000 or more.
"We found pervasive noncompliance by higher ed institutions and significant foreign entanglement with America's colleges and universities," Secretary of Education Betsy DeVos said at an event marking the report's release. "Our initial investigations catalyzed disclosure of approximately $6.5 billion in previously unreported foreign funds."
The report, which was published with redactions, states that fewer than 300 institutions have historically reported foreign gifts and contracts to the department as required under Section 117 of the Higher Education Act of 1965.
"Most foreign funds flow to a relatively small number of large institutions, many of which appear to have inadequately, or in some cases failed entirely, to report as required by law," the report states.
Since 2019 the department has launched investigations into compliance with foreign gift and contract reporting at 12 universities: Case Western Reserve, Cornell, Fordham, Harvard, Georgetown, Rutgers, Stanford, Texas A&M and Yale Universities; the Massachusetts Institute of Technology; and the Universities of Maryland and Texas.
The investigation found that Yale University did not submit reports for four years -- a fact Yale has previously acknowledged and says it has remedied -- while Case Western Reserve did not submit reports for 12 years before eventually submitting them "many years later." Case Western Reserve declined to comment, citing the ongoing investigation.
The report raises particular concerns about reporting of anonymized donations, alleging, for example, that Stanford "has reported over $64 million in unidentified, anonymous Chinese donations since May 2010 (when Stanford ceased reporting foreign donor names)." A Stanford spokesman said that Section 117 of the Higher Education Act "did not require the reporting of names of donors. We complied with the law by providing the required information."
The report also raises concerns about the risk posed by colleges accepting gifts or entering into contracts with governments or nongovernmental entities, including businesses, in countries with adversarial relationships with the United States, including China, Qatar, Russia, Saudi Arabia and the United Arab Emirates.
"The higher education sector has self-reported over $6.6 billion from Qatar, China, Saudi Arabia, and the United Arab Emirates, with the most recent July 31, 2020, reporting period yielding an additional $1.05 billion reported from these countries alone," the report states. "Based on Congressional and Executive Branch investigations, the Department believes this amount is a fraction of the true total. The risk to academic freedom, integrity, and independence posed [by] such contributions has been historically ignored by regulators and overlooked or downplayed by the beneficiaries of foreign largess."
Reed Rubinstein, acting general counsel for the Education Department, said during the event that colleges and universities had been on notice "for at least two decades … that at least some of its most favorite foreign sources were hostile to the interests of the United States and that those sources were targeting their investments in and partnerships with our colleges and universities to project soft power, to influence social and political decision makers, to steal sensitive and proprietary research, and to spread propaganda."
The event was heavily focused on the threats to integrity and academic freedom posed to higher education by foreign engagement, as opposed to opportunities associated with international collaboration.
The Trump administration has stepped up scrutiny of colleges' foreign ties, in particular their ties with China. Federal research agencies have also launched inquiries into researchers' foreign ties. Secretary of State Mike Pompeo has called for colleges to cut ties with Chinese government-funded Confucius Institutes, and the Department of Justice launched a "China Initiative" that has brought charges against a number of Chinese scholars accused of hiding Chinese military affiliations or not disclosing Chinese funding or affiliations on federal grant applications or income tax returns.
In addition to investigating specific colleges' practices in relation to foreign gift reporting, the Education Department unveiled a new reporting portal for colleges this past summer. The report states that the new portal, launched in June, "recorded approximately 7,000 transactions and approximately $3.8 billion of foreign gifts and contracts from institutions. Illustrating the Department's success in increasing statutory compliance, approximately 60 of the institutions who filed a Section 117 disclosure report through the Department's new reporting portal are 'new filers,' meaning that between 1986 and June 2020 these institutions had not previously submitted any reports."
"This law has been on the book for decades and for decades enforcement was lax, but not anymore," DeVos said. "This is far from some arcane duty or burdensome obligation as some have suggested. Think about the tremendous wealth of information and resources accessible to foreign adversaries at our nation's institutions of higher education -- military secrets, energy and medical breakthroughs, cutting-edge technology, endless valuable IP, and of course our most valuable resource, America's young minds. The threat is real, so we took action to make sure the public is afforded the transparency the law requires."
The report indicates that at least some of the department's investigations are ongoing. In the case of Harvard, the department raises questions without answering them, citing a Harvard communication regarding its internal investigation into gifts from the convicted sex offender Jeffrey Epstein, an American, to undergird the statement that "Harvard's self-professed improper vetting of domestic contributions raises questions about its foreign gifts and contract reporting procedures."
Harvard said in a statement that it has "filed Section 117 reports for decades and will continue to do so. In line with the Feb. 11 request from DOE, the University has submitted updated Section 117 reports for the period 2014 to 2018, as well as its regular filings for 2019 and 2020, to date. Although we have reported on foreign source gifts and research grants for many years, the University recently developed new procedures prompted by an interpretive statement the Department issued last fall. With those procedures, the University identified in its updated reports a wider range of contracts than had previously been identified. For example, we have recently reported contract amounts from the sale and licensing of academic publications and from offering executive education programs. These activities represent the majority of the updated information."
"The Trump administration has repeatedly refused to meet with colleges and universities to discuss ways to help schools comply with Section 117 Foreign Gifts and Contracts reporting requirements," said Terry W. Hartle, senior vice president for government relations at the American Council on Education, which has opposed what it has described as efforts by the Trump administration to expand foreign gift reporting requirements beyond the minimum requirements set out in the law. "Worse, the department has launched punitive investigations of institutions who contacted the department with questions, seeking proactively to ensure they are in compliance."
"Schools are anxious and willing to comply with all federal reporting requirements," Hartle said. "America's colleges and universities would have been better served if, rather than host a political event focused on China two weeks before the election, the department had elected to answer some of the questions that we have been asking for the last four years."