You have /5 articles left.
Sign up for a free account or log in.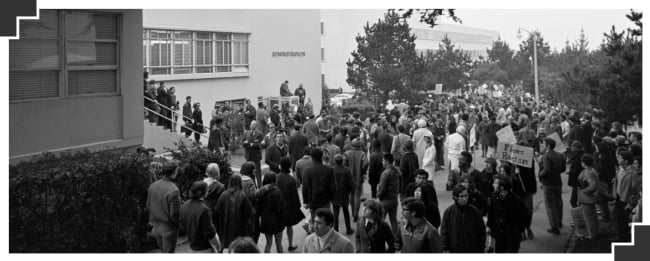 Garth Eliassen/Archive Photos via Getty Images
For two and a half years, scholar and social activist Melina Abdullah traveled weekly from her home in Los Angeles to Sacramento -- uncompensated trips that took a personal toll and kept her apart from her three children.
She was working to build support for California legislation requiring all undergraduates across the 23-campus, 482,000-student California State University to take a three-unit ethnic studies class focusing on Native Americans, African Americans, Asian Americans or Latinx Americans in order to graduate. The fate of the legislation, known as AB 1460, seemed uncertain even when lawmakers passed it and it moved to the governor's desk.
But Governor Gavin Newsom signed the bill Aug. 17.
"I was not confident it would happen," said Abdullah, who is a professor and former chair of pan-African studies at Cal State, Los Angeles. "We were working up until the very last minute."
It was a watershed moment for Abdullah, who sacrificed her time because she believes in the cause. Likewise for activists, scholars and students who support the legislation, Newsom's signature marked the culmination of a decades-long fight to make sure the Cal State system leaders take ethnic studies seriously as an academic discipline and as a cornerstone of knowledge all students should have before they graduate and go out into the world.
Cal State's actions have a profound impact on thousands of students, as it counts itself as the "greatest producer of bachelor's degrees" in the most populous state in the country.
The struggle for acceptance and respect of ethnic studies in academe goes back to the late 1960s, Abdullah said. That struggle has not abated over the past 60 years. For those who fight for the protection and promotion of ethnic studies in both higher ed and K-12, the story is one of steps forward, backward and sideways.
Mandating ethnic studies will benefit all students academically and socially, according to those who backed the new California law. For Abdullah, it is also a recognition that ethnic studies is vitally important to students of color. Ethnic studies helps them understand their history and realize their own potential.
Abdullah said she wouldn't be where she is today without her own exposure to Black studies in high school.
"Black studies literally saved my life," she said.
Life-Changing Impact
Abdullah was born in Oakland, Calif., in the 1970s. In the early '90s, the crack cocaine epidemic hit her neighborhood hard and brought with it a wave of violence.
"I witnessed a bunch of my friends be murdered, and a bunch of my friends be caught up in the criminal justice system," she said.
"It felt like there were certain expectations and a plan that the world had for me," she said. "I have a wonderful mother and wonderful grandparents who raised me, but I was teetering myself. I was in and out of really minor trouble, but the kind of trouble that is part of the school-to-prison pipeline."
Abdullah credits a high school teacher, Mr. Navies, who taught Black studies, with planting the seed of the idea that she could go to college. In an article published in the Ethnic Studies Review in 2017, Abdullah wrote that Mr. Navies created a refuge for an "entire generation of Berkeley High School students" and enabled them to flourish.
"It was being exposed to my history and my power as a Black woman that eventually got me to step into my own power," she said. "I could have been a different person."
Despite the teacher's encouragement, Abdullah briefly dropped out of high school at the end of the 10th grade, intending to pursue a career in cosmetology. After studying to pursue a GED, she returned to high school because she wanted to go to the school prom.
With encouragement from her mother, a graduate of Spelman College -- a historically Black college in Atlanta -- Abdullah applied to Howard University, another well-known historically Black college in Washington, D.C. To her surprise, she was accepted. She thrived at the university and graduated magna cum laude.
Abdullah recently ran into an old friend from high school at a barbecue.
"I told her I'm a professor, and she started crying and laughing at the same time," Abdullah said. "She said to me that you're not even supposed to be alive. That we're not even supposed to be alive."
As a professor of pan-African studies, Abdullah feels blessed to be part of a discipline that deeply impacts students' lives. She said many students don't have a high school teacher who takes a deep interest in their futures. They don't encounter topics that speak to their backgrounds, like Black studies, Chicano studies or Asian or Indigenous studies.
"I think when students walk into our classes, they find themselves," she said. "When they are exposed in the university, it can do for them what it did for me."
History in California
The nation's first College of Ethnic Studies was established at San Francisco State University in 1969 -- when the institution was known as San Francisco State College. The College of Ethnic Studies was created in response to students of color who led a five-month strike against Eurocentric education and a lack of diversity on campus. That strike would eventually be the longest student strike in U.S. history.
Students fought to create the discipline, and university administrators have over the years tried repeatedly to take resources away, Abdullah said.
"Whenever there are austerity measures, the first set of disciplines under attack is ethnic studies," she said.
At California State, Long Beach, for example, administrators blocked the Department of Africana Studies from hiring any professors for eight years. Then they tried to dismantle the department and replace it with an Africana studies program in 2013, saying the department didn't have enough tenured faculty members -- which caused the department's chair to retort that the university was penalizing the department for the university's failure to hire. Ethnic studies departments at other campuses in the Cal State system have faced similar attempts to reduce their autonomy, Abdullah said.
"What we saw after Long Beach was that we were going to continue to have these fights on campuses," she said. "We had to get a systemwide response."
The Cal State system's chancellor, Timothy White, formed a statewide committee in 2014 after opposition rose against the cuts at Long Beach. The committee was tasked with reviewing levels of institutional support for ethnic studies over the past decade and making recommendations to sustain and advance the discipline. It spent two years conducting research before publishing an extensive report in 2016, which Abdullah helped write. One key recommendation was for the system to create an ethnic studies requirement for all students.
As a result, the system's governing board approved a systemwide ethnic studies requirement in July this year that the chancellor's office developed. This mandate, created "by the CSU, for the CSU," would have required all Cal State students to take an ethnic studies class or a class with a social justice component in order to graduate. But the California Faculty Association, a union representing lecturers, professors, counselors, librarians and coaches across the system, criticized the requirement for allowing students to take too broad of a choice of classes. They felt that an ethnic studies requirement should mean students must take an ethnic studies class.
The California Legislature's ethnic studies requirement will supersede the one designed by Cal State, despite the chancellor's office and system's Academic Senate having protested that lawmakers overstepped and intruded into the curriculum.
Students receiving diplomas from Cal State institutions in the 2024-25 academic year will be the first to graduate under the new ethnic studies requirement.
For many academics in ethnic studies, AB 1460 represents a far superior way to protect their discipline than the requirement Cal State leaders designed. Shirley Weber, a State Assembly member who taught Africana studies at San Diego State University for several decades before entering politics, wrote the bill.
"What we are seeing in Washington and on American streets right now demonstrates the necessity of understanding the experiences and perspectives of these historically marginalized and oppressed groups who have nonetheless contributed to the building of our country," Weber said in a press release Aug. 18, after Newsom signed the bill. "This is a great day for students and the state. I am grateful to the Governor for joining me in moving California forward."
Ethnic studies is also important for white students, Abdullah said. A review of research on ethnic studies and curricula commissioned by the National Education Association in 2011 found that both students of color and white students have benefited academically and socially from well-planned ethnic studies curricula, which the report described as "very academically rigorous."
A Pivotal Moment
It is not just California considering mandating ethnic studies in higher education, though no other public university system has so far taken the step. Many college leaders face public pressure to demonstrate their commitment to the discipline and to students, faculty and staff members of color. In K-12, discussions about ethnic studies requirements in public education are even more contentious. In states such as Texas, state school boards have become political battlegrounds, with conservatives accused of trying to rewrite U.S. history. Texas's outsize influence on the publishing industry has resulted in textbooks that have, for example, downplayed the horrors of slavery and its role in the Civil War.
Calls to do more to support students of color on campus are not new -- advocates have pushed for years for colleges and universities to take such steps as mandate ethnic studies programs, reduce the influence of European values and culture in curricula, hire and promote more nonwhite faculty members, and stop police brutality on campus. But the Black Lives Matter movement and protests this summer turned up the pressure on college leaders to address anti-Black racism specifically.
After a white police officer killed George Floyd by kneeling on his neck for eight minutes and 46 seconds in May, college presidents shared statements condemning racism and police brutality against Black men and women. Many drew criticism as meaningless platitudes.
"I care less about words and more about actions," Shaun Harper, executive director of the Race and Equity Center at the University of Southern California, said in a June interview.
"Institutions should hire more Black people to be deans and provosts," Harper said. "They should award tenure to more Black people. They should give more financial support and materials to Black studies programs and departments."
Few institutions have made ethnic studies part of general education requirements. In defending this decision, leaders at institutions such as the University of Pennsylvania have emphasized the importance of letting students choose what they do and do not want to study. But college leaders face increasing pressure from some students to rethink their curriculum with the aim of educating students to be antiracist.
At Cornell University, for example, President Martha Pollack recently asked the Faculty Senate to develop a for-credit class requirement on racism, bias and equity for all students. The move came in response to demands from a student-led campaign called Do Better Cornell. Pollack also pledged to review the entire university curriculum and develop new programs focused on the history of race, racism and colonialism in the U.S., among other actions.
At Emory University, President Gregory Fenves shared a list of actions the university is taking to address racial justice in response to student concerns. The actions include a general education requirement that focuses on race and ethnicity.
"The purpose of this requirement is to provide students with opportunities to learn about race and ethnicity; political, economic and social exclusions; and the effects of structural inequality," Fenves wrote.
Similarly, at the University of Pittsburgh, first-year students are now required to take a new one-credit class called Anti-Black Racism: History, Ideology, and Resistance. Students will be graded on a "satisfactory/non-credit" basis.
"We hope that this course is a first step in helping students to recognize and challenge anti-Black policies and practices when they encounter them, and to develop strategies to be anti-racist in their everyday lives," Yolanda Covington-Ward, chair of the Department of Africana Studies at Pittsburgh, said in a press release announcing the new requirement this August. Covington-Ward led a committee of faculty and students who developed the course.
Within the Cal State system, one institution previously had an ethnic studies requirement.
Cal State, Northridge, had a comparative cultural studies requirement that included courses in Africana studies, American Indian studies, Asian American studies, Central American studies and gender and women's studies.
But an executive order from the CSU chancellor's office designed to make general education requirements at all Cal State campuses uniform so that students could more easily transfer between institutions risked forcing Northridge leaders to mandate only the general education requirements shared by all campuses. These include English language communication and critical thinking, scientific inquiry and quantitative reasoning, arts and humanities, social sciences, and lifelong learning and self-development. Northridge argued for and won an exemption allowing it to retain its own longstanding general education requirement for "Comparative Cultural Studies/Gender, Race, Class, and Ethnicity Studies, and Foreign Languages" that was in place before the executive order. (This article has been corrected to note that Cal State, Northridge received an exemption allowing it to maintain its previous requirements.)
Discussions about mandating ethnic studies are not exclusive to higher ed. K-12 institutions, too, have introduced new requirements for students. But they faced significant pushback from politicians who believe that educating students about social justice may inspire civil unrest or that liken it to political indoctrination. In Arizona, for example, former governor Jan Brewer signed a bill banning ethnic studies from public schools in 2010. Proponents of the bill argued that ethnic studies was designed only for students of a particular race and does not promote community integration. The bill, which targeted a popular Chicano studies program, was ruled to be unconstitutional by a U.S. District Court judge in 2017.
In California, too, mandating ethnic studies in K-12 institutions has proved difficult. In early October, Governor Newsom vetoed a bill that would have made ethnic studies a high school graduation requirement, citing disagreements about the proposed curriculum. Just a week before, President Donald Trump issued an executive order against federal funding being spent on race and sex "stereotyping and scapegoating," which has already caused some universities to cancel diversity, equity and inclusion programs.
As a result, this moment may be even more pivotal -- and perilous.
"We're in a critical moment where young people are seeing injustice but not necessarily understanding the root and stem of this injustice. I think they want to learn," said Edmund Adjapong, assistant professor of education at Seton Hall University. "The challenge for institutions and faculty is to provide adequate, effective, sufficient content, curriculum and knowledge."
Students often don't have a good understanding of other cultures when they enroll in college and typically know little about Black history, Adjapong said. The U.S. doesn't have federal requirements for teaching Black history in K-12 schools, but an increasing number of states are mandating it.
States including Arkansas, Florida, Illinois, New Jersey, New York, Mississippi and Rhode Island have passed laws requiring Black history to be taught in public schools with special Black history oversight committees. Other states such as California, Colorado, Michigan, South Carolina, Tennessee and Washington have passed educational laws regarding Black history with no special oversight committee.
Some state curricula focus on the civil rights movement and how it applies to other contemporary human rights issues, while others focus more on slavery and how slavery relates to African Americans today. Adjapong believes the curriculum is often too limited.
U.S. educational institutions are often very Eurocentric, Adjapong said. In his classroom, he likes to talk about the achievements of people who are racial or ethnic minorities. He explores a narrative about a particular person so that students can see themselves reflected in that person in some way, even if they do not share the same background.
Telling people's stories makes them relatable and accessible to more students. It also avoids the pitfall of talking about Black history or other nonwhite history only through a negative lens.
"When we talk about people of color, and Black people specifically, in K-12 schools it's often either about slavery or the civil rights era," Adjapong said. "Those things are important, but rarely do we see the positive being highlighted."
Getting Comfortable With Being Uncomfortable
As a former K-12 teacher and now a professor, Adjapong feels he has a lot more freedom now to teach how he wants to teach than he did in school.
He encourages other higher education instructors to exercise their academic freedom. All instructors should talk about race in their classes, regardless of what they teach, he said.
"We need community right now," Adjapong said. "We need folks to learn from each other. We need folks to be empathetic. We need folks to lead with love and come to a common understanding that we don't all share the same experience and we need to learn about each other's experiences in order not to repeat the negative things that have been done to historically oppressed and marginalized people."
Address issues with students like the Black Lives Matter protests and the disproportionate impacts COVID-19 is having on Black and brown communities, Adjapong said. They will be on many students' minds.
"It's important to use this fall as an opportunity to dive in," Adjapong said. "Race is so deeply intertwined within our history that you can find a way to raise it in any subject."
Fear that the conversation might be uncomfortable is not a good excuse to avoid talking about these issues, he said. Many professors may also need to overcome the idea that they have to be a sage on a stage with all of the answers.
"It's OK for teachers to enter a space and feel vulnerable," Adjapong said. "You can tell students that you're not an expert, but you want to talk about something and have a conversation."
Adjapong uses these strategies with his own students.
"I'm an educator, but I tell them I also want to learn as well. I want to hear from different perspectives," Adjapong said. "We're all trying to grow together and collectively, and I think that does break down some of the barriers that students have up around talking about race or social justice and the challenges that marginalized groups might face."
Successful classroom conversations are built on community, Adjapong said. You want students to feel comfortable enough to share their experiences, to ask questions and to not get defensive if they are called out for saying something other people find offensive or objectionable.
"We're coming into the space to learn and grow," Adjapong said. "I don't want to crucify anybody that is signaling that they're willing to grow and willing to learn. That's what we're here for."
Some students harboring negative perspectives in a classroom might not change their viewpoints.
"If you're having a conversation with a student and trying to get them to see something from a different perspective, I like to use data to highlight disparities, because you can't deny the data, right?" Adjapong said. "As long as they understand the reality, I've done my job. It's up to them if they want to be empathetic or do something about that."
Starting Early
Talking about race with college students won't solve racism, Adjapong said. He and many educators who have worked in schools think that social justice and discussions about race shouldn't wait until college.
Tyson Marsh, associate professor in the School of Educational Studies at the University of Washington at Bothell, teaches in the Leadership Development for Educators program, which is for teachers who want to become school principals or K-12 leaders.
The program focuses on equity and justice. It encourages educators to understand and challenge the role of white supremacy in the education system, Marsh said.
There are school administrators who don't want to touch ethnic studies because they feel it is a political issue, but Marsh says that everything is political in education. 
"Administrators who say it's a political issue are shooting themselves in the foot because they're already playing into the politics of it by saying they don't want to be involved," said Marsh.
"From my perspective, nothing is more political than ensuring that a monocultural curriculum continues," Marsh said.
When it comes to talking about race in schools, Marsh said it makes sense to start young. By the time students reach college, they have often already formed political identities based on influences such as their family and faith.
"There are students who grow up in a bubble, who don't go to diverse schools," said Marsh. "When they get to college, they're going to be in for the shock of their lives."
Discussing racial issues and studying the culture of people of color are not the only ways that race can play a role in the classroom. Equitable instruction isn't colorblind, it is responsive to students' unique and diverse backgrounds, said Imani Goffney, assistant professor of mathematics education at the University of Maryland College of Education's Center for Mathematics Education.
Historically, Black and brown children have underperformed in math when compared with their white peers, but this does not mean the white students are inherently smarter or better at math, said Goffney. The mathematics curriculum taught in U.S. schools and the way it is assessed were designed by and for white people with little consideration for children of color who are already "swimming upstream," she said.  
Closing the achievement gap is a hot topic among educators. But discussions often overlook the fact that the standards by which all children are measured, the content that is taught, and the way it is taught, was designed from a white colonized point of view, said Goffney.
"Until we can acknowledge that, we can't really interrupt it," Goffney said. "We wrote these super white standards and spent decades telling Black kids that they weren't smart enough and they weren't good enough, and that was bad. We have to name that we did that as a system, as a country, so that we can then free ourselves to imagine things differently that create new opportunities for students to learn math in ways that are connected to their identities and promote justice."
The idea that it is mathematical standards that are falling short, rather than Black and brown students, is provocative to some educators because it challenges the status quo of measuring student success, Goffney said. She pointed to the work of Danny Martin, a professor of mathematics education at the University of Illinois at Chicago College of Education, who has spent years researching the role that race and identity play in the mathematical education of Black children. Instead of focusing on the notion that Black children are deficient academically, Martin urges teachers to accept that the brilliance of Black children is axiomatic -- and use this mindset to inform their teaching.
"A lot of us are trying to imagine what teaching and learning could and should look like when we prioritize Black and brown children," Goffney said. "How does that shift and change what we teach and how we teach it?"
Goffney tells students studying to be teachers that they should approach teaching with an asset lens especially when working with Black and brown students. She teaches them that they should assume that their Black and brown students are already brilliant. The teacher's role is to understand students' abilities in a nuanced way, then design learning opportunities to develop them further, she said. She wants all children to feel that they are "smart and powerful" at school. 
"If we thought about teaching in this way, then we wouldn't have a low math group," Goffney said. "We wouldn't be putting students in the hall or having kids miss recess so that they can memorize more things. We would fundamentally redesign everything we do in education."
With funding from the National Science Foundation, Goffney developed a rubric for assessing whether teachers are employing equitable teaching practices in their classrooms. She also developed a curriculum entitled Mathematical Knowledge for Equitable Teaching (MKET) that is used as the elementary mathematics methods course in the elementary teacher certification program focused on equity and justice. Her colleagues at the University of Maryland now use both the rubric, the Mathematical Quality and Equity (MQE) Observational Rubric and the MKET curriculum.  Despite having more than a decade of experience and being well qualified to teach at the university level, some of Goffney's students have however questioned her qualifications simply because she is Black.
In student evaluations, Goffney said she frequently received worse feedback than her white peers as students question the relevance of her focus on equity, race/racism, justice, emerging bilingual students and students of color, and critique her inclusion of these topics in their course. They have even explicitly named that they see this as "selfish" because she's Black and wants to teach them about working productively with Black children. These student evaluations of her teaching were not consistent with her peer evaluations. This bias is something that many teachers and professors of color have experienced especially women faculty of color she said. Some student comments were dehumanizing, aggressive, and mean. 
"It's problematic. But things are changing," said Goffney. Her colleagues in the Center for Mathematics Education, her department and College have been very supportive of her focus on these topics. The University of Maryland is currently in the process of redesigning teaching evaluations so that student evaluations are less influential in promotion and tenure decisions and are more appropriately described as students' giving their perspectives about the teaching, not evaluating the teaching as they are not pedagogical experts.
When Ignorance Holds Back Innovation
Much of the academy is marked by a lack of understanding of the perspectives of Black people and people of color. Not only does it show up in the classroom, but it also shows up in research and the way faculty members treat other faculty members.
Many white professors don't have a grasp of Black history, faculty members say. Many lack an understanding of basic U.S. history -- particularly from a perspective other than the predominantly white narrative that's long dominated classrooms.
It's a frustrating truth Lisa Cook, professor of economics and international relations at Michigan State University and director of the American Economic Association Summer Training Program, has experienced firsthand.
Cook discusses the situation through a topic she's researched: intellectual property.
In the mid-'90s, a popular theory took hold that nations could boost their economies by encouraging innovation -- investing in science, promoting market competition and passing strong patent laws that would allow inventors to profit from their ideas. But Cook felt this theory was too simple. In her view, strong patent laws do not necessarily lead to greater innovation. Innovation also requires that inventors feel safe enough to do the work of inventing.
To test this theory, Cook began looking at patents filed during a period of history when Black people in America were unequal in the eyes of the law and were regularly threatened by violent acts of racism. She compared the number of patents Black American inventors filed with the number of patents white American inventors filed from 1870 to 1940.
It took Cook a decade to build her data set from scratch -- cross-referencing the names of inventors with other records to determine their race. She amassed a list of 726 patents filed by Black inventors.
Looking at when these 726 patents were filed, it became clear racial violence and events such as the 1921 Tulsa, Okla., race massacre had a negative impact on Black inventors and the frequency with which they filed patents. That supported Cook's hunch that innovation hinges on the equality of a nation, not just strong patent laws.
Ready to publish, Cook submitted her manuscript to various journals. Typically, it might take two or three years to get a paper published.
Hers took a decade.
The manuscript went through round after round of critique and debate from reviewers who struggled to understand how a lynching in one state, for example, might affect a Black inventor in another state.
One reviewer asked Cook what she meant when she described one inventor as a former slave. Cook, who is Black, found the question baffling.
"It threw me through a loop," she said. "I sent it to four or five different people asking, 'Is this asking what I think it's asking? How would you interpret this?'"
In return, she was told she needed to answer the question, even if the reason she needed to explain it bordered on absurd.
Cook's paper languished in publishing purgatory for years despite gaining support from prominent economists, including three Nobel laureates. Realizing that her reviewers simply did not grasp the history she was describing,  the manuscript evolved into a paper about Black history and race relations in the U.S., as well as economics.
Cook's research was finally published in the Journal of Economic Growth in 2014.
There's a toxic culture in economics that has particularly impacted women of color, Cook said. Sexism and discrimination are rife. The competitiveness of the field and pressure academics feel has resulted in several high-profile deaths by suicide of people "at the top of their game," she said.
"The economics profession has got to change itself in order to survive. We're not talking about increasing diversity for diversity's sake," said Cook. "We need to change this culture or there will be nobody who wants to participate in it."
Adding an ethnic studies requirement at any single university or university system won't address all of the issues challenging faculty members of color on campus and in the classroom. But it could be a start.
So when California's governor signed AB 1460, many were thrilled. Abdullah, the former chair of pan-African studies at Cal State, Los Angeles, who spent so much time going back and forth to Sacramento, remembers well the moment she learned the bill would become law.
"I started getting all of these texts and calls," she said. "I was by myself and probably looked like a crazy woman cheering in the street, but this was, you know, a life span of doing this work."