You have /5 articles left.
Sign up for a free account or log in.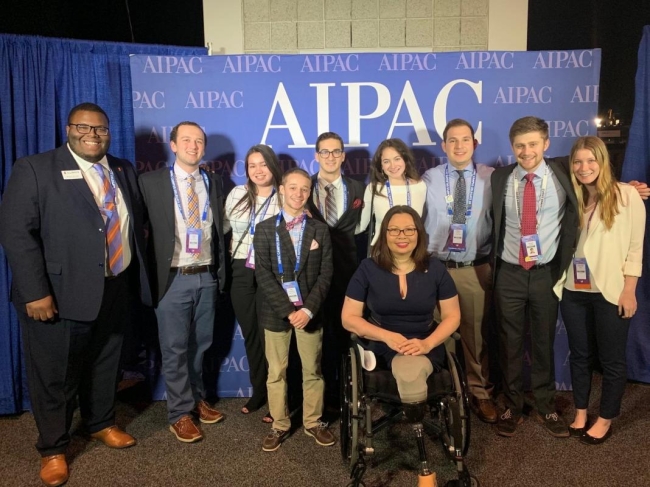 Courtesy of Ian Katsnelson
Ian Katsnelson, a leader of a pro-Israel group at the University of Illinois at Urbana-Champaign, was presented with what he saw as an "impossible" and discriminatory choice last month.
The Senate of the Illinois Student Government, or ISG, presented a resolution in support of the Black Lives Matter movement and racial justice, which members of other student organizations fully endorsed. Katsnelson said during a Sept. 23 Zoom meeting about the resolution that the statements supporting the movement were something he could "stand proudly behind," but additional language in the resolution prompted him to ultimately take a stand against it. The measure also stated support for the university to divest from companies that sell products and services to the Israeli government, including its police and military forces. Katsnelson, who is on the executive board of IlliniPAC, a campus group that advocates strengthening U.S.-Israel relations, called the resolution "anti-Semitism masked in a cloak of social justice."
"It is inherent to my identity as a Jew to stand with oppressed peoples," Katsnelson said during the meeting. "It is also inherent to my identity as a Jew to stand with the Jewish people and support the Jewish homeland … This resolution provides me and other pro-Israel Jewish students with a Hobson's choice. I can support social justice, or I can support the continued safety and security of other Jews. But not both. I should not have to choose between supporting the right of the Jews to their homeland and the rights of all people to social justice in the United States."
The Senate resolution and a series of anti-Semitic incidents on the Urbana-Champaign campus are the subjects of a complaint by Jewish students filed with the U.S. Department of Education's Office for Civil Rights, or OCR, in which they claim that the university has failed to adequately respond to and protect Jewish students from harassment based on their Jewish identity. The complaint was filed under Title VI of the Civil Rights Act of 1964, which prohibits federally funded institutions from discrimination on the basis of race, color or national origin.
The law does not explicitly protect students from discrimination based on shared religion or ethnic identity, but OCR for many years has issued guidance to colleges and universities saying the law extends to discrimination against "students from any discrete religious group that shares, or is perceived to share, ancestry or ethnic characteristics," said Alyza Lewin, president of the Louis D. Brandeis Center for Human Rights Under Law, a legal advocacy institution that promotes the civil rights of Jewish people and is representing the Illinois students.
The Trump administration also issued a controversial executive order in December reiterating that the law protects Jewish students from anti-Semitism and some forms of anti-Israel speech. The order raised concerns among free speech and pro-Palestine advocates about students' and faculty members' ability to openly criticize Israel. Lewin noted that an OCR Title VI review of New York University similar to the Urbana-Champaign complaint was settled earlier this month and required NYU to add anti-Semitism to its nondiscrimination policy among other measures, but did not find any wrongdoing on the part of the university.
The Urbana-Champaign students and their representatives decided to make the complaint public on Oct. 23, due to what they say is the university's inaction since the institution's administrators became aware of the students' allegations earlier this year, according to a press release from the Brandeis Center. The incidents cited in the complaint span back to 2015 and include the alleged vandalization of Jewish symbols on campus, swastikas found in several locations and "persistent harassment" of students for their pro-Israel stances, said a summary of the incidents provided by the Brandeis Center.
Lauren Nesher, a senior at Urbana-Champaign and a member of the IlliniPAC executive board, said in an email that she and other Jewish students have been called "Nazis," "white supremacists" and "genocide supporters" by other students while working at an informational table about Jewish people and Israel. Nesher is the granddaughter of a Holocaust survivor and said that the incident was "terribly upsetting."
"This made me feel beyond unwelcome and unsafe on campus because of the scary rhetoric from my peers," Nesher wrote. "Students have the right to free speech, but once the speech becomes threatening or makes Jewish students feel excluded, the university has the responsibility to voice their support with the Jewish community and condemn anti-Semitism."
One of the most recent incidents listed in the students' complaint claims that an ISG senator suggested excluding Jewish students from participation on a committee if they affiliate with Chabad or Hillel, two Jewish student organizations that have chapters on campuses across the country and offer religious and Jewish identity activities and support services. An ISG senator who is Jewish and pro-Israel stepped down from her position on Oct. 14, according to the complaint. In her resignation letter, the student called the Senate "a forum to spew anti-Israel, anti-Semitic hate speech, directly in the face of Jews."
Lewin said that Jewish students at the university are being pressured to "shed a part of their Jewish identity" -- their support for and connection to the state of Israel -- while participating in organizations such as student government. And if students express outward support for Israel, they are branded as "colonizers," "racists" or supporters of "apartheid," which Lewin said is a contemporary form of anti-Semitism that is increasingly prevalent on college campuses.
"That's today's anti-Semitism," she said. "What we see on campuses like UIUC is in addition to the vandalism and swastikas, you have this constant bombardment, demonization and ultimate exclusion of students who share their Jewish identity."
Robin Kaler, associate chancellor for public affairs for Urbana-Champaign, said in an emailed statement that the university "has been engaged in a long, meaningful and what we believed was a collaborative discussion about the concerns raised by" those involved in the students' civil rights complaint since it was made aware of the allegations. The university is "disappointed" and it is "disheartening" that the students and their representatives have come out publicly about the complaint amid this discussion, Kaler wrote.
"We are absolutely committed to an inclusive university community where everyone feels welcome," she wrote. "One of our core institutional values is ensuring that people of all faiths, ethnicities, national origins and viewpoints can live, learn and thrive. We will never tolerate bigotry, racism or hate, and we condemn acts and expressions of anti-Semitism."
Urbana-Champaign has not been contacted by the Department of Education regarding the OCR complaint but was asked over the summer for a response to an identical complaint made to the Higher Education Commission, the organization that accredits the university, Kaler wrote. The commission "determined that the allegations raised in the complaint do not indicate substantive noncompliance with their requirements and that no further review would be conducted," she wrote.
Lewin noted that after the ISG Senate resolution that urged the university to divest from businesses that support Israel, Robert Jones, the university's chancellor, issued a statement that said the resolution "includes several points on which we can agree" but also "includes language that we cannot and will not support." Jones recognized the position that some students were put in when asked to vote in favor of the resolution, but he also cited the university's responsibility to uphold students' freedom of speech and the student government's power to pass nonbinding resolutions on topics of its choice.
"It is unfortunate that a resolution before the group tonight was designed to force students who oppose efforts to divest from Israel to also vote against support for the Black Lives Matter movement," Jones's statement said. "We find ourselves in the difficult position of defending speech and expression, so we can talk together about difficult circumstances and have uncomfortable conversations. We must always balance that with our need to create a community where it is safe to live, learn and work."
But Lewin was disappointed that the statement did not explicitly call the language on the resolution anti-Semitic or mention Jewish students. The first step to college administrators adequately responding to anti-Semitism is identifying it outright in all of its "current manifestations," which includes efforts to divest funding from Israel, she said.
"The answer to anti-Semitic speech is never to do nothing," Lewin said. "Just like the answer to racist speech is never to do nothing … The university should use its own speech. It should respond to that speech and educate people as to why it's anti-Semitic."
Some students at the Sept. 23 resolution meeting, including those affiliated with the campus chapter of Students for Justice in Palestine, or SJP UIUC, an organization that advocates for Palestinian liberation and supports the boycott, divestment and sanctions movement against Israel, argued that racial injustice against Black people in America aligns with injustices by the Israeli government against Palestinian people. Sophia Giakas, a student who spoke on behalf of SJP UIUC during the Zoom meeting, said the argument "isn't about religion" and "supporting Israel in itself is anti-Semitic because a settler-colonial state goes against the religion it claims to uphold."
A statement posted to the SJP UIUC Facebook account said that the "resolution about upholding human rights should not be controversial" and said the organization was displeased with the university's response.
"The language administration chose to use is very indicative of their stance on Palestinian human rights and on their views of the integrity of the Palestinian women that worked on this resolution for months," the SJP UIUC statement said. "Nowhere in the statement was there any concern or regard from administration for the safety of its students that were threatened by Zionists that opposed this bill."
Meanwhile, the Jewish students who filed the complaint with the Department of Education say they feel threatened by the actions of SJP UIUC, the student government and the repeated anti-Semitic symbols posted on campus and other actions they say have occurred on the campus for several years. Katsnelson said in an email that being openly Jewish on campus is "exhausting."
"Being a Jew at UIUC comes with immense hate and hostility," he wrote. "As a senator on student government I've experienced shocking examples of antisemitism first hand … Jewish students are scared to admit that they're Jews. They literally talk about 'coming out' as Jewish because a lot of people hide that they're Jewish for fear of harassment. Universities should do everything they can to address and prevent anti-Semitism especially since we know how rapidly it's increasing."
Note: This article was updated to reflect a correction of the acronym for the Students for Justice in Palestine chapter at the University of Illinois, Urbana-Champaign. The correct acronym is SJP UIUC.