You have /5 articles left.
Sign up for a free account or log in.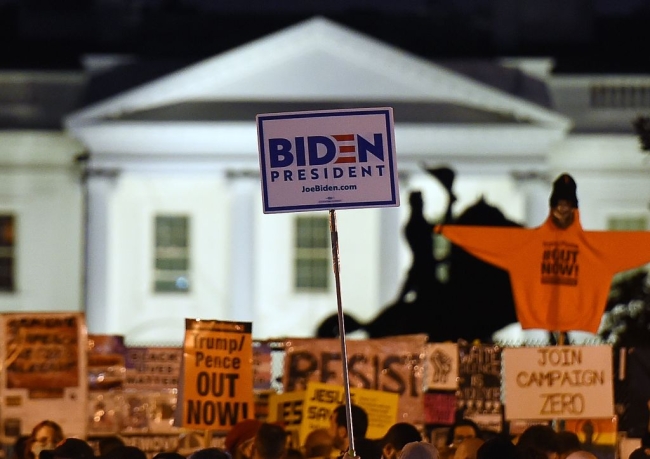 Oliver Douliery/Getty Images
The University of Maryland, College Park, campus was quiet Tuesday night, as students and political organizations gathered in off-campus apartments and over Zoom to track the results of the 2020 presidential election.
The lead-up to the election has been unusual compared to previous election years, as the university is operating a very limited number of in-person classes due to the coronavirus pandemic. Lizzie Mafrici, a senior, said it was strange to walk across a mostly empty and silent campus considering how active and noisy it was for the 2018 midterm elections, when members of the university's Terps Vote, a get-out-the-vote effort, were urging her and other students to engage politically.
"It doesn't feel like Election Day to me," said Mafrici, president of Preventing Sexual Assault UMD, a student-run organization that spreads awareness and leads programming about campus sexual assault. "I saw one Trump sign, which prompted me to put up my Biden sign, but there's not many political opinions expressed either way … It's weird. I'm looking out my window right now, and it just doesn't feel like Election Day."
The UMD College Republicans organization hosted an election results watch party on Zoom and were joined by Addie Eckart, a Republican Maryland state senator who represents counties on the state's Eastern Shore. Eckart predicted around 7 p.m. that election results would not be determined until later this week due to mail-in ballot counting and long lines she saw at the polls. A number of students in the group and at other campuses anticipated the same -- that neither President Donald Trump nor Joe Biden, the Democratic nominee for president, would be declared the winner before midnight.
The result was an anticlimactic delay of the election results, which officials at George Washington University and Howard University said could cause unrest in downtown Washington, D.C. They warned students to prepare for large and potentially "disruptive" gatherings. At Black Lives Matter plaza, a two-block section near the White House, a few altercations between protesters took place and were described as "scuffles" by local media outlets.
While a handful of students participated in afternoon demonstrations and volunteer activities led by local social justice organizations near the White House, most student leaders affiliated with political groups at colleges and universities in the District of Columbia and at College Park said they had not heard of plans for in-person demonstrations on campuses because fewer students are around or feel comfortable going out due to the coronavirus pandemic.
Republican student leaders said they were fearful of potential unrest by left-wing groups and protesters should Trump be re-elected. Mike Brodo, a junior at Georgetown University who is executive director of Gen Z GOP, a national group of Republican students attempting to reshape the party, said he is mostly concerned about "violent riots on the left." Brodo, a resident of Arlington, Va., a suburb of Washington, D.C., said he is worried about the long-term effects that civil unrest, violence and a contested election could have on people's trust in American democracy.
"It's definitely the most high-stakes election in my lifetime," said Brodo, who voted for the first time this year. "Not for the policies, it's really about the principles and what it means for the country and democratic norms more broadly."
Brodo said he and his friends avoided downtown Washington on Tuesday and he's hearing peers say they will "wait and see" what happens today. Brodo's parents told him to stock up on food for the week, much like GWU officials who told students last week to prepare for Election Day as if it were a hurricane or snowstorm.
"Downtown D.C. looks like it's preparing for a category-five hurricane," Brodo said. "I wouldn't say I'm terrified, but I'm cautiously scared in a way. It's upsetting."
The students aren't alone in their fears about the potential for unrest. When students were asked in a College Pulse survey last month to identify concerns they have about the presidential election, 76 percent said they were worried about "civil unrest," according to a report by the research company and Chegg.org, the research and advocacy arm of the student services company Chegg, which helped develop the survey. Fifty-nine percent of the 1,500 undergraduate students surveyed said they were concerned about a transition of power should Trump lose the election, the report said.
Some students affiliated with Black Terps Matter, a student organization at the College Park campus that protests police brutality against Black and LGBTQ people, traveled about nine miles into downtown Washington to Black Lives Matter Plaza to participate in Election Day volunteering and attend an outdoor watch party hosted by other noncampus groups, said Saba Tshibaka, a senior and lead organizer for Black Terps Matter. Tshibaka spent Tuesday morning distributing food from businesses owned by people of color to people standing in line at the polls in the District of Columbia.
Tshibaka said she has been demonstrating in the city since last week in response to the death of Karon Hylton, a 20-year-old Black D.C. resident who was chased by police while riding a moped and killed in an automobile collision. She said the outcome of the presidential election would not change her plans to spend another night protesting outside the 4th District Metropolitan Police Station. But she expressed concern about the actions police could take if large demonstrations or unrest start after sunset.
Fear of going out and speaking out is widespread among UMD students and overshadowed their motivation to go out in the streets or on campus on Election Day, Tshibaka said. She struggled to get leaders from other student organizations to go into D.C. with her and said she had to convince some peers to vote. Students who are fighting racial injustice on campus and in the local community are also feeling hopeless about "age-old issues that we can't fix," Tshibaka said.
"People are scared. I think that people are very, very scared," she said. "Scared to the point that they're not organizing, so much that it's become a detriment to our community."
Tshibaka said she doesn't give much weight to the outcome of the 2020 presidential election. No matter who is in the White House, issues such as police brutality are ongoing, as are efforts by Black Terps Matter to erect a memorial for Richard Collins III, a Black student at Bowie State University and a recently commissioned U.S. Army second lieutenant who was murdered on the College Park campus in 2017 by a white student, she said. Black Terps Matter did publicize a paper written by Colby Merrill, a UMD junior, titled "Why Not to Vote for Donald Trump," which said that Trump denies the "existence of white supremacism" and discusses the president's record on issues such as immigrant and LGBTQ rights.
Brodo said his organization, Gen Z GOP, is also focused on issues outside of Tuesday's presidential election. When he was a first-year student at Georgetown, Brodo felt alienated by the university's College Republican group because of how polarizing they were. He did not vote for Trump's re-election, and Gen Z GOP, which was created this year, did not endorse a presidential candidate.
"We want to emphasize that it's more than whatever happens tonight," Brodo said before the polls closed on the East Coast. "We came on the stage anti-Trump because we felt that he embodied the devaluing of discourse. We recognize that especially if he wins re-election, the party is losing young voters because they're not addressing what we care about."
Tshibaka and Jeremy Ward, president of the American University College Democrats, were not feeling optimistic on Monday about Biden's chances of winning the election. Ward said he is worried about unrest and students' mental health if results aren't determined for several days.
"Especially with the pandemic and all of our classes online, this is an unfortunate perfect storm," Ward said. "Many students are already feeling isolated, and add on the Zoom fatigue, that's one of our concerns … I'm mostly just worried if this takes longer than two days."