You have /5 articles left.
Sign up for a free account or log in.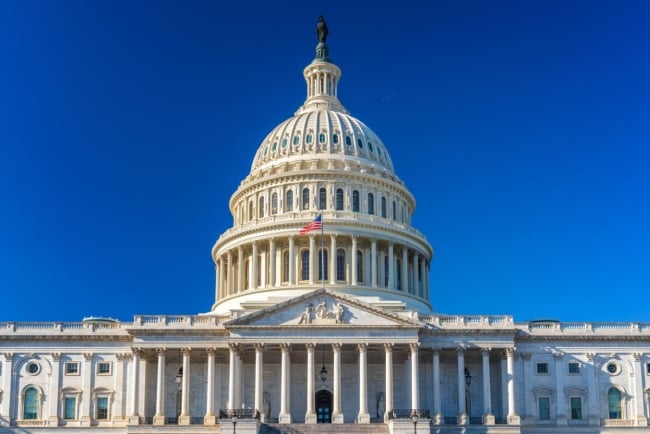 With his apparent election, Joe Biden will head to the White House with an ambitious agenda for higher education. For instance, he wants to make college free for many students. But the question now is how much the president-elect will be able to get through Congress -- a lot will be riding on two runoff elections headed to voters in Georgia on Jan. 5 to decide who will fill the last two seats in the Senate.
Democrats were able to cling to hopes of at least winning a 50-50 tie in the Senate, with Vice President-elect Kamala Harris casting the deciding vote, when Georgia's Republican senator David Perdue on Thursday fell a fraction short of getting the 50 percent vote to win re-election outright.
Democrats could win at least a tie, but they would need both Democrat Jon Ossoff to defeat Purdue, and Democrat Raphael Warnock to defeat Republican senator Kelly Loeffler in the other runoff. Mathematically, there's still a chance Democrats could have a one-seat advantage should their candidate in North Carolina, Cal Cunningham, make up a 95,000-vote deficit over incumbent Republican senator Thom Tillis, who has declared victory.
Should Republicans win even one of the Georgia races, they would be in position to tap if not slam the brakes on the Democratic president's ambitious -- and expensive -- proposals.
In addition to blocking Biden's more than $1 trillion plan to eliminate tuition at community colleges and historically Black colleges and universities, as well as public institutions for those making $125,000 or less, Republicans will likely also balk at his proposals to cancel $10,000 from all borrowers' student debt during the pandemic. Then, for those making $125,000 or less, he would forgive debt accumulated to pay tuition, though not loans for living expenses.
"Winning the presidency is critical but insufficient to enacting many of the bold initiatives that the Biden campaign has proposed in education, health care and tax policy," said Terry Hartle, the American Council on Education's senior vice president for government relations. "Once in office, presidents can do many things to advance their agendas, but actually making major changes in public policy requires Senate approval."
"There's no question that there will be more of a challenge in enacting his agenda" with Republicans controlling the Senate, said David Baime, senior vice president for government relations and policy analysis for the American Association of Community Colleges.
But the Democrats' failure to win a clear majority in the Senate, despite having spent hundreds of millions of dollars, may have already begun moderating some of Biden's most-high profile plans, including widespread debt cancellation, said Frederick Hess, director of education policy at the conservative American Enterprise Institute.
Much as Republicans haven't been able to agree on a plan on what would replace the Affordable Care Act if the health-care law is ever repealed, Senator Chuck Schumer, who would become Senate majority leader, would have to wrangle a diverse group of Democrats and would not be able to pass anything without the support of moderates and conservatives.
He likely would not have the votes to change Senate rules and eliminate the ability of Republicans to filibuster. That would mean any bill would need to have the support of several Republican senators to end a filibuster. Democrats could also pass some measures through a budget procedure called reconciliation that would require only majority support. But to have enough votes to pass, with Harris's help, any proposal would need the support of all Democrats, including moderates like West Virginia senator Joe Manchin, who has been willing to break party ranks.
"Most of the big stuff is out of play," Hess said. "Free college is out of play. Student loan cancellation is out of play."
"The caucus has become more moderate, the same way it was in 2018," before moderate Democrats like Indiana's Joe Donnelly, North Dakota's Heidi Heitkamp and Missouri's Claire McCaskill all lost their re-election bids, said Beth Stein, senior adviser to the left-leaning Institute for College Access and Success.
Rather, Hess said, Biden may have to cut deals with the leader of Senate Republicans, Mitch McConnell, something that might be possible to increase the size of Pell Grants instead of eliminating tuition, or doing targeted debt relief.
"Maybe the deal-making Biden comes out. People have to remember that Biden and McConnell have known each other for 40 years. These are two guys who in their heart are deal makers," Hess said.
As Politico noted, McConnell was the only Senate Republican to attend the funeral for Biden's son Beau in 2015.
Progressive groups, though, are holding out some hope. "The Biden-Harris ticket campaigned on meaningful student debt relief. We know that the incoming administration will do all that it can to keep those promises -- but we also know that getting these changes enacted by Congress will not be easy," acknowledged Natalia Abrams, executive director of the advocacy group Student Debt Crisis.
Still, the group's program director, Cody Hounanian, said polls have shown bipartisan support for debt cancellation, and the idea could gain congressional support at a time when many are struggling financially. "The COVID-19 pandemic doesn't care which political party is in control, and the student debt crisis will continue to impact millions of Americans without serious action from political leaders. We will pressure any and all leaders to enact the most sweeping reforms possible," he said.
However, even before the election, Senate Democratic leader Chuck Schumer and Elizabeth Warren, a progressive Democratic senator from Massachusetts, as well as progressive groups, had called on Biden to sidestep Congress. Biden, they say, should use his executive powers to unilaterally take such strong measures as wiping away $50,000 of debt from all borrowers.
While winning control of the Senate does not pave the way for Biden to do all he wants, it would be significant in a number of ways.
A Republican Senate could bring battles with the Biden administration over confirming his top officials and cabinet members, said Lanae Erickson, senior vice president at the centrist think tank Third Way.
"If they have to get confirmed by a Republican Senate, that is not going to be a short and easy process," she said during an American Enterprise Institute online panel discussion on the election's impact on education.
Hess recalled during the discussion the strong opposition U.S. Education Secretary Betsy DeVos faced from Democrats during her confirmation hearings. Republicans will probably want to return the favor, he said.
"Folks on the Hill on both sides have long memories," he said.
Should Republicans keep control of the Senate, it's murky as well what would top the Republican majority's priorities for higher education, or if colleges and universities would be a priority at all.
Much will depend on who will chair the Senate's education committee. The problem is that the current chairman, Lamar Alexander, a former president of the University of Tennessee, will be retiring on Jan. 3. "He has been the linchpin for Republicans on education for a decade," Hess said during the online discussion.
But others, like North Carolina's Richard Burr, Kentucky's Rand Paul or Maine's Susan Collins, could be in line to chair the Health, Education, Labor and Pensions Committee, which will likely be preoccupied during a pandemic with the health-care portion of its charge. They aren't known to be as interested in higher education as Alexander has been.
That Republicans may control the committee for at least another two years creates a political dilemma for Patty Murray, the Senate education committee's top Democrat.
She has worked well with Alexander to craft major bipartisan legislation like the No Child Left Behind Act.
"She had a much more willing partner in Alexander," said Clare McCann, deputy director for federal higher education policy with the left-leaning group New America. "Whoever [is the top Republican on education], the HEA is not going to be the same priority."
So Murray will have to decide whether she wants to cut a deal with Alexander on a Higher Education Act revamp before he goes, or to wait in the hopes that Democrats will control the Senate next year. Complicating matters is that the runoff election is scheduled for two days after Alexander retires.
Speaking to community college trustees in February, Alexander had this message for Murray: "If you don't get it done this year, it'll probably be another 10 years before you get the job done properly," he said.
Alexander's and Murray's staffs apparently were close to a deal on a rewrite of the Higher Education Act earlier this year before the pandemic diverted attention to other issues. Increasing the maximum size of Pell Grants appears to be a possibility, given it has bipartisan support.
"There's real growing momentum about Pell Grants when low-income Pell-eligible students are taking a hit and not going to school," said Stein.
Important to Alexander is further simplifying the Free Application for Federal Student Aid. But dividing the sides were issues like Murray's desire to do away with DeVos's new Title IX regulation giving more due process rights to those accused of sexual assault or harassment on campuses, which women's activists fear will deter victims from coming forward.
A spokeswoman for Murray did not return an inquiry. Whether Republicans and Democrats decide it's in their interests to cut a deal before knowing who will control the Senate next probably depends on how confident they feel about winning the runoffs.
"I suppose it will come down to their levels of confidence in the ultimate outcome -- a prediction they'll have to make before the end of the year," McCann said.
The chances of a deal will depend on how much senators will feel like working together after a bruising election.
"The bill's chances of moving in the Senate could well hinge on whether there is a climate of at least some cooperation, most importantly on coronavirus relief legislation," Baime said.