You have /5 articles left.
Sign up for a free account or log in.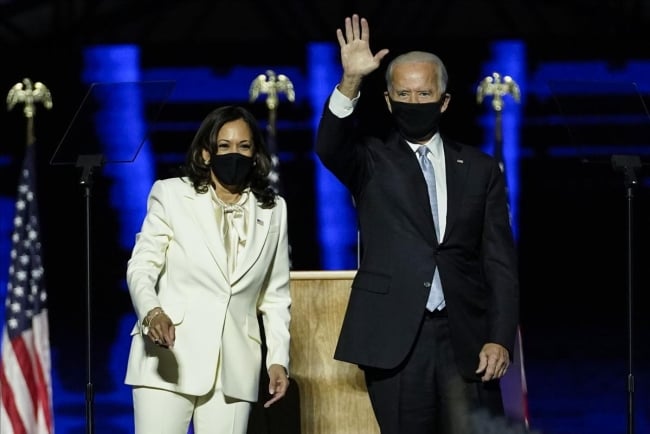 Andrew Harnik/AFP via Getty Images
For Joanne Liu, a Dartmouth College student from Hong Kong, the election of Joe Biden means she and her fellow international students can feel safer.
"I'm not very familiar with what Biden is planning for international students because I don't think he's spoken a great deal about this matter, but ultimately it boils down to what they represent," Liu said. "Trump doesn't just represent hostility to international students but hostility to a lot of immigrant families or ethnic minorities, people who are trying to have a new life or find a way to succeed or find a new chapter for themselves in the U.S."
President Donald Trump's defeat is likely to usher in a new era for international higher education after four years when those working in the field found themselves on the defensive.
"The past four years have been one of the most challenging periods in the history of our field, during which international educators have shown unparalleled strength and resilience," Esther D. Brimmer, CEO and executive director of NAFSA: Association of International Educators said in a statement on the election results. "They have defended the field against travel bans, executive orders, detrimental regulatory actions and xenophobic rhetoric. Now we face a horrific pandemic which further threatens our field and our lives.
"We are eager to work with the Biden-Harris administration as President-elect Biden has pledged to directly address many of these issues as he takes office."
Professionals in international education are optimistic about a change in tone and policy at the top even as they caution that serious damage has been done to America's reputation as a destination for international students.
"Trump as a president may have come to an end, but Trumpism hasn't," said William Brustein, special assistant to the president for global affairs and the Eberly Family Distinguished Professor of History at West Virginia University. "Many people had thought this is going to be a total repudiation of Trumpism; in fact, it wasn't. There's still a strong nativist instinct in this country.
"We can look forward to a springtime again in respect to a more positive trajectory, but let's not be overly optimistic. I think the heyday for higher education with international student interest is not going to be recreated in at least the next decade."
The Policy Landscape
In the short term, Biden is expected to issue executive orders on the first day of his presidency repealing the Trump travel ban that restricts travel from a number of mostly Muslim-majority countries and reinstating the Deferred Action for Childhood Arrivals program, which provides work authorization and protection against deportation to undocumented immigrant students who were brought to the U.S. as children.
It remains uncertain whether the Trump administration will have time before the term ends on Jan. 20 to finalize a controversial proposed rule that would limit the duration of student visas, forcing students to reapply for visas every two or four years depending on which country they come from. The administration argues the rule would allow for closer oversight of international students to enforce compliance with immigration laws. Higher education groups strongly oppose the rule, which they argue would impose burdensome new requirements on students and leave them uncertain about whether they could stay in the U.S. long enough to finish their degree programs. More than 32,000 comments were submitted on the proposed rule before the comment period closed Oct. 26.
If the rule were to be finalized before Jan. 20, the Biden administration would need to begin a new rule-making process to revoke it. Other rule changes narrowed eligibility criteria for H-1B visas for skilled workers and substantially increase the wages employers would have to pay them. Colleges have joined with business groups in suing to revoke the rules, arguing that they would make it hard if not impossible to retain international researchers and professors.
Another regulatory change, now in the proposed rule stage, would eliminate the H-1B visa lottery in favor of prioritizing applicants earning higher wages.
"It basically will again ice out anyone who's entry-level," said Sharvari Dalal-Dheini, director of government relations for the American Immigration Lawyers Association. Many international students use the H-1B visa as a pathway for staying to work in the U.S. after they graduate.
Also of relevance to international education are policies relating to international students studying online during the pandemic. The Trump administration abruptly issued a policy over the summer requiring international students to take at least one in-person class this fall in order to legally stay in the country. The administration rescinded the guidance in response to a lawsuit filed by Harvard University and the Massachusetts Institute of Technology, but it continues to bar new students from coming to the U.S. to study exclusively online.
The Presidents' Alliance for Higher Education and Immigration, a group of college leaders that advocates for welcoming immigration policies for international students and undocumented students, has compiled a detailed list of administrative actions it is urging the incoming Biden administration to make in relation to undocumented and international students within its first 100 days.
"I think there can be an immediate sense of relief and awareness that the climate has changed, but the actual work of rolling back different rules, regulations and other directives is going to take time, and rebuilding the reputational certainty is going to take time," said Miriam Feldblum, executive director of the Presidents' Alliance. "We're not working in a static environment. Other countries have already taken advantage and have better pathways for students to stay and work and possibly obtain permanent residency in their countries."
New Leadership
Biden has not spoken in detail about his plans for international education and high-skilled immigration, but experts are predicting a return to Obama-era-type policies. On his campaign website, Biden calls for increasing the number of visas for permanent, employment-based immigration while providing mechanisms for temporarily reducing visas during times of high American unemployment, and exempting foreign graduates of U.S. Ph.D. programs in STEM fields from any visa caps.
"Biden believes that foreign graduates of a U.S. doctoral program should be given a green card with their degree and that losing these highly trained workers to foreign economies is a disservice to our own economic competitiveness," his website states.
Carl Herrin, a longtime observer of international education policy and chief of staff at Worcester State University in Massachusetts, said Biden -- for years the chair of the Senate Foreign Relations committee before becoming Obama's vice president -- has a deep understanding of the values of international education.
"It's probably an exaggeration to say that it's in his bones, but I see very little need to convince him" of the value of international exchange, Herrin said. "Any appointee on the foreign relations side, probably on the immigration side, isn't going to have any difficulty understanding the core values."
At the same time, Herrin sought to tamp down any expectations of an immediate rebound in international students.
"The first thing I would say as an international educator, whether we're talking about international student flows or scholar interactions or study abroad, is on Jan. 20 we're not going to be out from underneath the pandemic, and that creates a whole different overlay, a wet blanket, a kind of inertia, however you want to describe it, that interferes with the possibility of what would otherwise potentially be a pretty nimble or pretty speedy response."
Fanta Aw, vice president of campus life and inclusive excellence at American University and the Hurst Senior Professorial Lecturer at the School of International Service, said most people are cautiously optimistic.
"Being in the midst of the global pandemic combined with the global economic situation and, I would say, the erosion of U.S. leadership in the world and what has been … increased nativist sentiment, when you add all of those up, we're still in the middle of a perfect storm. New leadership offers a potential for renewal, for reset, but we have to be very realistic that these are very different times with lots and lots of challenges," she said.
Still, Cheryl Matherly, vice president and vice provost of international affairs at Lehigh University in Pennsylvania, pointed out that having a vice president-elect in Kamala Harris who is the daughter of two former international students "sends a huge message to the world about opportunity."
"The biggest issue with international students and scholars is predictability," Matherly said. "If we can go through a period where there are not unanticipated rule changes, when people can figure out how to work within the system, I think that as much as anything is going to make a huge difference."
Rachel Banks, senior director for public policy and legislative strategy at NAFSA, the international education association, said rebuilding the reputation of U.S. higher education will not happen overnight.
"There is a current perception that the United States is less welcoming than other nations, and students fear what's coming next," she said. "This uncertainty has had a chilling effect on international student enrollment in the United States. Under a Biden administration, there is the potential to have policies that welcome international students and scholars and provide predictability to student and scholars while meeting the needs of the nation."
Doug Rand, an immigration policy expert who worked on White House policy on high-skilled immigration in the Obama administration, said Trump's policy changes can all be undone via executive action in the Biden White House.
"There's good news and bad news for higher ed," Rand said. "In general, the good news is all these bad policies can be reversed and will be reversed. The bad news is if I'm an international student choosing where to go to college or grad school, for the first time in modern history I'm looking at the United States as a place that might be unwelcoming again in four years. I'm afraid the country has committed this insane self-inflicted wound. We were No. 1 in the world for international students, and now we've just ceded that massive advantage that took us generations to build."