You have /5 articles left.
Sign up for a free account or log in.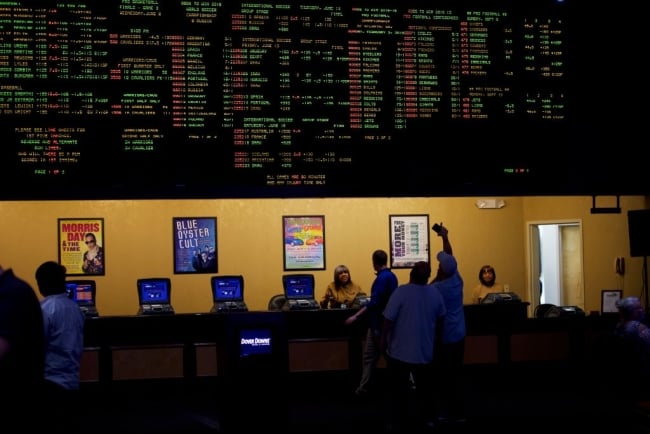 Heather Lyke, director of athletics at the University of Pittsburgh, didn't mince words when she testified in the U.S. Senate over the summer about the dangers of sports betting, especially gambling on the outcome of intercollegiate athletic competitions.
Lyke said the legalization of betting on college sports "will have a corrosive and detrimental impact" on athletes and students in general, and she noted that gambling can negatively impact the mental well-being of young adults, according to remarks she made at a July 22 Senate Judiciary Committee hearing on "Protecting the Integrity of College Athletics." Athletes and staff members could be influenced by "pressures and temptations" to fix game outcomes for pay, Lyke said.
"Mental health and addictive behavior must be considered if young adults are exposed to gambling," she said. "It is not unreasonable to foresee students gambling away financial aid or work-study money on the 'big game.'"
Lyke's stance on sports betting has long been shared and staunchly defended by the National Collegiate Athletic Association, mostly notably in a landmark 2018 U.S. Supreme Court decision that struck down federal restrictions on sports betting. The NCAA argued for prohibiting the practice because it would "undermine the integrity" of college sports. But at least one Division I institution in the NCAA, the University of Colorado at Boulder, has recently decided to abandon this principle and enter into a first-of-its-kind sponsorship agreement with a sports betting company.
College sports and gambling experts are predicting the deal is the beginning of a larger wave of institutions warming up to sports betting partnerships due to their revenue potential.
CU Boulder entered into a five-year, $1.6 million corporate partnership in September with PointsBet Colorado, a gaming company that operates traditional in-person and online casinos and an online platform and phone application that allows users to wager on professional sports such as the National Football League and National Basketball Association, and on intercollegiate athletics contests in states that permit it. The deal was made by Buffalo Sports Properties, the official media rights holder of CU Boulder, which is overseen by Learfield IMG College, a marketing company that manages corporate sponsorship and advertising for more than 200 university athletic programs and intercollegiate conferences.
PointsBet will be promoted on the university's Buffalo Sports media channels and at Folsom Field and the CU Events Center on game days.
In addition to annual payments to reach the contract total, the athletics department will receive $30 for every new bettor who registers on PointsBet and uses a promo code associated with Colorado Athletics, according to a copy of the agreement. The university also agreed to facilitate relationships between faculty members and the company and willl help PointsBet recruit students and alumni for job and internship opportunities with the company through speaking events and a designated stand at the university's career fairs, the agreement said.
The deal "provides a financial boost" for the university's athletics department during a time of growing financial strain due to the coronavirus pandemic, a Colorado Athletics press release said. Athletic Director Rick George praised the deal for providing some funds directly to the university's Leadership and Career Development program, which supports athletes as they explore career and professional development opportunities. According to the agreement, $75,000 of PointsBet's annual payments of about $300,000 to Colorado Athletics will go to the program and "PointsBet recruitment" of students for jobs and internships.
"We're thrilled to have PointsBet as a partner and for the benefits this sponsorship will provide for our student-athletes for years to come," George said in the press release. "We are impressed with their commitment to raising awareness around responsible gaming."
Dustin Goulker, a writer and editor who manages several online publications that report on sports betting, said he was "borderline shocked" when the Colorado Athletics and PointsBet agreement went public. Goulker is a proponent of legal and regulated sports betting and believes the NCAA should allow it. But he noted the wide gap between the association's stated opposition to sports betting and this new deal and said it could "open the floodgates" for colleges in the other 21 states and the District of Columbia where sports betting is legal to seek similar deals as potential revenue opportunities. Voters in three additional states also voted this month in favor of ballot measures to legalize sports betting, ESPN reported.
"They're trying to make a bit of a splash," Goulker said of Colorado Athletics. "This has not really happened to my knowledge anywhere else … The big dynamic is that the NCAA has this stance and Colorado just went ahead. I find it hard to believe that they had the NCAA's blessing."
David Plati, associate athletic director for sports information at CU Boulder, said George vetted the deal with the NCAA, compliance officials in the athletics department and the Pac-12 Conference, the Division I league in which the university's sports teams compete. Athletes and athletics staff members are "constantly educated" about Division I bans on athlete and staff participation in sports betting activities, Plati said. George and staff members who crafted the agreement declined to comment beyond what was stated in the September press release.
NCAA Division I bylaws prohibit athletes and staff members who are involved with athletics departments either at the institutional or conference level from participating in sports betting or providing information to those involved with sports betting, according to the most recently updated NCAA Division I Manual. This includes university staff members, such as presidents, chancellors and faculty representatives, who have any oversight or advisory roles with college and university athletics departments, the bylaws say. The Pac-12 Conference's advertisement standards do not allow promotion of gambling or sports betting by the conference itself, but the conference does not limit universities from entering into such deals on their own.
Legislation proposed by federal lawmakers that will allow athletes to profit from their name, image and likeness, or NIL, without penalties from the NCAA would allow colleges and universities to prohibit athletes from making deals with companies that promote gambling. The NCAA Division I Council, which develops and proposes legislative changes for the division, proposed NIL-related rules last month that include prohibiting athletes from participating "in activities involving a commercial product or service that conflicts with NCAA legislation," such as sports betting, an Oct. 14 press release said. The Colorado Athletics partnership contract with PointsBet says that the company "will not make use of any student-athlete's name or likeness" without approval from university compliance officials.
The NCAA permitting the deal while still broadly discouraging gambling and prohibiting athletes from engaging in such partnerships is "hypocritical," said Alex Wolf-Root, a lecturer of philosophy in sport at CU Boulder and president of United Campus Workers Colorado, a union for employees at all CU campuses. Wolf-Root, who ran track as an undergraduate at the University of California, Davis, said he sees the deal as purely a business decision and "a clear indication" that the NCAA isn't honest about its claims that it prioritizes athlete well-being.
"It's very telling of just how two-faced the NCAA and the collegiate model is," he said. "We claim that the purpose of college sports is to develop athletes … They say it's not about money, revenue, entertainment, but so many decisions show how bullshit that is."
Wolf-Root and Goulker also noted that PointsBet advertisements during CU Boulder sports events will be displayed and broadcast to thousands of 18- to 22-year-old college students, most of whom are not old enough to legally engage in sports betting under Colorado law. The legal age for gambling in the state is 21, so there's "some weirdness" with the idea of a university putting out sports betting advertisements to a stadium or arena full of college-aged students, Goulker said.
"You're putting it in front of their eyeballs," he said. "It's a weird match in a lot of ways."
But Dave Ridpath, past president of the Drake Group, an organization that advocates for academic integrity in college sports, said he sees the Colorado Athletics deal as a natural and "inevitable" development, given how much betting on major college sports already occurs, such as wagering on the outcome of the NCAA men's basketball March Madness tournament. Ridpath said the potential revenue stream to college and university athletic departments from such partnerships is positive. He believes betting on intercollegiate sports should be allowed but more closely regulated, and it should operate more transparently to better track potential problems, such as athletes throwing games and or falling sway to pressure to cheat.
"In terms of gambling, it generates so many millions of dollars," Ridpath said. "I don't think it's out of line for a school to partner with a respected gambling entity. Would I prefer that it didn't happen, sure, but you have to be realistic."
Ridpath said he could see individual athletes being given the right to be sponsored by sports betting entities as it becomes more widely accepted, and he expects the NCAA will be swayed to change its position on sports betting. He noted that Division I representatives eventually lifted a ban on colleges and universities selling alcohol at championship events sanctioned by the association and could see the association making a similar change when it comes to gambling.
"It's like anything else. The NCAA has a lot of situational morality," he said. "As it becomes more and more acceptable and more mainstream, they will probably relent on that."