You have /5 articles left.
Sign up for a free account or log in.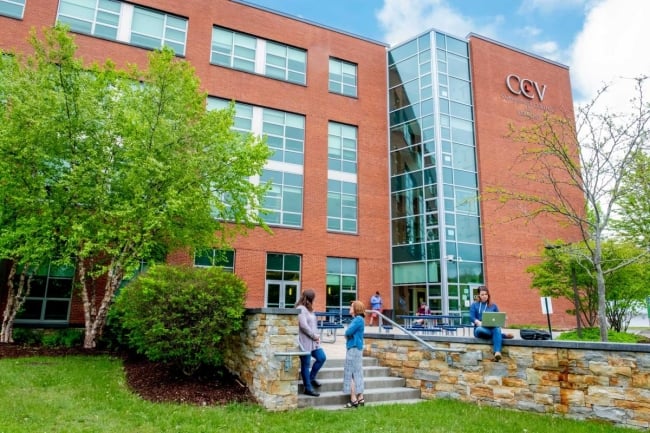 Community College of Vermont/Jade Premont
Community college enrollments are suffering. Badly.
Nationally, they are down 9.5 percent, according to the latest report from the National Student Clearinghouse Research Center. Community college freshman enrollment is down by 19 percent. Enrollment of underrepresented minorities has taken an especially hard hit -- it's down by nearly 30 percent.
Some colleges are doing worse than others -- and some are doing well. But it's hard to pinpoint exactly why. Inside Higher Ed requested enrollment data from every state's community college system but to date has received information from fewer than half the states. Several systems have said they don't expect to release numbers until January.
While experts agree that there are not yet any clear trends emerging from the rubble of fall enrollment caused by the COVID-19 pandemic, they have some strong hypotheses.
"If we take a step back and think about what happens during recessions, I think the typical expectation is that community college enrollments would increase," said Justin Ortagus, assistant professor of higher education administration and policy at the University of Florida. "Of course, that's not happened during this period, nationally."
Ortagus believes a few factors are at play. First, enrollment at for-profit colleges -- direct competitors for many students who attend community colleges -- is holding steady. This is likely due to their marketing efforts and deregulation by the Trump administration, he said.
Students may also be less comfortable with taking online courses at colleges that haven't offered them before. Institutions that offered in-person instruction this fall -- largely not two-year colleges -- may have done better for that reason. Institutions that were already primarily online before the pandemic have done better. Their enrollment is up 6.1 percent, according to the National Student Clearinghouse Research Center.
More than anything, though, uncertainty may be driving people's decisions, Ortagus said.
"When you think about everything going on -- the public health crisis, economic uncertainty, folks trying to keep their family dynamic in one piece -- college may not be the top priority," he said.
This recession is also different from previous ones, said Xiaodan Hu, assistant professor of higher education at Northern Illinois University.
"The key argument there [in 2008] was that unemployed workers choose to invest in retraining when there are no jobs," Hu said. "Now, it's not like there are no jobs. It's not about getting training, but it's about things opening up."
Displaced workers may be waiting for things to go back normal and are hesitant to make the years-long commitment of pursuing a degree, she said. Community college tuition has also increased 22 percent over the past decade, so the decision is tougher now financially.
Students who may have worked part-time to afford college may now have lost that option, as opportunities in restaurants and hospitality were scaled back due to the pandemic, she added. There's also the risk that those jobs will go away again if there's another spike in COVID-19 cases that prompts a lockdown.
"Going to college in this situation seems to require a lot of calculation, a lot of risk taking," Hu said.
Uncertainty
So far, enrollment for states in the Southwest isn't looking good.
Enrollment at Arizona's community colleges is down 14.5 percent. Nearby Colorado is down 12.6 percent. Enrollment at New Mexico Independent Community Colleges Inc., a consortium of 10 of the state's two-year colleges, is down 15.8 percent compared to last fall.
"This pandemic has really totally changed our ability to do enrollment projections in the way we typically have," said Kathy Ulibarri, executive director of NMICC.
The average community college student in New Mexico is older, working, parenting and attending college part-time, Ulibarri said. Usually, when they lose their jobs, they enroll in courses to reskill. But not this time.
Through focus groups and surveys, Ulibarri's discovered some potential reasons why.
"There's just too much uncertainty around the future for students to feel comfortable" enrolling in college, she said.
Students want to be able to return to work -- and they are worried that requesting specific schedules so they can attend classes will reflect poorly. They're also helping their own children and sharing the internet with them.
What's interesting is how this contrasts with the population of New Mexico. Recent trends would suggest that colleges would see enrollment gains, Ulibarri said.
"We are seeing an influx of migration, especially from California, as remote work becomes more normalized," she said. "That hasn't translated into increased numbers of people enrolling in community colleges."
Ulibarri would like the recent news about Pfizer's vaccine to increase students' sense of stability, but that's been overshadowed by a spike in New Mexico's infection rates.
"It just keeps escalating​ … We're feeling like, once we can get this pandemic stabilized, that we are likely to see a return to more traditional enrollment patterns," she said. "It's just the timing of that. At this point, I'm not sure folks are entertaining the thought that we'll get there by fall."
State Efforts Are Helping
Some colleges have seen sharp enrollment changes over the first few weeks of the fall. Enrollment at Ivy Tech Community College, Indiana's two-year system, was down 9.8 percent at first. Now, it's down 5.3 percent.
Part of that is due to the college's switch to eight-week courses, said Sue Ellspermann, president of Ivy Tech. It's also due to a partnership between statewide agencies that in mid-September announced first-dollar scholarships for short-term certificates to those affected by COVID-19. The college has received more than 10,000 applications.
"There was always a six- to nine-month lag between a recession hitting and increases in our enrollment," Ellspermann said. "If it had been a normal recession, we would've expected about now for things to start picking up. This was anything but a normal recession."
​States that start programs aligned with community colleges to help those impacted by the pandemic, as Indiana has done, are likely to have the best outcomes, she said.
Virginia also has such a program. The Reemploying Virginia program provides one-time scholarships of $3,000 for full-time study this spring for those impacted by COVID-19, using $30 million in CARES Act funds.
"In a matter of days, we've already had about 10,000 new students who are responding to this," said Glenn DuBois, chancellor of the Virginia Community College System.
The system has seen an enrollment decrease of 9.65 percent compared to last fall. Four colleges in the system have seen an increase. DuBois said that is likely due to an increased focus on the onboarding experience for students at those campuses.
"What I have found in my career is teachers are not the problem. It's helping students get to that teacher," he said. "That's where students really experience a lot of the frustration."
Most of the decline stems from the switch to remote learning, which is shutting some students out due to a lack of reliable internet or technology.
"I live in rural Virginia, and I have to travel to my local community college about 20 miles away so I can use the Wi-Fi in the parking lot, or use my local library for Wi-Fi in the parking lot," he said.
'Always Puzzling'
A few community colleges are seeing positive changes. The Community College of Vermont, accredited as a single institution with 12 campuses across the small state, had a 2.3 percent increase in its fall enrollment this year by Oct. 1, compared to last fall. By Oct. 15, the numbers had dipped slightly, but enrollment is pretty much flat compared to last year. About 5,441 students are enrolled this fall, compared to 5,539 last fall.
"It's always puzzling," said Joyce Judy, president of the college. "I like to point to specifics when enrollment changes. Unfortunately, it's never that simple."
It's especially surprising given the steady decline in enrollment at the college since 2012, and the decreasing population of young people in New England over all. Maine's community colleges, for example, are seeing a decrease of 8 percent compared to last fall. Noel Gallagher, director of communications and public affairs at the Maine Community College System, pointed to the delay of K-12 school openings in the state and the disruption in regular recruiting activities in the spring. She believes this fall is a one-year decline tied to the uncertainty of the pandemic.
Judy has a few ideas as to how Vermont's community college has managed to weather the storm. First, the college announced its plans early; summer plans were announced in April, and fall plans were announced in June.
Second, fall classes were offered in five different modalities. The classes were primarily online, but students could choose between synchronous or asynchronous courses, as well as flex classes with different start dates or accelerated courses that took only seven weeks to complete. The college also offered hybrid courses for those that necessitate face-to-face instruction.
"We try to provide a variety of ways that people could continue their learning," Judy said.
It helps that the college has been offering online courses for 25 years, and in March half of its courses were already online, she added.
But perhaps the two most significant factors are extra funding and the state's management of COVID-19. Cases of novel coronavirus have been relatively low in the Green Mountain State.
The J. Warren and Lois McClure Foundation, based in Vermont, gave every 2020 high school graduate a gift this past spring: one free course at the state's community college in the fall.
In a typical year, about 300 recent graduates would be taking a class at the college, Judy said. This fall, 600 recent graduates are taking a course.
This fall's numbers also don't include the estimated 300 students taking courses through the state's Coronavirus Relief Fund. Nearly all of these students are 25 or older.
"We saw a significant number of adult students in the workforce who were worried about losing their jobs or who were unemployed and wanted to continue their education," Judy said.
To help those people, the state's Department of Labor let those affected by the pandemic take classes at the college for free.
Still, Judy recognizes that they are leaving some students behind with the primarily remote model.
"My hope is that we can bring back some in-person courses next fall," she said.
A Tale of Two Colleges
Utah serves as perhaps the best gauge of what factors matter for enrollment and what factors don't.
The state's two main community colleges -- Snow College and Salt Lake Community College -- have seen opposite impacts on their enrollments.
Enrollment at Salt Lake Community College was down 7.5 percent by the third week of the fall semester. At Snow College, however, enrollment was up 7.7 percent.
The institutions are quite different. Snow College serves a more rural area, about two hours away from Salt Lake and the city it serves. Snow serves about 5,800 students and has residence halls, while Salt Lake serves about 27,300 students and is a commuter campus.
Most students at Snow are more traditional-age, 18 to 24 years old, though many are first-generation or low-income, because the college's tuition is the lowest in the state, said Teri Clawson, assistant vice president for enrollment management at Snow.
"This year has been an anomaly because we have seen students with a higher socioeconomic status who can pay in full," Clawson said. "That's a little bit odd for us."
Snow hasn't lost its low-income student population, but much of its enrollment gains are coming from this higher-income population. This is a trend some higher education experts predicted -- that more traditional college students with greater resources would choose to attend community colleges this fall to save money. Except that hasn't happened nationally.
One reason why this trend came to fruition for Snow College could be its commitment to being face-to-face.
"About 90 percent of our classes are face-to-face," Clawson said. Because of its more rural location and its residence halls that limit students' coming and goings, Snow is better able to keep COVID-19 numbers low. While COVID-19 cases have been increasing, along with most other places in the country, the spike is still less around Snow compared to other parts of the state.
"That's a big factor in why our enrollment was up while others were down. Students were craving that," she said.
Salt Lake is also offering in-person courses this fall, but the majority of its courses still include hybrid options or fully online options. It's also in an area of the state that has been a major hot spot, on and off, throughout the pandemic, and has faced several restrictions from the county government.
The Magic Recipe
"There doesn't seem to be a clear picture nationally of community college enrollment," said Robert Kelchen, associate professor of higher education at Seton Hall University.
That being said, Kelchen does point to a few factors that seem to overlap in several states and at several institutions.
The prevalence of COVID-19 may matter. It could be why Vermont colleges and Snow College haven't seen negative impacts on their enrollment.
Their prices could also be attracting students. Vermont's four-year colleges are relatively expensive, Kelchen said, so students could be opting for the community college instead. Snow is the cheapest college in Utah.
There's evidence that colleges that did well with online learning before the pandemic have an advantage. They have greater capacities and could seem like a more stable option for students.
"My hypotheses are that community colleges that had more programs of study online, are located in areas with fewer cases and are in states where public universities are more expensive will be more likely to see increases relative to other cases," Kelchen said.