Pistol Pete's Six-Shooter Whiskey follows a university-branded wine and beer at New Mexico State University.
Courtesy of New Mexico State University
It's hard to get your hands on a bottle of Pistol Pete's Six-Shooter Whiskey. Chris Schaefer, the co-owner of Dry Point Distillery, can't restock them fast enough.
"I've been running around like crazy the last few days just trying to get it stocked up in stores," Schaefer said. "They've been selling out minutes after I put them on the shelf."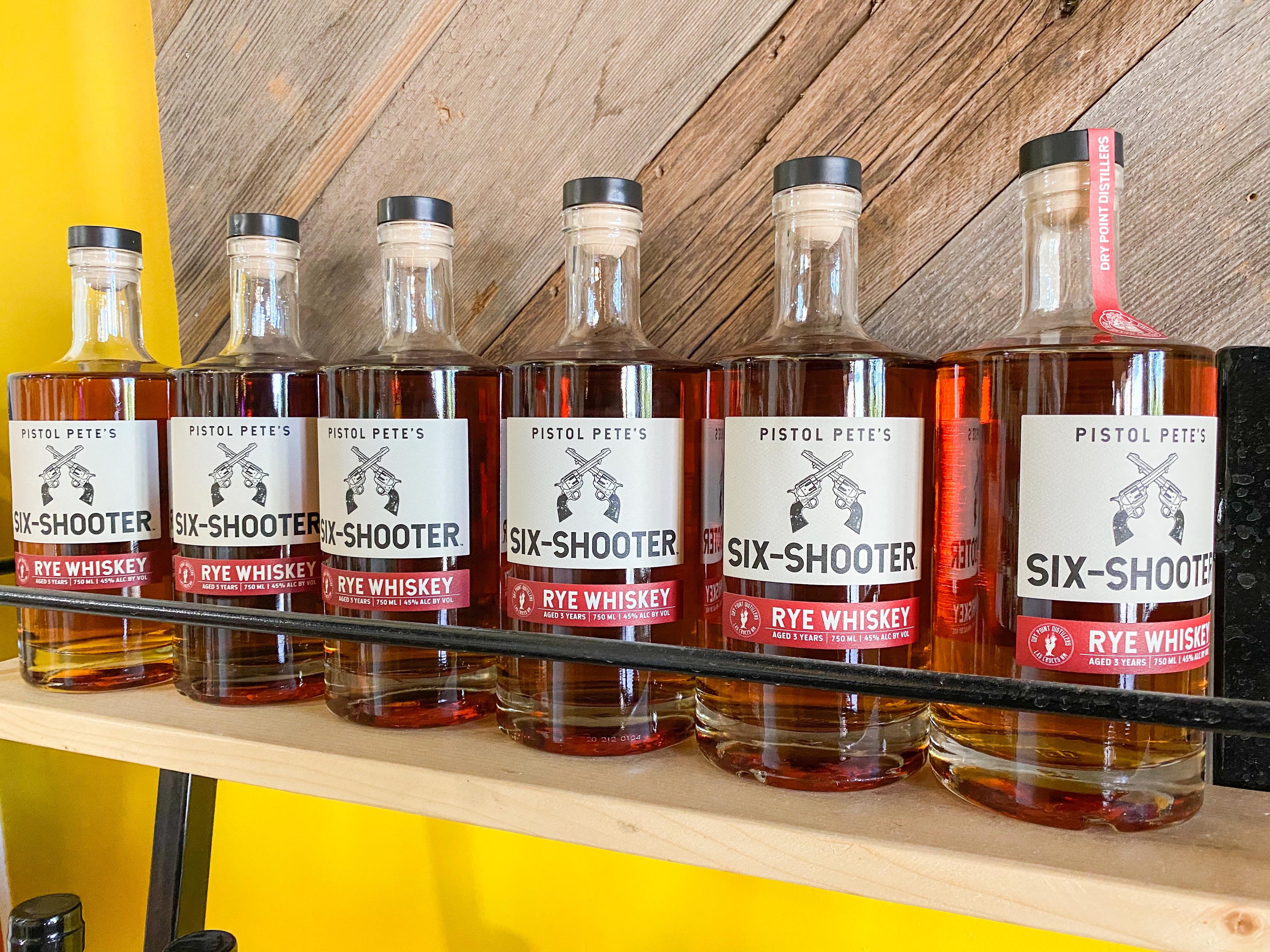 The rye whiskey from Dry Point, a small distillery in Las Cruces, N.M., that Schaefer runs with his father, is New Mexico State University's new venture into collegiate-licensed alcohol. The university unveiled the product last week as the nation's first collegiate-licensed spirit. Like the university's other licensed alcohols, it's named after Pistol Pete, New Mexico State's mascot since the 1950s.
Colleges have long licensed their logos and mascots. Doing so provides an additional source of revenue, which is particularly important in a financial crisis like the one unfolding across the country amid the pandemic. But the association between college life and binge drinking raises concern in some corners and may have helped keep mascots away from potent potables, at least until recently.
Collegiate-licensed alcohols are relatively new. In 2015, the University of Louisiana at Lafayette claimed its Ragin' Cajuns Genuine Louisiana Ale was the first officially licensed college beer in the country. It was followed by the University of Montana's Griz Montana Lager, Purdue University's Boiler Gold-American Golden Ale and Tulane University's Green Wave Beer, to name a few. Now more than 20 colleges have licensed beers.
A handful of colleges have licensed wines. Rowan University in Glassboro, N.J., is teetotaling, with hot sauce named for its president.
New Mexico State's first licensed alcohol was Pistol Pete's 1888 Ale, brewed by New Mexico-based Bosque Brewing Co. and introduced in August 2017. Now, the blond ale is available in 70 New Mexico cities and 300 locations, said Mario Moccia, the university's athletics director. It's also sold at Aggie Memorial Stadium, where the university's team plays football.
The beer is good -- it won a bronze medal at the Great American Beer Festival -- but fans pick it because of its affiliation with the university, Moccia said.
"In the category of alcohol, people are very loyal," Moccia said. "But I've noticed that when you're at an Aggie game, people who only drink Anheuser-Busch, or who only drink Coors products, they're like, 'Hey, man, get me a Pistol Pete.'"
Recent rule changes allow colleges to sell their branded beers at stadiums. Last year, the Southeastern Conference lifted restrictions on alcohol sales in sports stadiums, allowing conference members to serve beer and wine in public seating areas. Hard liquor is still only permissible in private areas, like boxes. Colleges in other conferences are deciding for themselves whether to allow alcohol sales at sporting events.
Immediately after the beer hit the shelves, Moccia and his colleagues started thinking about a wine. The idea was put on the back burner until March of this year.
"Right around when the pandemic started, when there weren't sports, it kind of allowed us to focus on more ancillary items that were on our to-do list," Moccia said.
In collaboration with D. H. Lescombes, a winery in Las Cruces, New Mexico State put forward Pistol Pete's Crimson Legacy, a cabernet sauvignon, in October.
To put a college logo on a bottle of whiskey, a beer, a T-shirt or any other merchandise, most colleges must receive approval from the Collegiate Licensing Company, which owns the trademark licenses and marketing rights for many college brands.
Some of the most popular college merchandise is clothing -- T-shirts, caps, sweatshirts and, lately, face masks. Oftentimes the CLC's requirements attempt to ensure ethical supply chains at all steps of the manufacturing and distribution process for collegiate-licensed products. Schaefer was asked to meet similar requirements for the whiskey.
"They make sure I'm properly insured, and they don't want any of my raw materials to be unethically sourced," Schaefer said. "Seeing as this was a spirit, it was kind of unique to them."
Through the CLC, colleges receive a portion of merchandise sales. For consumables -- including beer, wine and liquor -- the rate is 12 percent of the product's wholesale price, Moccia said. For example, if D. H. Lescombes sets the wholesale price for a bottle of Pistol Pete's Crimson Legacy at $10 and it retails for $20, the university earns $1.20.
New Mexico State's wine and whiskey were just launched, and Moccia isn't sure yet how much money they'll generate for the athletics program. The beer, which has been around for three years, brought in $30,000 last year. Because liquor lasts longer than wine and beer, he expects that whiskey sales may taper off after many people are able to buy it.
"You can drink a bottle of wine in an evening with your friends over dinner, but a bottle of whiskey -- you usually don't drain that very quickly," Moccia said. "My gut tells me this will be an item that a lot of people will want to display."
Stories about alcohol and colleges aren't usually good ones. More than half of full-time college students ages 18 to 22 drank alcohol in the past month, according to 2019 data from the National Institution on Alcohol Abuse and Alcoholism. A third of college students in that same age range reported binge drinking in the last month, and 8 percent reported heavy alcohol use.
Mothers Against Drunk Driving, a nonprofit seeking to prevent driving under the influence and underage drinking, disapproves of using a college mascot on alcohol products, said Lindsey Valdez, executive director of MADD New Mexico.
"Combining alcohol with a university mascot is concerning considering that a large population of university students are under the age of 21," Valdez said. "MADD is not against the sale or consumption of alcohol to those over the age of 21, but the real concern is in the underage population."
Moccia said he hasn't received any complaints about the beer, the wine or the whiskey so far.
"I have not heard one iota of criticism for these three products," he said. "I have not had one email."
He said that the university is helping support small local businesses and New Mexico State alumni -- many of the owners of Dry Point, D. H. Lescombes and Bosque Brewing Co. graduated from the university.
Schaefer said the feedback from alumni and the community has been overwhelming.
"This is really jump-starting our business," he said. "I have to grow my supply chain, grow my inventory, and I really need a bigger space at this point."
And he was sure to mention that for anyone who might ask, it's against federal law to mail liquor.
For colleges that can do the initial work to get the product off the ground, collegiate-branded products are a great revenue boost, Moccia said.
"You have to get the approvals, you have to come up with the artwork, you have to come up with all the little things to launch a product, but once the baby is born, it's kind of hands-off," he said. "Now it's on the business to make it work."
New Mexico State-branded food and beverages won't stop at the whiskey. Moccia has more product ideas up his sleeve.
"I'm not going to spill the beans," he said. "But the next two that I have in mind will not be alcohol related."