You have /5 articles left.
Sign up for a free account or log in.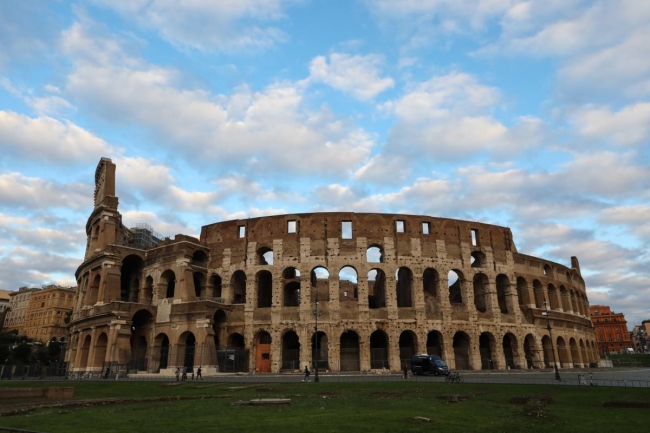 Xinhua News Agency via Getty Images
Study abroad options for American students look likely to be limited next spring, as many professionals in the field do not anticipate a return to normal programming until next summer or fall at the earliest.
The pandemic caused unprecedented disruptions to study abroad programs over the past year, with colleges and program providers evacuating students from their host countries en masse and suspending most international programs for the summer and fall. Some colleges have extended existing restrictions on university-sponsored study abroad travel through next spring, while others are evaluating programs on a case-by-case basis.
The situation remains fluid, as many European nations have reinstituted lockdowns in response to a second wave of coronavirus cases and the number of infections continues to rise rapidly in the U.S.
"At this point in time, we are considering restarting our study abroad offerings for the spring semester, and I say at this point in time because we're not absolutely certain at this juncture whether that's going to happen," said Sukant Misra, vice provost for international affairs at Texas Tech University. "We're leaving the door open to possible cancellation depending on what happens in our destination countries."
Texas Tech is currently planning on sending 56 students to seven different study abroad locations, and it is encouraging students to purchase a new travel insurance option, offered by a private company but vetted by the university, providing protection for trip interruption or cancellation for any reason. The bulk of students are planning to go to Texas Tech's own study abroad center in Seville, Spain, where the university has developed COVID-19 health and quarantine protocols and new protocols for excursions, facilities and host families.
"I feel good that for this soft start more than half the students will be going to our center, where we have more control," Misra said.
To navigate study abroad this spring is to enter a labyrinth of border closures and testing and quarantining requirements. Some countries, such as Australia and New Zealand, are closed to anyone other than citizens and permanent residents. Other countries, including Italy and Spain, restrict some travel but allow for student travel. Many countries have pre- or postarrival testing or quarantine requirements.
The University of Richmond, in Virginia, plans to open a select number of programs in Asia or Europe to students in spring 2021. Ellen Sayles, associate dean and director of education abroad, said in deciding which programs to open the university considered dozens of factors, including what travel restrictions are in place, whether embassies and consulates are open so students can get necessary visa documents, available student housing options, and whether a partner university could provide a remote option should the program need to be cancelled midterm. Program administrators also considered medical and safety advisories from governmental sources and from the university's insurance provider.
"There was more time to plan and to understand in this new reality what kind of support and structures had to be in place," Sayles said of the decision to reopen study abroad for the spring on a limited basis. "The last thing we want to do again is have students be abroad and have to pull them home, because that was just heart-wrenching for everyone.
"Frankly, we felt that some of our students may not have another chance to do something like this as an undergraduate," Sayles added. "If we could feel semiconfident about the places and the partners we were sending them to, it would be something we'd like to at least offer those students."
Other colleges have made the decision to continue the suspension of study abroad programs through the spring semester. For example, the University of Notre Dame, in Indiana, recently announced to students that it was canceling spring study abroad.
"For the past several months, Notre Dame International has closely examined evolving factors including travel bans and advisories, the spread of the pandemic, the ability of health care systems around the world to provide the necessary care, as well as our capacity for surveillance testing and ability to quarantine and isolate our students, staff, and faculty overseas should it become necessary," a statement on the university's study abroad website said. "Unfortunately, the dynamically changing spread of the pandemic globally and the associated uncertainties make the risks to our students and faculty simply too high at this time. This news is deeply disappointing, but necessary to protect the safety and well-being of our students, faculty, and staff -- our top priority."
Tufts University has also suspended most study abroad for the spring. The Massachusetts institution's website lists various considerations that went into the decision, including "the prevalence of COVID across the globe; our inability to predict what incidence and prevalence will look like in the spring; the risks associated with air travel; current (and expected ongoing) travel and entry restrictions related to international travel."
It also listed "changing local guidance on mobility and transmission-mitigation mandates; the variability of local medical care; the financial burdens associated should situations worsen; uncertainties with our partners abroad; and academic continuity concerns."
The Forum on Education Abroad, a professional association for the field, has issued guidelines for conducting study abroad during the pandemic, including academic, health and safety, legal and insurance-related, and ethical considerations.
"It's certainly not lost on any of us in education abroad that there are ethical questions about sending students to communities with lower infection rates than the communities from which they're coming," said Melissa Torres, the Forum's president and CEO.
Torres said decisions by the Department of State and the Centers for Disease Control and Prevention to lift global health advisories urging Americans to avoid all international travel in favor of returning to country-specific safety ratings has given colleges more flexibility to consider resuming some study abroad programs.
The State Department currently rates most countries in the world at a level-three rating on a scale of one to four; level three translates to "reconsider travel." The CDC rates the COVID risk as level three, or high, in most countries in the world. Many colleges use a level-three State Department or CDC warning as a trigger for re-evaluating study abroad programs.
Torres said few professionals expect a return to normal programming this spring. The Forum just completed a survey of members and found that about 40 percent do not know when study abroad will return to normal. About 20 percent are planning on a return to normalcy in the summer and 15 percent in the fall.
"Just from talking to our members, many are reporting that students are extremely interested in resuming study abroad when their classes are back to face-to-face, when campuses reopen generally," Torres said. "Of course depending on a vaccine, student demand is there."
Some colleges have already resumed study abroad, at modest scale. The University of Texas at Austin is requiring all students who want to study abroad to petition for permission from the university's International Oversight Committee and submit a COVID-19-related waiver releasing the university from legal liability. This fall the university permitted 73 students -- 52 undergraduates and 21 graduates -- to study abroad or conduct research overseas, a small fraction of the number it would normally send abroad.
"We did allow for students to study abroad and conduct research abroad in the fall, and it was only 10 percent of the numbers we usually see," said Sonia Feigenbaum, senior vice provost for global engagement at UT Austin. "In the spring we're anticipating about 200, but this is an evolving situation that the numbers decrease day to day because programs are canceled."
The University of Dallas operated its study abroad program on a self-contained campus outside Rome this fall. The program was hit by a coronavirus outbreak in October that sickened about a third of the 78 students and three staff members. Peter Hatlie, dean and director of the University of Dallas Eugene Constantin Rome Program, said no one was hospitalized or otherwise seriously ill. Most students were asymptomatic, and those who experienced symptoms were mildly affected.
"I think people have to be prepared for at least one outbreak on their campus," said Hatlie. "We are dealing with an age demographic that is just very sociable."
Hatlie, a professor of classics, said a major difference for students this fall was limitations on their ability to travel across borders and domestically. An organized trip to Greece early in the semester was subbed out for one to southern Italy. And as case numbers have risen, new restrictions have been imposed on travel within Italy.
Hatlie said when administrators approved resuming the program in July, case numbers in Italy were low -- fewer than 500 new cases per day. Last week they peaked at over 40,000 daily. Navigating the rising case numbers and the increasing restrictions on movement within Italy have been a challenge, he said, but as of now the university is still planning on running the program in the spring. He is hopeful the Italian government will be successful in containing the second wave of infections by Christmas.
"The experiential education is what we advertise, and also we think it's a transformative experience. Obviously, this is a different kind of transformative experience. I definitely think it's broadened the horizon of students," Hatlie said.
"They went to the Colosseum. We study Greece, and they saw a lot of sites associated with Greece. They took some hits on independent travel and they had to be very, very resilient, but as a community we just have fantastic community spirit. It's unbelievable."