You have /5 articles left.
Sign up for a free account or log in.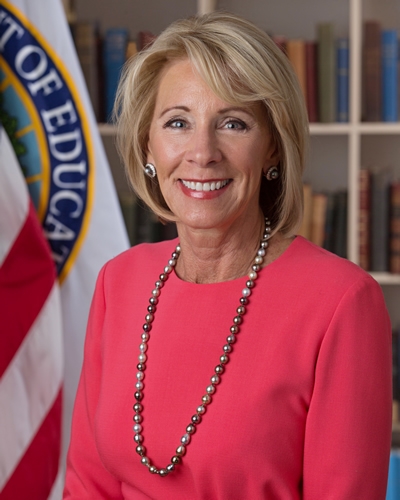 Education Secretary Betsy DeVos's announcement Friday evening excusing student loan borrowers from making payments for another month, until Feb. 1, granted a reprieve to millions who'd faced the prospect of having to resume paying back their debts in less than a month, in the midst of the pandemic-induced recession.
But it was only a brief respite -- "a quick breath of air," said Kyle Southern, higher education policy and advocacy director for Young Invincibles, which has been pushing to give borrowers more time before making payments again.
And advocates for those with student loans, the group representing college financial aid administrators, and other policy experts said the reprieve is not long enough. And the timing is such that it could leave a mess for President-elect Joe Biden when he takes office Jan. 20, less than two weeks before borrowers would have to start making payments again.
"Good. But it would be more meaningful for borrowers if Congress extended student loan suspensions through at least September 2021," the Democratic House education committee tweeted after the announcement.
An Education Department spokeswoman did not return an email asking why DeVos extended the pause on repayments for only a month. But in a statement announcing the extension, DeVos appeared to argue that it's not the department's role to decide how much longer to continue excusing borrowers from making payments, but that by issuing the extension, she was giving Congress another month to act.
"The added time also allows Congress to do its job and determine what measures it believes are necessary and appropriate," DeVos said. "The Congress, not the executive branch, is in charge of student loan policy."
No doubt, the one-month reprieve was welcomed by borrowers. President Trump in August, in recognition of the fact many are struggling to make payments after becoming unemployed or having their wages cut during the recession, excused borrowers from having to make payments, interest-free, through Dec. 31.
But as that date approached, with the nation's economy still reeling, advocacy groups for borrowers, as well as those like the American Council on Education, which represents colleges and universities, called on DeVos to excuse borrowers from having to pay for a longer period of time, even up to another year.
A Pew poll in August and September found that nearly 60 percent of borrowers would find it somewhat or very difficult to begin paying back their student loans again.
Many advocates were disappointed when DeVos spoke at a financial aid conference last Tuesday and did not mention the looming crisis or announce an extension.
Still, Terry Hartle, ACE's senior vice president for government relations, welcomed the extension when it was announced three days later. The association was "delighted," he said. "Millions of Americans will benefit."
DeVos, in a statement, said, "The coronavirus pandemic has presented challenges for many students and borrowers, and this temporary pause in payments will help those who have been impacted."
Interest will continue to not accrue on the debt, the department said. Nonpayments will continue to count toward the number of payments required under an income-driven repayment plan, a loan rehabilitation agreement or the Public Service Loan Forgiveness program.
By extending the payment pause until after Biden takes office, DeVos also sets up a scenario in which the new administration could decide to excuse borrowers from having to make payments again for months longer.
"That sound you just heard was all student loan payments likely being suspended through at least next September. This one-month pause gives the Biden administration a chance to extend the pause once they take office," Robert Kelchen, an assistant professor of higher education at Seton Hall University, observed on Twitter.
But there could be problems. By the time Biden is sworn into office Jan. 20, loan servicers would have already sent out the bills to borrowers who will have to resume making payments on Feb. 1, said Scott Buchanan, executive director of the Student Loan Servicing Alliance.
Should Biden decide to let borrowers off from making payments in February, servicers would have to scramble over the next 11 days to notify millions of borrowers that they do not have to pay their February bill, field calls from confused borrowers and cancel borrowers' automatic payments, Buchanan said.
"I'm confident servicers will get it done," he said. "But there could be hiccups."
Justin Draeger, president of the National Association of Student Financial Aid Administrators, also foresees problems: "We're relieved to finally have an extension of relief that's clearly been needed for weeks, but extending it only to Jan. 31 is logistically problematic, given the ramp-up time needed to give borrowers accurate and timely information," he said.
"The one-month extension certainly provides short-term consistency but does not solve the problem of how to effectively turn the system back on again and make sure borrowers don't fall through the cracks," said Sarah Sattelmeyer, director of the Pew Charitable Trust's student borrower program.
Despite the temporary reprieve borrowers DeVos gave borrowers, Draeger and others said there's still a need for Congress to excuse payments for longer as it considers adding more COVID-19 relief funds as part of the federal budget it needs to pass by Saturday to avert a shutdown of the federal government. That would give servicers and borrowers more time to prepare.
Others also said that even after being excused from making a payment in January, the economy likely will still be in a recession and many borrowers will need more time before resuming making payments.
"Thousands of people with student loans tell us they are terrified to resume payments on Jan. 1. They are seeing COVID-19 cases skyrocket and financial uncertainty grow during the holiday season. For them, this is small but good news," said Natalia Abrams, executive director of the advocacy group Student Debt Crisis.
"However, we know that millions of people will still not be financially secure enough to resume payments at the end of January. The COVID-19 pandemic has done long-lasting damage to families and the economy. Americans need student loan relief long into the future, not another temporary fix, and they are calling for debt cancellation that provides a permanent solution."