You have /5 articles left.
Sign up for a free account or log in.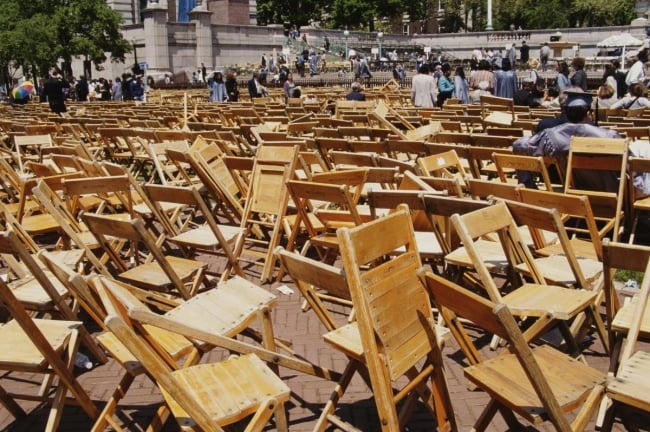 Barbara Alper/Contributor via Getty Images
Almost half of all degree programs that first graduated students in 2012 or 2013 conferred fewer than five degrees in 2018, according to a new analysis of federal data conducted by labor market analytics company Burning Glass Technologies.
The November report, Bad Bets: The High Cost of Failing Programs in Higher Education, analyzed 10,536 undergraduate and graduate degree programs awarding their first diplomas in 2012 or 2013. It found that 30 percent of these programs graduated no students at all five or six years after their first graduating classes. About two-thirds of all programs included in the analysis produced 10 or fewer graduates in 2018.
The picture is approximately the same regardless of the institution type or whether the degree was at the graduate or undergraduate level. Doctoral degrees were not included in the analysis.
The findings could have important ramifications for colleges and universities seeking to grow and balance their budgets by launching new programs. Creating a new degree is expensive, and experts say poorly planned programs that don't graduate students in large numbers can end up hurting an institution's bottom line instead of helping it -- to say nothing about how well students are served.
Qualifying degrees at private for-profit institutions were most likely to graduate no students five to six years after launching a new program, with 43 percent of two-year for-profit institutions and 42 percent of four-year for-profit institutions failing to confer any degrees in 2018.
The lowest failure rates were at public four-year colleges or universities, the report found. Among public institutions, 28 percent of programs at two-year institutions and 24 percent of programs at four-year institutions conferred no degrees in 2018.
Percentage of Qualifying Programs Conferring Fewer Than 10 Degrees in 2018, by Institution Type

| | | | |
| --- | --- | --- | --- |
| Institution Type | 0 Conferrals | < 5 Conferrals | < 10 Conferrals |
| Private for-profit, 2-year | 43% | 54% | 66% |
| Private for-profit, 4-year or above | 42% | 55% | 66% |
| Private not-for-profit, 2-year | 33% | 67% | 71% |
| Private not-for-profit, 4-year or above | 34% | 55% | 67% |
| Public, 2-year | 28% | 53% | 70% |
| Public, 4-year or above | 24% | 37% | 51% |
| Overall | 30% | 49% | 63% |
Online programs were "slightly less likely to fail than in-person ones," the report found. One-quarter of the programs analyzed in the report were offered online or through distance learning, and 26 percent of these reported no conferrals in 2018. That compares with 32 percent for in-person programs.
Bigger institutions with more students "seemed to make better bets" on which degree programs to launch, the report found. Whether this is because these institutions have more experience launching programs or are simply more cautious is unclear.
A key takeaway is that too many institutions are launching programs without undertaking sufficient market research to understand demand, said Matthew Sigelman, CEO of Burning Glass Technologies.
The report findings illustrate that institutions are having a tough time identifying the right markets in which to expand, said Daniel Pianko, managing director of University Ventures, an investment firm focused on higher education.
"Lots of schools are not picking the right programs," Pianko said. Rather than expanding into new areas, Pianko suggests the most successful institutions focus on areas where they already have extensive expertise, creating centers of excellence.
Colleges and universities too often pick new degree programs to launch haphazardly, without the benefit of a coordinated institutional strategy, Sigelman said. Institutions want to grow enrollment and revenue, but poor choices can result in them ending up in worse financial situations than when they started, he said.
Getting a new degree program off the ground is very expensive, and it is not an easy task for the uninitiated, Sigelman said. Burning Glass Technologies estimates new degree program costs can run up to around $500,000 a year -- an estimate that Sigelman described as conservative. The biggest expenses are faculty salaries, classroom or laboratory space, curriculum design, and marketing.
While the report focuses on degree conferrals as a measure of success, there isn't necessarily a clear-cut connection between the number of students graduating from a program and a program covering its operating costs, said Stephanie Hall, a fellow who covers education policy at the Century Foundation, a progressive think tank.
"The goal of the report seemed to be to suss out how well new programs serve the financial interests of institutions," Hall said. "In these terms, conferrals wouldn't necessarily indicate financial viability, though enrollment levels would."
Institutions should strive to graduate as many students as possible, but enrollment levels are a more common indication of whether a program is viable, said Hall.
Burning Glass Technologies chose to focus on degree conferral at the five-year mark as a symbol of the long-term financial health of a program, Sigelman said. A degree program may enroll many students and thus turn a profit, but if it fails to graduate any students, then eventually the pipeline would run dry. The good reputation of a degree program and word-of-mouth recommendations are essential markers of success, he said.
Not every institution wants or needs to enroll large numbers of students in degree programs, particularly at the graduate level, said Jill Buban, vice president of digital strategy at Fairfield University, a private nonprofit institution located in Fairfield, Conn. Some institutions use small class sizes as a selling point. If a degree program has a very small cohort, conferring 10 degrees in a year might not be a failure.
While the conferral rates examined in the report are undoubtedly low, it is difficult to make a judgment about how bad they are without knowing the enrollment levels and patterns in the new programs analyzed in the report, Hall said.
"At the institutional level, how does the full-time/part-time enrollment pattern and number of annual graduates in the new program compare to overall enrollment patterns and graduation figures?" she asked.
The report's findings are a potential conversation starter about institutional strategy, both Hall and Buban said.
In future analyses, Hall would like to see researchers explore whether the students who enroll but never graduate realize some value from programs, even without earning a credential.
"Or are they leaving with few credits, new financial debts and nothing to show for either?" Hall said.
Instead of just looking at the success of newer degree programs, Buban encourages college leaders to look at their entire program portfolio.
"Sunsetting a program is not always a bad thing," Buban said.