You have /5 articles left.
Sign up for a free account or log in.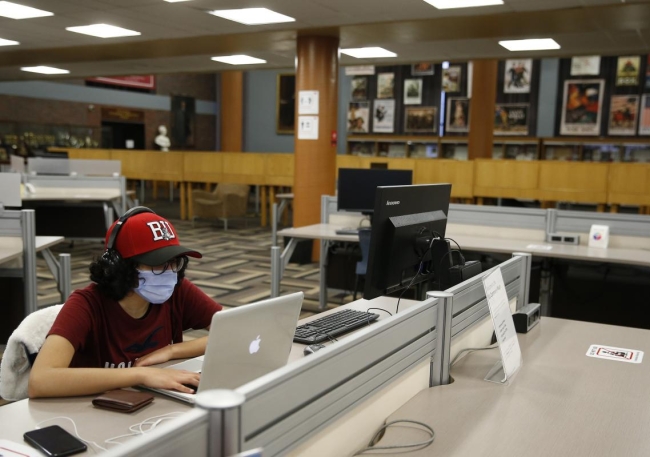 Jessica Rinaldi/The Boston Globe via Getty Images
Few academic libraries were spared from spending cuts in the wake of the start of the COVID-19 pandemic, according to new survey results from Ithaka S+R, a higher education-focused research and advising group.
The survey, "Academic Library Strategy and Budgeting During the COVID-19 Pandemic," was published today with responses from 638 library directors at public and private institutions. Of these, 75 percent reported they are now operating on reduced budgets, with typical cuts of between 1 percent and 9 percent for the 2020-21 fiscal year.
Some 20 percent of survey respondents said their 2020-21 budgets had not yet been determined when the survey was conducted in September and October. Many of the library directors who didn't yet know what their budget would look like said that they had already been asked to limit spending wherever possible.
The budget cuts were deepest at doctoral universities and public institutions, the survey found. Private baccalaureate college libraries were the least likely to experience budget cuts, with roughly half of respondents from these institutions reporting they had not yet had to make any spending reductions.
The majority of library directors remain uncertain about whether their library budgets will recover after the pandemic, said Jennifer Frederick, a senior surveys analyst at Ithaka S+R who co-authored the survey report with Christine Wolff-Eisenberg, manager of surveys and research at the nonprofit.
A large proportion of library leaders, 70 percent, felt they were well prepared to pivot to virtual services when their institutions switched from face-to-face to remote instruction in the spring. Even before the pandemic, many library leaders were investing in digital resources, and those investments appear to have helped libraries adapt, said Frederick.
Providing access to printed documents has become less central to the value proposition of the library in recent years, said Rick Anderson, university librarian at the Harold B. Lee Library at Brigham Young University, a private institution located in Provo, Utah. 
"Before COVID, we knew that providing remote access to scholarly content had become one of the core functions of the academic library," said Anderson. COVID-19 has accelerated this trend, he said. 
Many patrons will not come back to the stacks now they are accustomed to accessing resources remotely, said Anderson. "Once the dust has settled and we've started getting back to something like business as usual, I suspect this will lead to some fairly radical reconsideration of how we allocate library space," he said. 
Survey respondents reported feeling recognized by senior leaders at their institutions for responding well to the challenges of the pandemic -- indicating a possible shift in library leaders' perception of how much they are valued by their superiors.
In previous Ithaka S+R surveys, library directors have reported feeling underappreciated by senior leaders and expressed concern that their libraries were undervalued.
"I've always found this particular data point very interesting because it reflects a perception of a perception -- what library leaders think their campus leaders think about the importance of their roles," said Anderson. 
"What I'd love to see would be data on what the campus leaders actually think, so that it can be compared with what library leaders believe they think," Anderson said. "Are the library directors' perceptions in line with what campus administrators really believe about the value of their roles and their work? No matter what the answer is, it would be hugely useful to know."
In the wake of the 2008 recession, many library budgets were slashed, and it is possible that deeper cuts may come next year once the impact of the pandemic on student enrollment starts to be fully understood, said Karim Boughida, dean of university libraries at the University of Rhode Island, a public institution located in South Kingston, Rhode Island. 
So far, Boughida has been told to keep library spending flat. He doesn't yet know what the final budget for the year will be. 
"That is unusual," he said. "Typically we get our budget around June for the next fiscal year. We have the instruction to run it as flat. We're spending more wisely in case we have to give back 1 or 2 percent." 
The University of Rhode Island is fortunate to be in a relatively stable financial position, but university leaders are still waiting to hear what level of funding they will receive from the state this year, Boughida said.
"For now we're ok. I'm not too concerned about what might happen," he said. "But I think we may be in the minority."
It's not surprising that many feel uncertain about the future of their library's budget, said Anderson.
"There's a cruel irony at work here: the better the library does at providing excellent service with restricted funding during a time of crisis, the more it demonstrates its ability to provide excellent service with restricted funding during normal times," said Anderson. "This could easily result in the library being admired, appreciated, and underfunded," he said. 
In the wake of the pandemic, library directors reported prioritizing staff well-being and organizational finances in their decision making. Most had the autonomy to decide when to close and reopen their physical spaces, and to make changes to collections, operations and personnel funds in consultation with others inside and outside the library, the survey said. However, in almost one-third of institutions, decisions about staffing were made for libraries by other leaders. Just over half of library leaders reported having confidence in their institution's broader safety measures in response to COVID-19.
Library employees in access services, facilities, operations and security were among those most affected by furloughs, hour reductions or layoffs, the survey found. Despite reducing in-person services in response to the pandemic, eight in 10 library directors said they still see their physical locations as essential for carrying out their mission in the long term.
Though the pandemic has been hard on everyone, there is an opportunity to improve the library for the better using the lessons learned in recent months. Retraining staff to provide virtual services, for example, is both an investment in people and a service that will continue to be valued by students and researchers in the future, Boughida said. 
"Simply waiting for things to return to normal would be a mistake," said Boughida. "There are a lot of things we could be doing better."