You have /5 articles left.
Sign up for a free account or log in.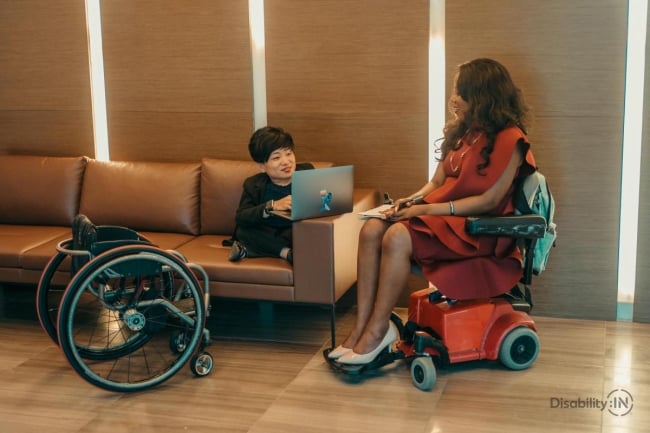 The latest data -- from 2004 -- suggest that only about 4 percent of faculty members have disabilities. In comparison, the Centers for Disease Control and Prevention estimate that nearly 26 percent of adult Americans have at least one disability.
While it's fair to say that the share of people with disabilities in the academy may have increased since 2004, faculty members with disabilities still say academe can be a difficult and unwelcoming place.
For one, there can be a sense of stigma about disability. Professors say that regardless of their quality of work, there can be a general perception that candidates with disabilities will produce worse scholarship or be a cost or burden to a department.
Amir Haji-Akbari, a professor of chemical and environmental engineering at Yale University, said that when he was last looking for a faculty position in 2013, he felt doors were closing on him. When he stopped disclosing his visual disability in applications, he said, calls and interviews finally started coming in.
That stigma can prevent faculty members from disclosing their personal situations even after they are hired, meaning that 4 percent is very likely an undercount. Some disabilities may be obvious to other people, but some conditions, such as depression or post-traumatic stress disorder, can be invisible.
Therí Pickens, chair of the Africana department and professor of English at Bates College, said there are likely many more people with disabilities in the academy than people realize. It would be incorrect to assume, she said, that disability is always the part of their identity that they lead with or that is most noticeable about them. There are many Black women with chronic illnesses or disabilities in the academy, she said.
"Because of structural oppression, Jim Crow, redlining, all of those things, there's a higher prevalence of disabilities and chronic illnesses among Black folks in the United States," said Pickens, who has a disability.
But it's possible, she said, that some disabled people don't exactly want to join academe.
"For the academy, which upholds particularly sanist understanding of the body and the mind, the academy may not necessarily be an attractive place for people with disabilities, because of the academy's general commitments to a so-called meritocracy as well as an emphasis on traditional forms of learning and teaching," she said.
The pipeline to a professorship can also be complicated when a person has a disability. Graduate education often requires students to either take on debt or undergo years of low wages and stipends. Some disabilities can require expensive medical care or treatment. Holding second jobs can take energy that people with disabilities don't have. Finances can be more complicated for students who receive Social Security benefits and are subject to income caps.
"I regularly spent a third of my stipend on medical care costs every single term, which meant that I could never afford accessible housing no matter where I lived," said Nicole Lee Schroeder, founder of the Disabled Academic Collective, who received a Ph.D. from the University of Virginia this semester. "All students need to have access to a livable wage. No students should be expected to work a second job. Students should have year-round funding."
Some faculty also say that standardized assessments and traditional ideas of learning can also stand in the way of achievement for students.
"There are some institutional policies or individual faculty who have a strict cutoff in mind [for Graduate Record Examination scores]," said Stephanie Cawthon, a professor of educational psychology at the University of Texas at Austin who studies disability and assessments. "That type of high-stakes decision making that a student has no control over, it's very much not transparent, is a misuse of standardized assessment and differentially impacts students of color, students with disabilities, English language learners in general."
Going back even further in the lives of people with disabilities, there can be negative messages about what they are capable of.
"I've been blind since I was 7. I was told that I didn't really have a future, let alone a future in science," said Mona Minkara, a professor of bioengineering at Northeastern University. "It's this concept that science is observation and observation is through eyesight."
In some cases, students may doubt they belong in academe when there are not many faculty with disclosed or visible disabilities in their lives. Kate Corbett Pollack, coordinator at Syracuse University's Disability Cultural Center, said arriving at the university to work on her master's degree in education and meeting disabled professors was eye-opening for her. Some of those professors became role models for Pollack, who is Deaf.
"When you're Deaf growing up, you don't meet a lot of Deaf people in high positions," she said. "I didn't think you could get a job if you had PTSD. I didn't think you could get a job and be a professor if you had that kind of stuff because I didn't think anyone would let you."
Pickens said while it is wonderful when students feel they have role models in disabled professors, people should be cautious when saying that having more disabled faculty will necessarily help academe deal with the structures that make disability a problem.
"Having experience with a disability or having a disability itself does not always mean that you are disability-positive," she said, highlighting Senator Mitch McConnell, who is a survivor of polio. "Embodiment doesn't equal consciousness."
Serving as a role model or a mentor can also be work for disabled faculty members.
Professors say there are concrete things colleges, universities and search committees can do to recruit and retain people with disabilities. For one, they can be more mindful of making interview processes accessible.
"The traditional on-campus hiring process really is set up in an extremely exclusive way. It's a marathon. You are performing every single second of the time. You also don't really know what the schedule is, you don't know when breaks will come," said Jay Dolmage, a professor of English at the University of Waterloo in Ontario, Canada and author of the book Academic Abelism. "There are definitely ways to plan interviews that are much more humane for everybody and also much more accessible."
Search committees could be more mindful of their demands, even making questions available to candidates in advance, he said. They might also find ways to offer accommodations in a way that doesn't require the candidate to tell the committee directly about their disability.
Colleges and universities could also build out accessible infrastructure and acknowledge disability as an axis of diversity. Many people with disabilities see their status as something to be celebrated, not tolerated.
"There is certainly an emphasis on improving diversity. Disability is often not included in that umbrella, and so all those initiatives -- targeted hires and scholarships and fellowships -- disability tends to be left out. And so there are fewer opportunities to reach that population," said Cawthon, who is Deaf. "There's a sense that the disability is the problem rather than, here is a person, this is part of who they are and it has value."
Over all, many professors say it would benefit colleges and universities to think more deeply about disability and move beyond focusing only on what's required by the Americans With Disabilities Act.
"No one wants to be around just because they are being legally complied to," Cawthon said.
A previous version of this article misquoted Therí Pickens as saying "Representation doesn't equal embodiment." She actually said "Embodiment doesn't equal consciousness." The article has been changed.