You have /5 articles left.
Sign up for a free account or log in.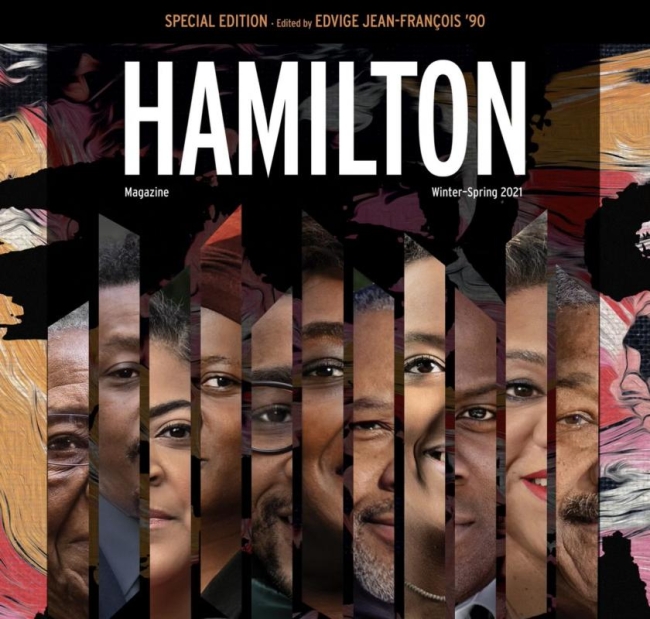 Courtesy of Hamilton College
Colleges and universities have embarked on many different efforts this year to start conversations around racism and bigotry, galvanized by last year's murder of George Floyd.
Hamilton College in New York chose to dedicate its entire winter-spring alumni magazine issue to Black voices and conversations about anti-Black racism.
Earlier, editors were originally considering a feature story connected to Floyd and nationwide protests.
"The more we chatted, the more we thought, 'Maybe this is bigger than one story. Maybe this is a whole issue,'" said Stacey Himmelberger, editor of the magazine. "We had never done a themed issue with the magazine, but we thought, 'If there's a time to do it, this is it.'"
The issue, called "We Are Hamilton" and released just a week after the conviction of Derek Chauvin, featured the voices of Black student and alumni contributors. The pieces touch on personal experiences with systemic racism.
Joshua Bruff, vice president of property management at a real estate investment firm, who graduated in 2005, wrote about his experiences of systemic and personal racism as a Black man in the United States. At a young age, he had "the talk" with his father about how to act around police officers. Last year, he was blocked by another resident from entering his own building on the Upper East Side of Manhattan.
"As you read the following anecdotes on my Black experience in America, please pause and ask yourself the following questions: How does this make you feel?" he wrote. "How would you feel if this happened to your child?"
The goal, he said, was to help non-Black readers feel and understand the sting of racism, to feel the anger that comes along with being discriminated against and motivate them into action.
"I have friends and I have colleagues where, these things have just never happened. And I want you to feel angry for me. I want you to feel the hurt and the pain for me. And I want you to feel it so that you can exchange experiences of other Black people that you may know in your daily lives, think about how people are treated beside you at work," he said. "It's very easy to look at somebody's experience, think about it and walk away. I want it to linger so it promotes action going forward."
The experience was an emotional one, Bruff said. But the piece seemed to accomplish his mission -- professional colleagues, fellow alumni and people in the Hamilton administration, he said, have reached out to say they've been thinking about his stories.
"It's doing what I wanted it to do," he said. "I really want to thank the college for taking this opportunity to cover such an important topic."
Another feature in the magazine collected reflections from Black alumni of different years and industries on Floyd's murder and its effect on race relations in the United States. Lorna Lightfoot-Ware, founder of Osmosis Entertainment, a production company focused on the experiences of people of color, wrote the introduction.
"I feel George Floyd's death deep in my bones, as if he were someone I knew personally," she wrote. "In a way, I did know him, the way Black people know each other because of our many collective experiences, our collective pain from racial injustice."
The experience of writing the piece was cathartic, Lightfoot-Ware said.
"It gave me the ability to process my emotions and be able to channel them into what I considered a more constructive way of analyzing and investigating how I felt," she said. "I'm really proud of my alma mater for doing a project like this, because I think it goes a long way to making our community more cohesive."
Edvige Jean-François, an award-winning broadcast journalist and alumna of Hamilton, served as guest editor of the issue. Her goal was in part to make the issue informative as well as enjoyable, not only highlighting the struggle of Black people but also celebrating achievements in the face of adversity.
"Education has always been perceived as the great equalizer. You get an education and it's your shot at the American dream," she said. "When it comes to Black people and people of color, all things are not equal in the sense that when you go into the workplace your achievements, when you hit your mark, it's all according to who's judging."
"I want people to read the stories and remember and think about their own journey at Hamilton College and see the difference that their journey may have had with somebody else's," she added.
President David Wippman has connected the special edition of the magazine to larger efforts at diversity, equity and inclusion at Hamilton College. In March, an advisory council for diversity, equity and inclusion released proposals to create a more equitable campus.
"This special issue of Hamilton magazine is part of a much broader effort to help engage our community on issues of race," Wippman wrote in a letter for the issue. "We have all witnessed the pain, frustration, anger, and disbelief that followed the killings of George Floyd, Breonna Taylor, Ahmaud Arbery, Rayshard Brooks, and so many others, and it is vital that all of us work to combat racism in all of its manifestations."
It was important to publish the issue, he said, even with the risk of negative feedback.
"It seemed like an important historical moment, not just in the country at large but I would say also in the Hamilton community," he said. "I was aware that we would hear from people who thought we were putting too much emphasis on diversity, equity and inclusion."
And, as with many decisions at any college, there have indeed been a few negative emails. But the response over all has been overwhelmingly positive, he said. The magazine has received an above-average number of letters to the editor.
"The education students are getting needs to be more inclusive," said Jean-François. Not only by bringing in more students of color, but accepting and integrating them into the college's DNA. "At the end of the day, you have to lean into these conversations."