You have /5 articles left.
Sign up for a free account or log in.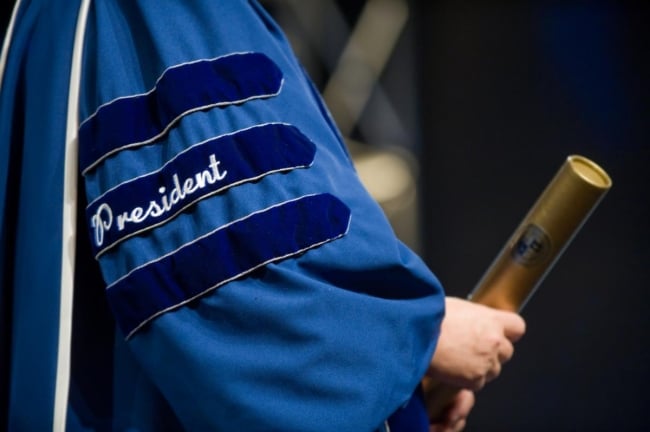 The changing of the guard in higher education often follows a familiar process: after a college or university president steps down, an interim president takes their place and leads the institution for about a year while its governing board searches for a permanent leader.
In recent years, a growing number of colleges and universities have appointed interim or acting presidents to lead for two or more years. The trend mirrors a shift in the corporate world in favor of interim executives. Experts say that multiyear interim presidents can promote institutional continuity, implement cultural changes and give the board more time to search for and select its next permanent president.
The Ohio University Board of Trustees recently announced that Hugh Sherman, former dean of the university's College of Business, would serve as president for a two-year term beginning on June 14, 2021.
The board plans to begin a search for its next permanent president in early fall of 2022 and hopes the person selected will step into the role in July 2023.
"This two-year appointment was implemented to effectively position Dr. Sherman and the University for success as he steps into this critical role," Cary Cooper, chair of the board, said in a statement. "My fellow Trustees and I have every confidence that Dr. Sherman will not only provide continuity but also be an inspiring and strategic leader for the institution for the next two years."
Sherman's two-year term allows for greater flexibility and stability for the university while it recovers from the effects of the COVID-19 pandemic, said Carly Leatherwood, a spokesperson for the public university in Athens County, Ohio.
"We know it's an irregular process, but these are not regular times that we're living through," she said.
Despite his limited term, the university doesn't call Sherman an interim president. The full president title gives Sherman "more permanence" and affects his "ability to make changes that impact the institution," Leatherwood said.
The board is not planning to extend Sherman's contract beyond the original two years. However, he can enter the permanent presidential search as a candidate, according to Leatherwood.
Dickinson College in Carlisle, Pa., is also preparing for an upcoming two-year presidency. John E. Jones III, the private liberal arts college's current board chair, will take over as interim president when current president Margee M. Ensign resigns at the end of this month.
A two-year interim leader will give Dickinson's board more time to plan a thorough search for a permanent president. Additional time to prepare for a search is one of the benefits of multiyear interim presidents, said Bryan Carlson, president of the Registry, a company that places interim leaders and other top executives in higher education.
"When it's time to do a presidential search, each board of trustees really has to address the question: What is the overall condition of our institution, and are we ready for a national search?" Carlson said.
An interim leader can also provide the board with a fresh perspective on the institution and help assess the institution's condition heading into a search.
"Part of that assessment is an identification of some strengths of the institution, or maybe identification of some potential new science and new initiatives that could be featured in the future," Carlson said.
Susan Resneck Pierce, president emerita of the University of Puget Sound in Washington and president of SRP Consulting, echoed this idea in earlier comments to Inside Higher Ed.
"A two-year term gives the new president and the college time to decide on [the college's] future strategic priorities and the characteristics and experiences it seeks in terms of its next president before it launches its next presidential search," she said.
The trend of multiyear interim presidents began before the start of the pandemic. Mount St. Mary's University, a private institution in Emmitsburg, Md., appointed a two-year interim president in 2016. Eugene McAllister, interim president of St. John's University in Collegeville, Minn., recently concluded his two-year term. Capital University in Columbus, Ohio, appointed David Kaufman as a two-year interim president last June.
While the popularity of longer-term interim executives is a relatively new development in higher ed, interim managers have been utilized in Europe for quite some time, and the practice has taken root in the United States more recently, according to Forbes.
Carlson said the trend has been good for business at his interim executive placement firm.
"We seem to have been positively affected by this global megatrend where, in many major industry sectors all around the globe, interims have become more and more of a solution of choice," Carlson said.
Multiyear interim presidents are able to accomplish more than an interim leader could do in only one year. Long-term efforts such as eliminating structural deficits, bringing down high tuition discount rates or making program cuts can take quite a few years, Carlson said. Changing leadership often during those efforts can sometimes disrupt them.
Board members often say that "the interim has hit the ground running and has made an extremely positive impact," Carlson said. "We want to retain the interim for another year to see that these changes can be institutionalized so there's a greater chance that they become permanent."