You have /5 articles left.
Sign up for a free account or log in.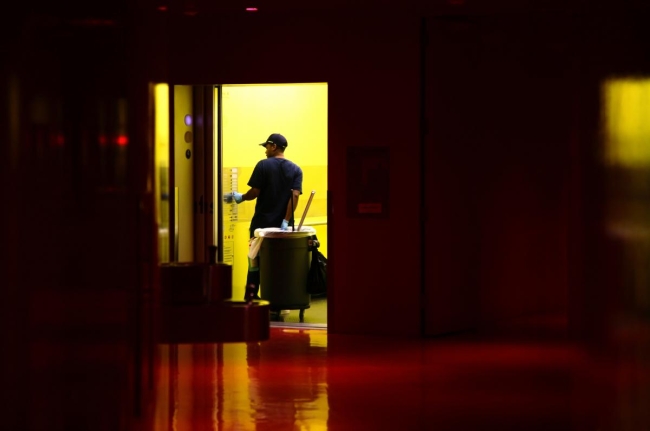 Earlier this year, President Biden proposed legislation that, if passed, would have created a $15 national minimum wage. Despite support from fellow Democrats, the minimum wage raise failed to become law.
However, some universities have continued to raise their own minimum wages to $15. This year, a number of institutions, including Clarke University, Johns Hopkins University, the University of Rochester and the University of Kentucky, have released plans to bring their own institutional minimum wage to $15.
These institutions don't represent the first to reach this milestone. Other colleges and universities already have such a minimum wage, either by choice or by the laws of their jurisdictions. (New York City and Washington, D.C., for example, both home to many colleges and universities, both enforce a $15 minimum.)
But these recent decisions underscore the growing upward pressure on university wages. The Fight for $15, an advocacy campaign for a $15 minimum wage started by the Service Employees International Union and other groups, began in 2012. Since then, many large employers, such as Target, Amazon, Whole Foods and Costco, have raised their own minimum starting wages to $15. New York State is set to increase its minimum wage for fast food workers to $15 this July. Not only will colleges and universities need to compete with these other employers, those that do not raise wages could potentially see the reputational damage of paying less than an employer like Wendy's.
Additionally, following the COVID-19 pandemic and 2020's movement for racial justice, an increasing number of students have begun discussing treatment of lower-wage staff as a racial justice issue. At many institutions, the nonadministrative staff is made up of a majority people of color. At some, the staff is a majority Black. At others, it is majority Latinx.
When discussing their decisions, universities and presidents themselves underline their responsibility as a large employer to do right by those who work for them.
The University of Rochester, for example, is the fifth-largest employer in the state of New York and the largest in the region.
"When I first got here, people kept telling me, 'We're the biggest employer in town,'" said Sarah Mangelsdorf, president of Rochester. "It's great to be a big employer, but I'd like to be a great employer, too. I'd like to be an employer that isn't a place people work at because that's the only place. I hope it's a place they want to work at."
Mangelsdorf was originally approached by the Rochester-Monroe Anti-Poverty Initiative, an area coalition of which the university is a part, to raise the wages for home health aides. She couldn't raise wages for just one group, she said, but she could commit to increasing the universitywide minimum wage to $15 by December 2022.
"It's the right thing to do. It was our lowest-wage employees who were all on the front lines, never got to stay home and work from home, during the pandemic. They were also hit the hardest by it," she said. "The unfortunate truth is if you look at our lowest-wage employees, underrepresented people of color are overrepresented among our lowest-wage employees. If you raise the salaries of those people, you are also acknowledging that, that there's responsibility here."
The raise will affect about 1,200 workers, mostly new employees with a heavy concentration in clerical, environmental and food services. The move has been supported by the antipoverty coalition.
The raise at Johns Hopkins University, which will take affect this July for university employees and in 2022 for hospital workers, will affect more than 6,000 workers in total. A majority of those work in the health system. The raise plan has been supported by the Maryland division of 1199SEIU, which represents JHU Hospital workers. Other unions at the university have said that their workers are already guaranteed $15 through collective bargaining agreements.
Once the raise takes effect, Johns Hopkins will be ahead of Maryland legislation that seeks to raise the minimum to $15 by 2025.
"We would have liked to raise to a $15 minimum wage before COVID, but after COVID and seeing how we've been able to weather the storm and come out of COVID at this point financially, we thought it was both wise and prudent and fair to be in advance of the state mandate, to provide for our employees who do so much," said Alicia Wilson, vice president of economic development at Hopkins.
In April, Hopkins announced the end of austerity measures that were put in place during the pandemic, including suspended employer retirement contributions.
Maryland's minimum wage is currently $11.75 per hour. Compared to Johns Hopkins, Clarke and the University of Kentucky will be a bit farther ahead of their jurisdictions, even though Kentucky is a public institution and Clarke has a much smaller endowment than other institutions mentioned here. The minimums in both Iowa and Kentucky are $7.25 per hour, pegged to the federal minimum, which hasn't been increased in 12 years despite ongoing inflation.
Clarke University plans to implement its increase to $15 by 2026, then to review the minimum annually against peer institutions in Iowa. The plan came after a pay equity study by the Board of Trustees found some discrepancies in compensation, said President Thom Chesney. By 2027, the plan calls for all Clarke employees to have salaries at or above the median levels for peer Iowa institutions. The compensation proposal adopted by the board would also freeze executive salary while the plan takes effect, to be then capped at 10 times the salary of the lowest-paid full-time employee at the institution. Depending on hours worked, a $15 per hour wage generally translates to $29,000 and $32,000 annually. Chesney says he is 100 percent supportive of the board's plan.
"It's very much keeping with our history," he said. "It is so well aligned with the institution's values and our history that it gives us an opportunity here in 2021 to lead and live from those values." The university was founded by the Sisters of Charity of the Blessed Virgin Mary.
The university also has some attractive benefits like tuition exchange programs, Chesney said, but those shouldn't be used to justify lower wages.
"Should someone come here and work for less because it might allow them to put a child or dependent through college? That didn't seem right, either. That's a nice thing to have, but people still need to be paid fairly and at market," he said.
At Kentucky, Jay Blanton, university spokesperson, said the raise was part of mission to advance Kentucky and invest in people.
"There's been a very intentional and purposeful multiyear process that we've been engaged in as a university, led by President Capilouto and in partnership with our Staff Senate, which is our elected body of staff," he said. "If this budget is adopted by our board in a couple of weeks, it would be the fourth time in six years that we've increased the minimum hourly rate for employees." In 2015, the university raised the minimum from the $7.25 the state mandated.
If the board adopts the proposed increase, about 2,700 employees will see increases, Blanton said. About 50 percent of them work in the university health-care system. Some workers in facilities, extension offices and agricultural farms will also see increases.
Workers at the university said the raise will make a difference for them. Cory Pollard, a custodian at UK, said the raise will take pressure off him to work a second job.
"We protested, we talked to our superiors about our feelings and what we feel about it, we grew the union and we made our voice a little louder," said Pollard, who is a member of the United Campus Workers union. "I was pretty excited that they actually listened to us."
Down the line, he said he would like to see greater increases for seniority at the university.
Donald Moore, also a custodian, said he will see a small increase in his salary. He has been working at the university for 19 years.
"I think it was a great thing for the workers to finally get an increase in pay, because for the little bit of money that we work for, it's not enough to make ends meet. A majority of us work second jobs," he said. "By them doing this quickly, it's a good thing."