You have /5 articles left.
Sign up for a free account or log in.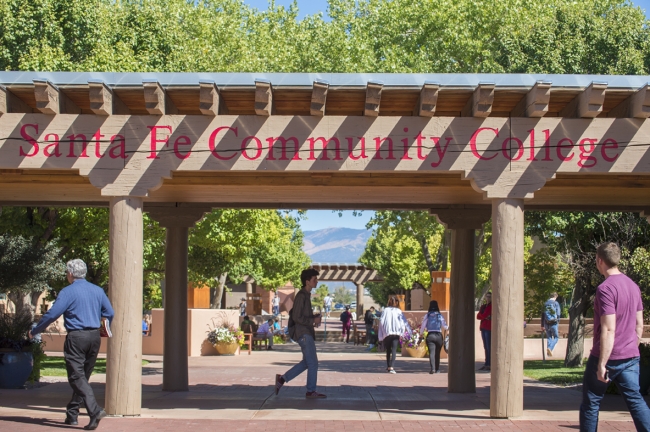 Chris Corrie/Corrie Photography
Santa Fe Community College has had better days. College administrators canceled five academic programs, laid off four faculty members and cut eight staff positions this spring. Those decisions followed other tough budget-cutting measures last year, including the termination of 68 employees, the reduction of 20 unfilled positions and the closure of the campus bookstore and food services.
"The pandemic has introduced numerous financial challenges and exacerbated existing ones," Becky Rowley, the president of the New Mexico college, said in a statement last month announcing and explaining the cuts to the members of the campus. "As a public tax-funded enterprise, it's our duty to serve our community as an efficient, sustainable, and nimble institution … For me personally, this is a really difficult situation. I want you to know that I believe we are making every effort to respond to the gravity of our circumstances with compassion and a continued dedication to the students and the community we serve."
While the pandemic has brought on painful belt-tightening decisions at many other community colleges nationwide, the cuts at Santa Fe have been especially difficult.
The institution lost nearly $2 million in tuition and fees last year, a 30 percent drop from the previous academic year, because of steep enrollment declines. Fall 2020 enrollment fell about 27 percent, to 3,906 students, from 5,455 in fall 2019. The decline was more than double the national average for community colleges. Santa Fe administrators formally declared financial exigency in May 2020.
"Two million dollars to our colleges is a gigantic amount of money to have to deal with," said Nick Telles, vice president of finance at Santa Fe. He noted that eliminating the programs and faculty positions, including two unfilled slots, saved the college $454,000.  The college has a $1.2 million deficit. (Note: This paragraph was updated to correct the amount of money college officials said was saved by eliminating programs and faculty positions.)
Davis Jenkins, senior research scholar at the Community College Research Center at Teachers College of Columbia University, said Santa Fe's cuts may be an omen of things to come for community colleges.
On a national level, community college enrollment has been falling since 2012, which contributed to drops in state funding over the years and made pandemic-related enrollment losses a particularly concerning blow, said Jenkins. He noted that program cuts at community colleges were less prevalent than he expected this past academic year, in part because of federal stimulus funds, but he worries more community colleges will need to dramatically cut costs next year as enrollment remains low and stimulus money runs out.
"Many, many colleges could be in the position Santa Fe was, where they have to make cuts fast, and that's always a challenge for any institution," he said.
Some faculty members at Santa Fe are concerned that administrators conducted program reviews outside the usual accepted processes and without formal faculty input.
Stephen DeGiulio, a professor of teacher education, said declaring a financial emergency allowed administrators to bypass the usual program-review process. DeGiulio is also the president of the American Association of University Professors chapter at the college, which took no formal stance on the program cuts. However, he said union leaders are trying to learn more about the college's financial status and on what grounds it declared financial exigency.
"Professionals can get together and make plans, and if hard decisions have to be made, they can be made," he said. "If people have to be cut, we're all adults, we can deal with it, but in a way which respects people's dignity."
Faculty Senate chair Kate McCahill told the Board of Governors in a May 26 meeting that senate members want to work with administrators going forward to better define what constitutes financial exigency.
"I look forward to collaborating with members of the college staff and administration as we consider how a financial emergency checklist of sorts could make it easier for everyone to prepare for and anticipate the declaration of a bona fide financial emergency -- and to clarify expectations for when it might be lifted," she told the board.
Under the college's exigency plans, Santa Fe administrators cut the college's hospitality, solar energy, exercise science, fashion design and architectural and interior design programs, all of which will be gone next fall. Students already majoring in these areas will be able to complete their credentials, but the programs will no longer be offered to new students. The hospitality program was cut after undergoing a regularly scheduled four-year audit, the Santa Fe New Mexican reported. The other programs were canceled after a special review by administrators in response to the pandemic.
DeGiulio also noted that laid-off faculty members were only told about the layoffs in May, close to the end of the semester.
Faculty morale is "lower than it has been," he said. "Now everyone has to think, you know, they might just have their position yanked out from under them without notice."
Rowley, the president, noted that although a financial emergency declaration allows administrators to temporarily set aside shared governance processes, she made it clear during public monthly governing board meetings and other forums that the college would need to cut programs. She did not indicate which programs were being considered, but she held meetings with professors in these programs as a part of the evaluation process. DeGiulio said faculty members were unaware of the implications of these meetings.
"When we declare a financial emergency, it allows us to make these decisions more quickly," Rowley said. "If we go through the shared governance process outside of a financial emergency, it might take us two years to eliminate a position, and when the need is imminent and we have to have the money right now, it doesn't work to do it that way."
Although a financial crisis is a "sound" reason for program cuts, faculty members should generally be a part of determining what constitutes a fiscal emergency, said Mark Criley, senior program officer for the department of academic freedom, tenure and governance at the AAUP. He said he's seen a swell of cut programs and faculty layoffs during the pandemic and an increase in administrators deviating from procedures that require formal faculty input. The organization recently sanctioned six institutions for alleged violations of shared governance.
"This is a severe governance crisis we're experiencing across the nation," he said. "That's all the more reason to get more hands on deck and involve faculty in making the sorts of hard choices that have to be made."
Rowley said the five degree or certificate programs were removed based on a combination of factors, including enrollment, local workforce needs and associated costs such as full-time faculty members. She said some of the programs were quite small -- just one student was majoring in hospitality, and three students were majoring in the solar energy program.
DeGiulio believes the sizes of these programs are irrelevant because fields like hospitality and tourism are still important to local workforce needs.
"Here we are, full of tourists now that the weather is warm," he said. "It's hard to understand how those decisions were made."
Xubi Wilson, the professor who heads the solar energy program, said multiple local industry leaders in the field opposed the college's decision to nix the major, given that the college is one of just two institutions in the state that train solar energy workers. The other is Central New Mexico Community College.
"There's an absolute demand for solar workers in the industry in New Mexico," Wilson said. "And it's a terrible time to turn our back on that."
Wilson's full-time position was cut along with his program. He believes the cuts could have been prevented if administrators dipped into the $7.8 million the college has in reserve funds.
"If reserve funds aren't for making it through financial difficulties, I'm not sure what they're there for," he said.
Telles said that $7.8 million might seem like a lot of money, but it's actually the minimum amount he would want on hand, because the college's cash flow isn't consistent throughout the year. He said more than $300,000 in reserve funds has been set aside for pandemic-related expenses. (Note: This paragraph was updated to reflect that the college set-aside $300,000 in reserve funds and has not already spent it.)
"We're sort of in a situation where we're at the lower end of what we need in cash reserves in order to meet these challenges," he said.
Wilson plans to continue teaching courses at the college as an adjunct professor. He disagrees with the cuts and how they were handled, but unlike some of his colleagues, he doesn't want to leave. He considers the institution an "extraordinary gem" in the community.
"I just think Santa Fe Community College is better than this," he said.