You have /5 articles left.
Sign up for a free account or log in.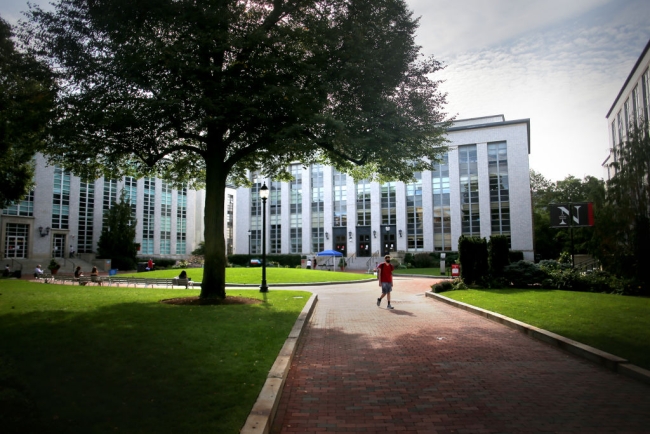 Boston Globe/Contributor/Getty Images
Four months after taking the first steps toward an eventual closure, Mills College may have found a new path to survival.
Northeastern University announced last week that its leaders are in talks to acquire Mills, a women's college in Oakland, Calif. As a result of the deal, Mills would become Mills College at Northeastern University and would continue to confer undergraduate and graduate degrees.
The acquisition would be a lifeline for Mills, which has failed to remain financially solvent amid declining enrollment, budget deficits and faculty unrest. The college announced in March that it would stop admitting new students and planned to graduate its last class in 2023, signaling its likely closure.
Northeastern also stands to benefit from the potential acquisition. Over the past decade, the Boston-area private nonprofit university has rapidly expanded and currently operates nine satellite campuses. Mills would become the 10th Northeastern campus and third location in California. Northeastern's sprawl could serve the university well in the future, when higher education leaders expect a significant decline in the number of college-going students in the Northeastern and Midwestern parts of the United States.
The deal would be a win-win for both Mills and Northeastern, said Terry Hartle, senior vice president of government relations and public affairs at the American Council on Education.
"Northeastern has been looking to increase its presence around the country, and Mills is anxious to preserve the institution," Hartle said. "I think this has the potential to be enormously beneficial for both institutions."
Presidents at both institutions cited shared values as the primary driver behind the acquisition talks.
"Renowned for its preeminence in women's leadership, access, equity and social justice, Mills College has been a pillar of educational opportunity for more than a century," Joseph Aoun, president of Northeastern, said in a statement. "Northeastern's history and enduring focus on inclusion and empowering people from all backgrounds to realize educational and lifelong success is in perfect congruence with Mills and its ideals."
Elizabeth Hillman, president of Mills, echoed Aoun's words in her own announcement.
"The board has authorized negotiations with Northeastern University because its leaders understand and support the vital contributions Mills offers, and because we share a vision of what education can and must be in the coming decades," Hillman said in a statement.
Becoming a part of Northeastern would require Mills's undergraduate programs to become coed. Currently, the undergraduate college admits only cisgender and transgender women as well as gender-fluid or nonbinary students. The Mills College Board of Trustees first voted to become a coed institution two decades ago but reversed the decision after two weeks of strikes and protests by students and faculty members.
The college's graduate programs already admit students of all genders.
Not everyone is pleased by the potential acquisition announcement. Since Mills announced it may close earlier this year, several alumnae groups -- including the Save Mills College Coalition, the UC Mills Campaign and the Alumnae Association of Mills College -- have rallied to save the college as an independent institution. Alumnae are worried that an acquisition by Northeastern would turn the liberal arts college into a research-focused institution. They are also frustrated by a lack of public information about Mills's current financial condition.
"This is not a done deal. We have not lost the battle. The school is still viable. I think we have to fight and we have to fight like hell," Nan Roche, a 1975 graduate of Mills, said in a statement.
During a recent town hall meeting held by the Save Mills College Coalition and the UC Mills Campaign, 46 percent of participants said they were against the acquisition proposal. Another 42 percent said they did not have enough information to make a decision, and 11 percent expressed support for the proposal.
Neither institution has disclosed financial details about the potential acquisition. It's unclear whether Northeastern would retain all existing Mills employees as part of the deal, but Hillman did say that Northeastern plans to fund raises for Mills employees.
"Northeastern understands the importance of Mills receiving financial support to cover its operating expenses and to enable Mills to offer compensation increases for staff and faculty members," she said in her statement.
The new Mills College at Northeastern University would also honor Mills students' financial aid packages. Northeastern also plans to extend its tuition remission program -- which covers tuition for employees and their eligible dependents who are admitted to Northeastern degree programs -- to Mills employees.
Mills students would have the option of continuing their degrees at Mills or transferring to Northeastern.
Spokespeople for Northeastern and Mills declined to share any additional information about the ongoing negotiations.
The potential deal is unusual, but not unheard-of, Hartle said. Most often, institutions acquire other colleges and universities that are located nearby. For example, Delaware State University will acquire Wesley College, which is only a four-minute drive away. Boston University acquired Wheelock College, another Boston private college, in 2017. The University of Bridgeport in Connecticut was recently absorbed by the nearby Goodwin University and Paier College.
Like Northeastern, some colleges have sought to expand farther. Middlebury College, a private liberal arts college in Vermont, signed an affiliation agreement with the Monterey Institute of International Studies in California in 2005, and later designated the Monterey Institute as a graduate school of Middlebury College.
The context for Middlebury's acquisition of the Monterey Institute was similar to the pending deal between Northeastern and Mills -- the institute was struggling financially and had been seeking a partner for several years. Middlebury was looking to expand its language and cultural programs focused on Asia, a subject area where Monterey excelled.
It's likely that more and more small colleges like Mills will need to consider a merger or acquisition in the next several years, Hartle said.
"There's a lot of discussion that this is the future for many small private institutions, particularly those in areas suffering population decline," he said.
John MacIntosh, managing partner of SeaChange Capital Partners, which manages the Transformational Partnership Fund, is an advocate for mergers, acquisitions and partnerships within higher education. In a recent op-ed for Inside Higher Ed, he wrote about the need for federal investment in higher education partnerships that advance the sector.
"The higher education 'system' is a decentralized and fragmented set of public and private institutions, many of which are more than 125 years old," MacIntosh wrote. "The system is increasingly out of date: some institutions are in the wrong place; some are too small; others need capabilities they will be challenged to develop on their own."
He sees the potential Northeastern-Mills deal as a win for students at both institutions.
"It seems to me like this is a good-for-students, student-centric partnership," he said. "For current students, but also for future students, there's going to be more options than if these institutions didn't come together."