You have /5 articles left.
Sign up for a free account or log in.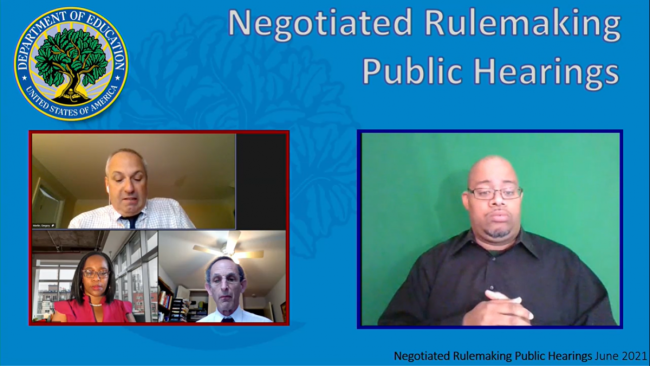 Screenshot/Microsoft Teams
The Department of Education began its negotiated rule-making process Monday by holding the first of three days of public hearings, with commenters discussing topics for federal student aid regulations the department is planning to consider.
The department solicited comments on 14 topics for possible regulation, including borrower defense to repayment; Public Service Loan Forgiveness; gainful employment; and discharges for closed institutions, borrowers with a total and permanent disability and false certification of student eligibility.
Commenters were not limited to discussing only those topics and could comment on any regulatory issue that may improve outcomes for students. The department is also accepting written comments until July 1.
"Secretary [Miguel] Cardona recently stated that one of the department's primary responsibilities is to serve students and borrowers," said Michelle Asha Cooper, acting assistant secretary for postsecondary education. "To do this well, it means we must continuously examine our policies and our practices associated with college access, retention, completion and a host of affordability issues, including student loan debt repayment and default."
Following the conclusion of this week's public hearings, the department will accept nominations for nonfederal negotiators to serve on the negotiated rule-making committees -- part of the process that's required to develop regulations for programs under Title IV of the Higher Education Act of 1965. The committees are expected to convene later this summer, the department said.
The makeup of those committees was one of the many topics covered by speakers at Monday's hearing, with several encouraging the department to ensure they select a diverse group of people -- including multiple students of various ages and backgrounds -- to serve as negotiators.
"We need many people who suffer from fraudulent debt at the table," said a former Kaplan University student who discussed her struggles with student loan debt and frustrations with for-profit colleges. "Students are not just young people … we need senior citizens at the table. We need to make sure the people in the room during the negotiated rule process have all the voices and not just a single voice."
The for-profit sector and need for accountability over it came up several times during the public hearing. David Halperin, a self-employed lawyer who focuses on higher education issues, quoted a Biden campaign document that said for-profit colleges would have to prove their value to the department before gaining eligibility for federal aid.
"That is absolutely the right position, given the documented predatory behavior by many for-profit colleges," Halperin said. "Requiring for-profit schools to prove their value would be of enormous benefit to taxpayers who would see far less money misused. It would benefit quality career schools by moving more resources away from bad schools."
Other commenters made specific recommendations for priorities the department should focus on throughout the negotiated rule-making process, including reinstituting the rescinded gainful-employment rule, revisiting and strengthening the borrower-defense rules, and addressing the challenges within the income-driven repayment system, said Kate Tromble, vice president at the Institute for College Access and Success.
"Students, veterans and taxpayers have waited far too long for consistent, strong protections from unmanageable student debt, sudden school closures and waste, fraud and abuse in higher education," Tromble said. "We cannot afford to wait any longer."
Christopher Chapman, president and CEO of AccessLex Institute, made specific recommendations for improving the Public Service Loan Forgiveness program, which he called "a program with great promise, but not-so-great execution." Recent data from the department show that only 2 percent of the applications forms processed so far have met the requirements for PSLF.
Chapman suggested the program could be improved by providing more timely and specific information to borrowers about whether they qualify for PSLF, making the processing of forms electronic, allowing borrowers to consolidate their loans without losing credit toward the 10-year forgiveness period and allowing borrowers to file an employment certification form through any federal student loan servicer.
The PSLF program should also be reformed to address the problems faced by faculty at institutions of higher education who are trying to achieve public student loan forgiveness, said Kaitlyn Vitez, government relations specialist at the American Association of University Professors.
"About three-quarters of faculty in America are off the tenure track, and more than half are part-time, so updated PSLF guidelines are needed to make sure that borrowers are not penalized for holding an adjunct or part-time position and that their public service is adequately recognized," Vitez said.
Several commented that loan forgiveness should occur outside of programs like PSLF. Cody Hounanian, program director for Student Debt Crisis, said the administration should use existing authority to cancel student debt for millions of Americans.
"We believe that is the boldest and most immediately needed reform on the table, but we know there's much else that could be done," Hounanian said, such as providing debt relief to those with permanent disabilities and addressing the PSLF application backlog. "There is just an incredible lack of urgency and seriousness when it comes to implementing currently existing programs in a way that helps borrowers, and that is another area that needs to be addressed."