You have /5 articles left.
Sign up for a free account or log in.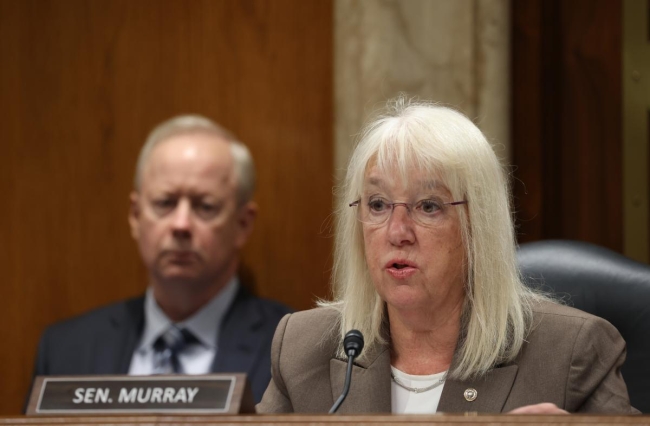 The idea of doubling the maximum Pell Grant award has grown to be widely popular, garnering support from hundreds of organizations and people all the way up to President Biden. While the policy proposal may have seemed pie-in-the-sky a decade ago, it's becoming less so now, according to advocates and experts.
"There is momentum like we've never seen before," said Michele Streeter, associate director of policy and advocacy at the Institute for College Access and Success. "This is the first time we've ever seen the administration and a bicameral bill from committee leadership that actually is calling for doubling. That's not even necessarily what I would've expected."
The federal Pell Grant program provides need-based aid that doesn't have to be repaid to low- and moderate-income students pursuing two- or four-year postsecondary degrees. But the amount of the grant aid available to students hasn't kept up with the rising costs of college -- the maximum Pell Grant used to cover close to 80 percent of the cost of college, and now it covers less than a third.
"Pell recipients have higher student debt burdens than their peers and borrow at double the rate of non-Pell recipients -- those stem from the fact that it covers the lowest share of cost in the program's history, and it's just not keeping pace with the college cost," Streeter said.
Over 1,200 organizations, including nearly 900 colleges and universities, have signaled their support for doubling the maximum award amount, which stands at $6,495 for the 2021-22 award year. Congressional Democrats are hoping to deliver on their ask. Last week, Democratic senators Mazie Hirono of Hawaii and Patty Murray of Washington, alongside Democratic representatives Mark Pocan of Wisconsin and Bobby Scott of Virginia, introduced the Pell Grant Preservation and Expansion Act of 2021, which would increase the maximum Pell Grant to $13,000 by the 2027-28 award year and index it to inflation for each subsequent award year.
Twenty-one senators and 68 representatives have co-sponsored the bill -- all Democrats. Still, the Pell Grant program has historically been bipartisan, and it's not outside the realm of possibility that doubling the grant could gain Republican support, said Beth Akers, a resident scholar at the American Enterprise Institute, who has advised policy makers on the right to think of Pell Grants as maintenance of a voucher-based model.
"I'm on the conservative side of this debate, so I should be saying, 'No more spending, no more spending,'" Akers said. "But actually, I think this is a reasonable ask that we have an expansion of Pell at this point in time. If Republicans are going to get on board with anything the Democrats want, this is reasonable to think it could be one of those things."
Democrats also have an advantage in that the policy conversation has shifted further to the left, making a doubling of the Pell Grant seem less like a radical idea -- which may have been different if it had been proposed seven or eight years ago, said Akers. But Democrats might not even need Republican support to get it done. It likely could be accomplished through budget reconciliation, a procedural measure in the Senate that allows budgetary measures to bypass the filibuster and the 60-vote threshold needed to end debate and pass legislation.
Doubled Pell Grants are viewed as only one part of the larger college affordability puzzle by advocates who argue that doubling should be used in conjunction with other affordability measures, said Streeter and Michelle Dimino, education senior policy adviser at Third Way.
"Doubling Pell could be a down payment on free college, because it's providing additional student funding that could offset or contribute to the cost of those other programs," Dimino said.
But doing both may not be necessary, particularly in the context of free community college, as proposed by the Biden administration as part of his American Families Plan. Providing free community college and doubling the Pell Grant would essentially accomplish the same goal, given that 55 percent of community college students also receive Pell Grants, said Phillip Levine, a nonresident fellow at the Brookings Institution and an economics professor at Wellesley College.
"If you're giving free community college to someone who is already a Pell Grant recipient, doubling their Pell Grant is going to give them free community college," Levine said. "It's two different ways to make it free. There are some additional students who will get benefits from free college who wouldn't in doubling the Pell Grant. But in the grand scheme of things, not that many."
There's no real reason to do both, as it would be an extremely generous program that goes beyond what's necessary to make college affordable, said Levine. And that's something to consider, given that doubling the Pell Grant would come at a high cost.
It would cost a little over twice what the federal government currently spends on the program, projected to be around $30 billion for fiscal year 2021, because all recipients would likely get twice the amount of aid and additional recipients would be added, either because they didn't go to college in the first place or they would be swept in under a new eligibility threshold, said Levine. And Democrats would have to find a way to pay for all of these proposals, noted Akers.
But the price to double Pell, while expensive, should be considered an investment, said Streeter. It's a highly targeted program, with two-thirds of Pell Grant recipients coming from families earning less than $30,000 a year and with students of color -- Black, Hispanic, Asian and mixed-race students -- receiving, on average, a higher dollar amount of aid than white students.
"The return on it -- even purely from an economic standpoint but also from a social standpoint -- is huge," Streeter said. "It's a front-end investment in the economy, students, poverty alleviation and economic mobility."
Doubling the Pell Grant is not something that has to be done all at once -- and it's also not likely to be. For example, Biden's budget proposal calls for a $400 increase to the maximum award, and his American Families Plan calls for a $1,400 increase, referred to as a "down payment" on doubling the award.
"Fortunately, it's not an all-or-nothing situation," Dimino said. "We can increase the Pell now and we can increase it again next Congress."