You have /5 articles left.
Sign up for a free account or log in.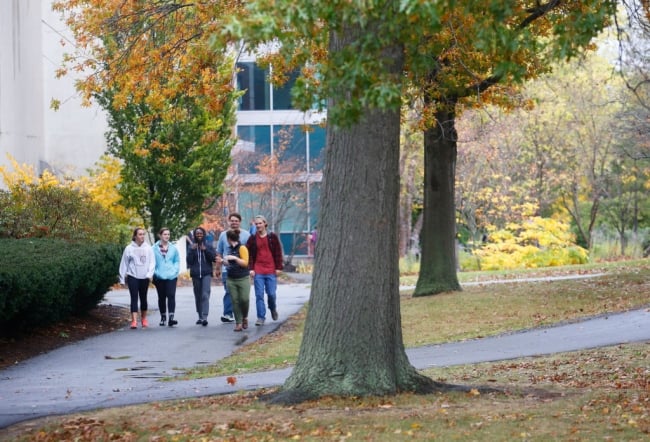 Portland Press Herald/Contributor/Getty Images
Dozens of colleges and universities have opted to freeze tuition for the upcoming academic year.
Such announcements were popular last spring, as colleges scrambled to retain and attract students who were unsure about online education or experienced financial setbacks related to the pandemic. Many colleges are planning to reopen fully in the fall and are working hard to bring back students who sat out last year.
College leaders want to make their institutions more attractive to potential students. The leaders also want to be mindful of some families' precarious financial situations and ensure that they're not pricing out potential students, said Jim Hundrieser, vice president of consulting and business development at the National Association of College and University Business Officers.
"In these announcements, it is an 'and,' not an either or," Hundrieser said in an email. "These moves are strategic to attract more students and I would say, for most, also an effort to increase access for students who are financially struggling to pay for college."
Brookdale Community College in Lincroft, N.J., plans to keep its tuition flat this fall. Its board opted to freeze tuition in recognition of the financial turmoil wrought by the pandemic.
"The Brookdale Trustees recognize the severe and far-reaching financial hardships caused by COVID-19," Henry Cram, chair of the Board of Trustees, said in a statement. "By keeping tuition and fees unchanged for this upcoming academic year, we hope to help students and families who are struggling with the cost of higher education."
The University of Maine system Board of Trustees approved a $578 million budget Friday that holds in-state tuition flat across the seven-institution system. Average tuition for full-time, in-state students will be $8,572 for the 2021-22 academic year.
The fiscal year 2022 budget is the seventh system budget in 10 years that does not include a tuition increase, according to a press release.
"Holding the line on tuition makes our life-changing degrees more affordable and accessible, and allows our students to earn their degrees with less debt," Dannel Malloy, chancellor of the system, said in a statement.
Purdue University also plans to continue its streak of tuition freezes. Tuition at the public Indiana university will remain frozen at $9,992 for in-state undergraduates through fiscal year 2023. The total cost to attend the university remains lower than it was in 2012, according to a press release.
The Idaho State Board of Education approved a tuition freeze for in-state undergraduates at all four-year colleges in the state through the 2021-22 academic year. The Kentucky Community and Technical College System Board of Regents, which oversees 16 institutions, also voted to hold tuition steady for the upcoming academic year.
While the number of tuition freeze announcements has increased in recent months, most colleges are not planning to keep tuition flat for the upcoming academic year, according to Hundrieser.
"While many did freeze tuition, probably just as many, if not more, did modest increases," he said.
Colleges and universities are planning to raise their tuition prices by 2 percent on average. Room and board rates vary a bit more -- some colleges and universities have planned for small increases of about 1.5 percent. Others are looking at a 4 percent increase.
In some cases, proposed tuition increases have drawn the ire of students. Students at the Juilliard School protested against a proposed 4 percent bump for months.
Some students have defied convention and supported proposed tuition hikes at the institutions they attend. Student leaders at Iowa State University, the University of Iowa and the University of Northern Iowa expressed support for a tuition increase during a Board of Regents meeting Thursday, Radio Iowa reported.
"In the wake of the pandemic, we want to have as minimally disruptive an impact on students as possible -- many of who are struggling financially," Julia Campbell, student body president at Iowa State, said during the meeting. "Given current fiscal constraints, there is not a realistic way to maintain the level of education we experience without cutting campus services or increasing tuition."
The University of Wisconsin system could see an end to its eight-year tuition freeze. The state budget-writing committee recently declined to extend the freeze, providing the University of Wisconsin Board of Regents the option to increase tuition.
Colleges must keep working to keep tuition costs affordable, Hundrieser said.
"We just can't keep raising tuition unless family household incomes increase," he said. "There is little data to suggest household incomes will increase this year, especially with inflation predicted to be the largest increase in several years."