You have /5 articles left.
Sign up for a free account or log in.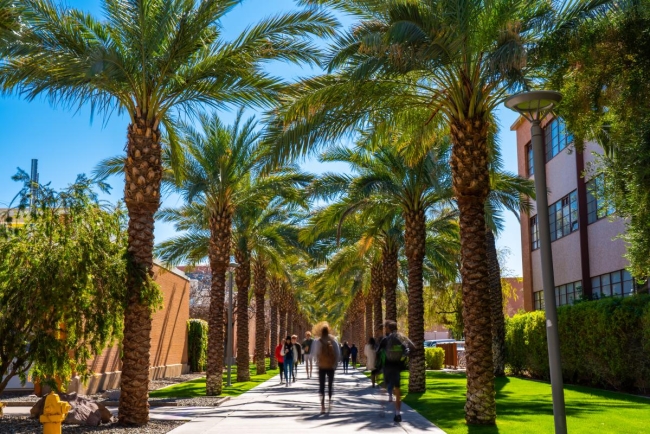 yongyuan/iStock/Getty Images
Arizona State University announced its COVID-19 mitigation plans for an in-person fall semester just two weeks ago. Under the plans, students would not have to be vaccinated against COVID-19. But those who chose not to submit proof of vaccination to ASU would be required to participate in twice-weekly COVID testing, wear face coverings in both indoor and outdoor campus spaces, and submit to a daily health check. Fully vaccinated students would be able to bypass these extra requirements.
The political backlash was immediate and fierce -- ASU was promptly forced by the governor to backtrack.
"This is bad policy, with no basis in public health," Governor Doug Ducey, a Republican, wrote on Twitter the day ASU announced its policy.
He issued an executive order the next day stating that Arizona public universities and community colleges cannot mandate COVID-19 vaccines or require unvaccinated individuals to submit to COVID testing or to wear face masks as a condition for class attendance or participation in learning.
The order says that a public college can only require COVID-19 testing if there is "a significant COVID-19 outbreak in a shared student housing setting that poses a risk to the students or staff."
About 15 states have various laws or executive orders limiting the ability of government entities -- and in some cases private colleges, too -- from requiring proof of vaccination against COVID-19. But the executive order in Arizona goes further in also barring mandatory testing and face-masking requirements for unvaccinated students.
Language that would codify Ducey's executive order into law is included in both the House and Senate versions of a higher education budget bill and is widely expected to be approved by the Republican-controlled Legislature later today.
"I think the policy is a disgrace," said Elizabeth Jacobs, a professor of epidemiology and biostatistics and nutritional sciences at the University of Arizona. "It completely ties our hands and just leaves us with no opportunity to implement reasonable, common-sense public health strategies at the universities."
While Jacobs said she personally would prefer a vaccine requirement, she described ASU's proposed plans as "a brilliant policy" that respected the fact that some students prefer not to get a vaccine and "gave everyone a choice for how they want to protect the community."
She said she won't teach in person until there is a policy in place like the one ASU proposed, requiring either vaccination or a combination of testing and masking for unvaccinated individuals.
"The things I'm thinking about are standing up in the classroom and folks aren't masked; I don't know whether they're vaccinated or not," she said. "We don't have a lot of ventilation in our classrooms. There are a number of faculty and students I've heard from who take immunosuppressive medication and are deeply concerned about entering a workplace with no COVID mitigation in place."
ASU said in a statement it will comply with the executive order "and will communicate changes in protocols to the university community." An ASU spokesman said the university has not yet released the new protocols.
ASU's statement emphasized the university's adherence to Centers for Disease Control and Prevention guidelines and said its June 14 guidance offered students a choice as to whether to get vaccinated, while announcing "continuation of existing health protocols for students who are not yet vaccinated as they are at higher risk for infection and spreading the virus."
As the much more transmissible Delta variant of the COVID-19 virus spreads, a growing political divide is emerging across states in terms of the tools colleges can use to control the spread of the virus on their campuses.
Almost 550 colleges, mostly in Democrat-controlled states, are mandating COVID-19 vaccination for students or employees this fall, according to a list maintained by The Chronicle of Higher Education. While some colleges have said they will wait to implement a requirement until after a COVID-19 vaccine receives full approval from the Food and Drug Administration -- currently, the three vaccines available in the U.S. are approved through the FDA's emergency use authorization process -- many colleges have chosen to go ahead and add COVID-19 to the list of vaccines they already require for students.
Public colleges in many Republican-controlled states, on the other hand, find themselves constrained in requiring COVID-19 vaccines not just by local political sentiment but also by executive orders or laws that limit their ability to do so.
Although the details vary, laws or executive orders limiting the ability of certain governmental entities from requiring proof of COVID-19 vaccination -- so-called vaccine passports -- are in place in many Republican-controlled states, including Alabama, Arkansas, Florida, Georgia, Idaho, Indiana, Iowa, Montana, North Dakota, Oklahoma, South Carolina, Texas, Utah and Wyoming.
The law in North Dakota specifically exempts higher education. Some but not all of the other laws and orders, including Oklahoma's and Utah's, explicitly state that they apply to public colleges. The prohibitions in Florida and Texas apply to both public and private colleges. (In Texas, they apply to private colleges that receive any form of state funding.)
Indiana University amended its policy to require students to attest they have been vaccinated against COVID-19 -- instead of requiring they submit proof -- after the state attorney general issued an advisory opinion finding the university's vaccine requirement violated the state law barring vaccine passports, according to Indiana Public Media. A group of students is suing IU over the requirement.
"Unfortunately, there's a variety of flavors that are being tasted by state policy makers to try to see what will go down smoothly with their base," said Peter McDonough, vice president and general counsel for the American Council on Education. "As we have seen over and over again in some states, higher education in particular and indeed education generally isn't viewed as a friendly ally for policy makers, so pushing back against colleges and their decisions can be a politically expedient approach."
"The problem is that push by some state policy makers to actually force colleges to make their colleges less safe is disappointing in the extreme," McDonough said. "There's little doubt that they're mixing health and politics together but leaving out two crucial ingredients: science and facts."
McDonough noted that every state in the country and the District of Columbia has vaccination requirements for students.
"We're in this environment that we just unfortunately politicized how to deal with COVID," he said.
In Arizona, about 50 percent of adults are fully vaccinated against COVID-19, which compares to 57 percent nationally.
Ducey has emphasized that vaccination against COVID-19 is a personal choice.
"The vaccine works, and we encourage Arizonans to take it. But it is a choice and we need to keep it that way," he said in a June 15 statement released along with his executive order. "Public education is a public right, and taxpayers are paying for it. We need to make our public universities available for students to return to learning."
Will Humble, executive director of the Arizona Public Health Association and a former director of the Arizona Department of Health Services, said Ducey has used his executive authority to "micromanage" universities and community colleges and is using his emergency powers for harm rather than for good.
"ASU had designed a mitigation plan for this fall that was thoughtful, calibrated and evidence based," Humble wrote in a blog post. "The policy recognized the risk difference between vaccinated and unvaccinated students and managed those risks appropriately by requiring unvaccinated students to undergo periodic testing and to wear a mask on campus."
Tara Sklar, professor of health law and director of the Health Law & Policy Program at the University of Arizona, said the state restrictions put higher ed institutions in a tough position.
"I think universities are in a real difficult situation here with how to manage on-campus life," she said. "There are only so many tools available to them, and in Arizona they have effectively all been stripped away."
Sklar noted that younger students are more likely to have asymptomatic cases of COVID-19.
"So it could spread in a way to the local community," she said. "We're not even just talking about on-campus activities, but surges in cities and counties."