You have /5 articles left.
Sign up for a free account or log in.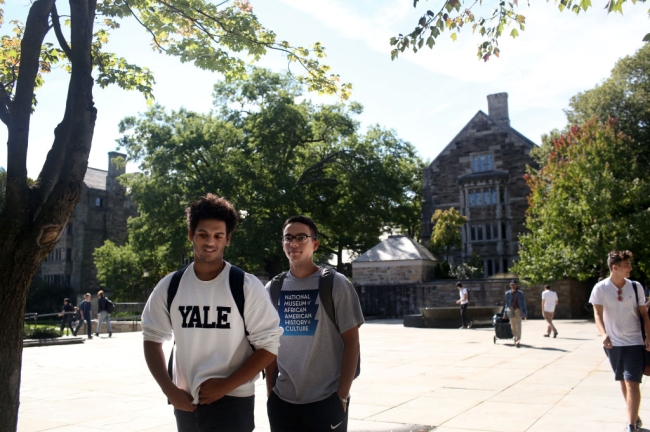 Yana Paskova/Stringer/Getty Images
Yale University's drama school is now tuition-free, compliments of a $150 million gift from billionaire entertainment executive and philanthropist David Geffen.
The newly named David Geffen School of Drama at Yale University will no longer charge tuition for degree- and certificate-seeking students starting in fall 2021, the university announced Wednesday.
"David Geffen's visionary generosity ensures that artists of extraordinary potential from all socioeconomic backgrounds will be able to cultivate their talent at Yale," Peter Salovey, president of Yale, said in a statement. "It is exciting to think about what will be made possible by increasing access to the premier theater education at the David Geffen School of Drama."
The school enrolls about 200 students and admits about 60 new students each year, Karen Peart, a spokesperson for Yale, said in an email. Tuition costs for the most recent academic year totaled $33,800. Students will still have to pay for living expenses, supplies and books, which are estimated to cost up to $22,268. The tuition remission is not retroactive, but it will apply to both new and returning students.
The decision to no longer charge tuition comes 16 years after the Yale School of Music went tuition-free in 2005 after receiving a $100 million gift from anonymous donors.
Free tuition at the drama school may change the applicant pool, James Bundy, the drama school dean, told The New York Times. Prospective students who would have previously ruled out the university for its high price tag may now give its drama school a second look. Free tuition may also prompt more low-income students and students from underrepresented groups to apply.
"We know, because people have told us, that there are potential applicants out there who think they could never afford graduate theater training at an Ivy League school," Bundy told the Times.
He also said he hoped that less student debt would help students make braver artistic choices and prevent graduates from needing to take on second or third jobs.
Colleges and universities typically turn headline gifts like Geffen's into endowments, which serve to fund scholarships and operations at the institution, said Kestrel Linder, CEO of GiveCampus, an education fundraising platform.
"The idea of the endowment is that they will smartly invest those funds, and those investments will yield a return," Linder said. "And it's that return that the universities use each year to actually provide support for the purpose or the initiative that the donor wanted to facilitate -- in this case the idea of free tuition."
Previously established scholarships at the drama school will continue to be disbursed to students, Peart said.
"David Geffen's financial aid gift is a complement to these existing funds, and not a replacement for them," she said. "Current donors' scholarship funds will continue to be administered and stewarded as they have been previously."
There's no one-size-fits-all approach for receiving and spending these kinds of gifts, Linder said. There are relatively few gifts of more than $100 million to colleges and universities each year, and they're usually the result of year' worth of relationship building between the institution and the donor.
"Usually you're talking about sometimes close to a decade of engagement with the donor, leading to a very, very significant contribution," Linder said.
Geffen first began his relationship with Yale four decades ago. During the 1978-79 academic year, he taught a semester-long seminar called the Music Industry and Arts Management.
His $150 million gift is the largest in American theater history, according to a Yale press release.
"It's an honor to partner with Yale University to create the first tuition-free drama school of its kind in the nation," Geffen said in a statement. "Yale is well known for having one of the most respected drama programs in the country. So, when they approached me with this opportunity, I knew Yale was the right place to begin to change the way we think about funding arts education."
Geffen has made major donations to a handful of higher education institutions, including $146 million to the University of California, Los Angeles, which is home to the David Geffen School of Medicine at UCLA. He also gave $1 million to arts programs at Spelman College and Morehouse College.