You have /5 articles left.
Sign up for a free account or log in.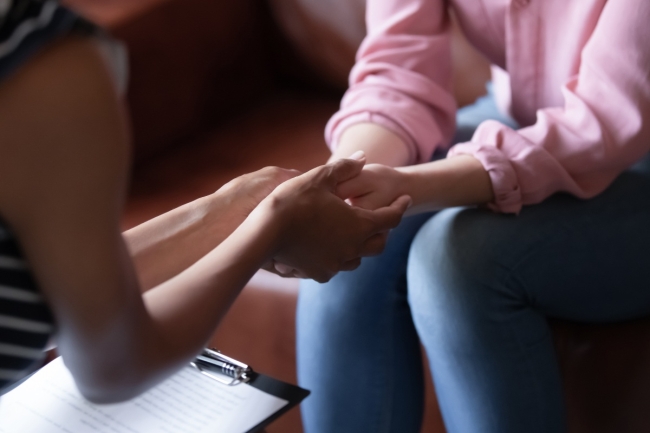 For years, the University of Illinois at Urbana-Champaign has implemented a mental health training simulation to teach students, faculty and staff to recognize symptoms of mental illness in students and take steps to get them help.
Now a new case study shows the training is making an impact: campus members who completed the simulation were more likely to intervene when a student or peer showed signs of psychological distress.
The training comes from Kognito, a company that makes digital learning simulations focused on mental health and wellness. The simulation offers one version for students and one for faculty and staff, but both are 40 minutes long and use role-play conversations with virtual human animations to train participants to recognize signs of distress in others and to effectively communicate their concerns, said Deidre Weathersby, associate director for outreach and prevention at the UIUC counseling center. The goal is to connect the person in distress with mental health support services.
First piloted by the school of engineering 10 years ago, the simulation training is now required by the housing department as well, Weathersby said. While the training is strongly recommended for students, faculty and staff in other parts of campus, Weathersby said she wishes it was required across the board at UIUC—along with the other mandatory training sessions on alcohol and drugs, sexual assault, and diversity and inclusion. She and her team are working to build relationships with more deans on campus to get the training implemented at more schools.
"The barrier is getting everybody to take it, because so many campuses already have so many mandated programs, like us at University of Illinois," Weathersby said. "The uphill battle is getting something like this mandated. The efficacy is demonstrated through data, but if only a percentage are taking it, is everyone benefiting from the information?"
To measure the program's effectiveness, Kognito conducted three surveys of the students, faculty and staff who undertook the training in the past three to four years: one before they started, one right after they finished and a follow-up three months later.
The data show that students who completed the simulation training reported a 22 percent increase in their ability to recognize when a student's behavior or physical appearance is a sign of psychological distress, as well as in motivating a fellow student to seek professional support.
Three months after they completed the training, students reported approaching 46 percent more peers who showed signs of psychological distress and referring 45 percent more peers to support services. Faculty and staff said they referred 224 students to mental health services, a relatively high number compared to typical results, said Nikita Khalid, a research scientist at Kognito.
"We saw increases in preparedness, increases in the likelihood to approach students, as well as increases in self-confidence to recognize psychological distress and to approach those students that they thought might need some reassurance or some help," Khalid said.
Perception of Support
Khalid noted that faculty perceptions of positive support for mental health on the UIUC campus increased, too.
"For faculty, when we collected this information from pre- to the three-month follow-up survey, we saw a lot more encouraging results where they said that mental health on campus conversations increased; they had more conversations with students, as well as with faculty and staff members and administrators, about students that they may have been identified as being in distress," Khalid said.
And students, faculty and staff enjoyed taking the stimulation training, according to the case study. Ninety-nine percent of students and 100 percent of staff rated the simulation as "excellent," "very good" or "good." Ninety-two percent of students said they would recommend the simulation to a fellow student, and 98 percent of faculty and staff said that they would recommend the simulation to their colleagues.
"We only hear good things when people take it," Weathersby said. "They're like, 'Oh my God, this is super helpful.'"
Weathersby said the Kognito simulation training hasn't changed since the start of the COVID-19 pandemic, but the pandemic has underscored the need for more students, faculty and staff to take it.
"Everyone's anxiety has been increasing since the pandemic has exacerbated that," Weathersby said. "The more people we have take it … the more we can help decrease the anxiety about what to do when I find a friend in distress with high anxiety. It certainly is a great gatekeeper for recognizing suicidal behavior, but I think it encompasses distress over all."
Becky Fein, vice president of community initiatives at Active Minds, a nonprofit organization dedicated to promoting mental health among young adults, said mental health training is part of a bigger initiative on many campuses to talk more openly about mental health and wellness.
"From what I've seen, [trainings] are the message that mental health is something that matters to the college and culture in their community," Fein said. "It's that culture shift and perception of support around mental health, and that's really key."
Fein said the entire campus community needs to work together to address mental health concerns rather than rely solely on faculty to look for signs of distress.
"It can have the adverse effect of implying that faculty are responsible in some way for being the kind of main source of support for students," Fein said. "Whereas when you've a culture change type of training that's empowering and elevating the conversation, it's saying, 'We're all a part of this and we all have a role to play.'"
Fein added that delivering mental health training shows community members that they don't need to be experts to help.
"I think there can be some concern or anxiety from some that say, 'We're educators, we're not mental health professionals, we may not know how to respond if we see somebody who's struggling,'" Fein said. "We can design trainings to be that message—that you don't have to be an expert to help them and that being there is what matters, and demonstrating that you care."
More from Physical & Mental Health