You have /5 articles left.
Sign up for a free account or log in.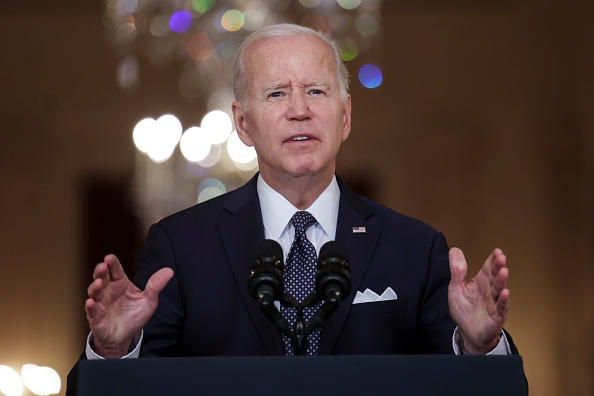 Kevin Dietsch/Staff/Getty Images
A final decision on whether the Biden administration will forgive some student loan debt will likely not come until July or August, administration officials told The Wall Street Journal.
The president said in late April that he would be making a decision in "the next couple of weeks." Since then, the administration has not made any formal announcement on widespread debt relief. On Monday, James Kvaal, under secretary of education, said at an event held by the Bipartisan Policy Center that the administration is still considering how much student debt to cancel and who will be eligible under the debt forgiveness proposal.
Kvaal also said that he had no news on whether there would be another pause on debt repayments.
White House officials say Biden is considering forgiving around $10,000 in student debt per borrower for all borrowers making under $150,000 a year, a figure that many advocates for debt relief say is far too low to address the scope of the debt crisis.
Pushback to this news included a letter signed by over 500 labor and civil rights organization calling for Biden to cancel student loan debt immediately.
Mike Pierce, executive director of the Student Borrowers Protection Center, said that he believes that the Biden administration could be considering a larger relief package due to this pushback.
"I am hopeful it's because the White House got a message from people with student debt and their advocates after the first versions of the proposal was updated a couple of weeks ago," said Pierce.
According to the Journal, there are skeptics in the administration regarding Biden's ability to use executive authority to relieve student debt. Additionally, the Education Department is concerned over the implementation of a new federal program and the administrative burden that would come with millions of Americans applying for debt forgiveness.
Under the federal student loan pause, borrowers have not had to make payments on their debt since March 2020, and many debt relief advocates are worried about borrowers being able to adjust to increased expenses without another extension of the pause before Biden makes a move on debt forgiveness.
"Come just a few weeks from now, 45 million people find themselves in this place where they don't know what their household finances are gonna look like," Pierce said. "Every bit of extra financial breathing room matters."
Still, no matter how much debt the Biden administration chooses to forgive, the implementation of the plan will not be immediate. According to Scott Buchanan, executive director of the Student Loan Servicing Alliance, "It's not gonna happen overnight, regardless of when you announce it. It's just a big process."
Buchanan said loan servicers, who manage loans given out by the federal government, will have to take the time to figure the details of how to implement debt relief before borrowers will see the impacts of any move by the administration on student debt.