You have /5 articles left.
Sign up for a free account or log in.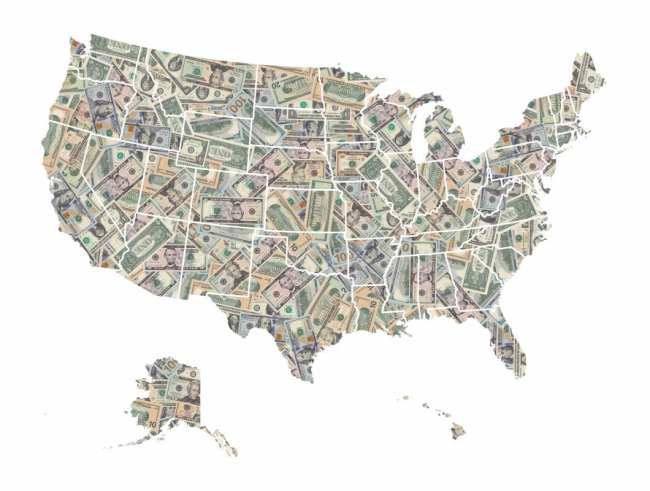 udmurd_PL/iStock/Getty Images Plus
Ongoing enrollment declines remain an area of concern across higher education, but a new report shows strong state appropriations and federal support in the last fiscal year buoyed colleges and universities struggling with dwindling tuition revenue.
The "State Higher Education Finance" report, released today by the State Higher Education Executive Officers Association, found that state funding in the 2021 fiscal year increased by 4.5 percent above inflation, defying expectations as state governments grappled with the coronavirus pandemic. Appropriations were lifted by pandemic-related federal government stimulus funds. The SHEF report focuses on fiscal year 2021, the period between July 1, 2020, and June 30, 2021, when significant federal dollars were being disbursed—funds that will largely be gone by 2023—and before economic inflation sharply increased.
SHEEO's analysis also notes a 10th straight year of declining enrollment and cautions that challenges may be on the horizon for many colleges as they make do with fewer students.
"Generous federal stimulus funding protected state revenues and directly supported higher education, reducing states' need to cut funding during the pandemic and short economic recession," a SHEEO news release states. "However, sharp declines in student enrollment and net tuition and fee revenue signal continued upheaval for public higher education revenues."
The Big Takeaways
Some findings from this year's SHEF report include:
Full-time enrollment declined by 3 percent from 2020 to 2021, or 323,952 students. Enrollment declines were largely driven by slumping community college numbers.
Inflation-adjusted education appropriations increased by $400 per full-time student, reaching $9,327 per student and bucking prior funding trends amid declining enrollment.
Net tuition revenue declined 3.2 percent in the last fiscal year with public institutions receiving $6,723 per full-time enrollment in net tuition and fee revenue. SHEEO notes this is the "second-largest ever decrease in inflation-adjusted net tuition revenue per FTE."
Federal stimulus funding comprised 1.3 percent of total education appropriations.
Community colleges are beginning to catch up to their four-year counterparts, with two-year institutions receiving 5.4 percent more in education appropriations per full-time enrollment than four-year colleges in 2021, thanks largely to local appropriations.
Investments in state financial aid are rising more rapidly than institutional funding. Inflation-adjusted state financial aid increased by 8.8 percent in fiscal year 2021, hitting an all-time high of $921 per full-time student and 9.9 percent of all education appropriations.
Net revenue from tuition and fees per full-time enrollment declined in about three-quarters of states between 2020 and 2021. Net tuition and fee revenue declined 4.8 percent at four-year institutions nationally.
Total education revenue per full-time student increased 1.1 percent in 2021 to an all-time high of $15,959 per full-time enrollment, a number propped up by federal stimulus dollars. If federal stimulus funding is excluded, total education revenue is down 0.3 percent.
"Our primary finding, and also the thing that was most surprising to us, is that state funding increased substantially in 2021," said Sophia Laderman, an associate vice president at SHEEO. "This was very contrary to our expectations, because based on past patterns, and what we've seen following past economic recessions, we expected state funding to decline this year. But instead, there was a 4.5 percent increase in per-student funding above inflation."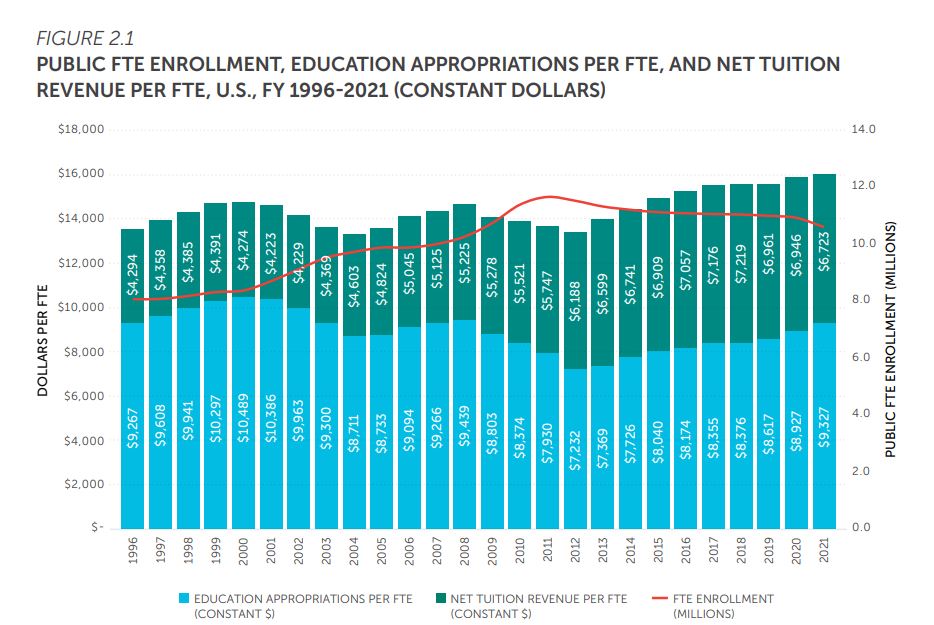 Laderman notes that multiple factors led to the above outcome.
"The first one is that the federal government dedicated stimulus funding to states to try to help with budget shortfalls and increased costs due to the COVID-19 pandemic. So states got a lot more revenue than they were initially expecting and were able to dedicate that to all their different budget areas, which meant that higher education, which usually sees most of the cuts, wasn't as deeply affected," Laderman said. "The federal government also gave funding specifically to states to use for education, and all but five states directed some of that funding toward higher ed. A big part of the increase that we're seeing is because of those federal stimulus funds, but it's also because states were prioritizing higher education and chose not to cut funding."
Looking Ahead
Some higher education observers note that fiscal 2021 defied expectations.
Expectation for an enrollment increase driven by a struggling economy is one such example of an expectation that didn't become reality, said Robert Kelchen, professor and head of the department of educational leadership and policy studies at the University of Tennessee at Knoxville.
"I think we were expecting an increase in enrollment because we were expecting a worse economy," Kelchen explained. "We were expecting funding to be a challenge because of the effect the pandemic was likely to have on state budgets, but instead, state budgets came through the pandemic in pretty good shape, and federal support put funding over the top."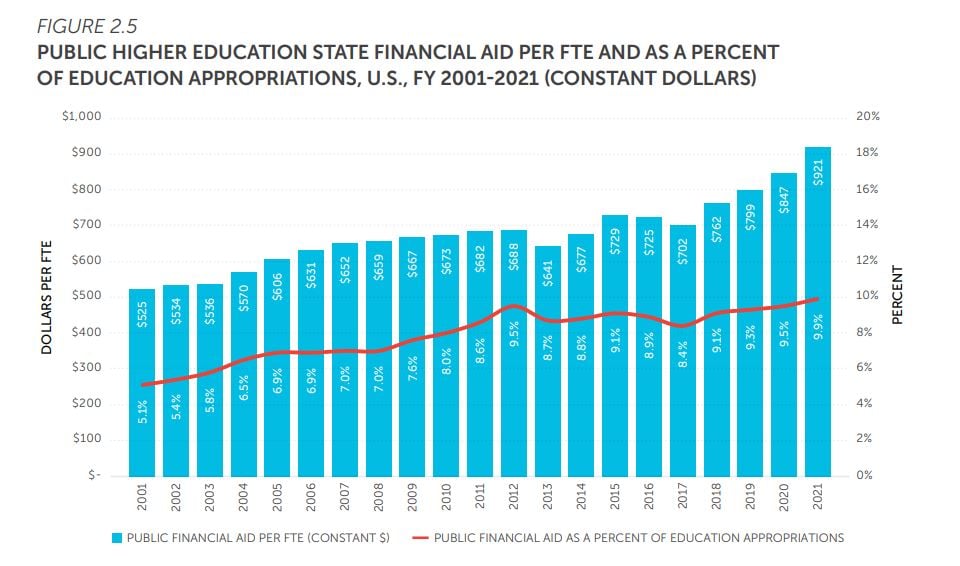 Given the many other funding needs for state governments, some experts believe the overall outlook for colleges on the financial side is fairly positive, especially given the circumstances.
"Over all, it's a story of stability," said Joni Finney, a higher education consultant and former director of the Institute for Research on Higher Education at the University of Pennsylvania. "Except when you look at individual states, they're all over the place. There are examples of disinvestment, but over all, the country is moving in the right direction in supporting higher education, especially given the fact that state governments have had to take on so much more responsibility. They have been very successful at maintaining their share. That's the national story. Now, each state story is quite different."
Per SHEEO's analysis, education appropriations per full-time enrollment declined in 18 states from 2020 to 2021 and increased in 32 other states and Washington, D.C. Additionally, 29 states continue to fund education at levels below 2008, when the Great Recession hit.
But Laderman cautions that it's important to understand the context when looking at declines.
"There are states that either did not put federal stimulus funding toward higher ed or did so less than in prior years," Laderman said. "One thing to keep in mind with the states that did have declines this year, declines could actually be because they had more federal stimulus funding in the last year, so it shows as a decline but it's not necessarily a decline in actual state funding."
Over all, Kelchen notes that fiscal year 2021 was good for appropriations even while it was bad for enrollment. State appropriations were largely fine thanks to federal stimulus funding. And while the SHEF report offers a good snapshot of 2021, it doesn't indicate where higher ed is going, particularly with inflation stretching past 8.5 percent, squeezing colleges and consumers.
"This report is a final recording of what happened fairly early in the pandemic. But it doesn't give us as much information about where we're going now, because the environment has changed a lot in the past year or two. Now we're in a world where enrollment is still down across higher education, but with inflation rising rapidly, state funding is unlikely to keep up in most states," Kelchen said.