You have /5 articles left.
Sign up for a free account or log in.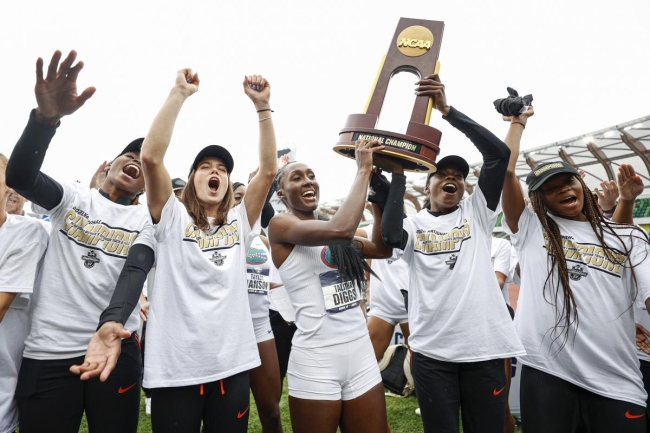 Steph Chambers/Getty Images
Women are participating in college sports at higher rates than in the past, but men's participation still outpaces women's—and the funding gap between women's and men's programs continues to widen, according to a recent report by the National Collegiate Athletic Association.
The report, released Thursday by the NCAA inclusion office, marks the 50th anniversary of Title IX of the Education Amendments of 1972, which bans discrimination on the basis of sex in education programs that receive federal funds and is well-known for opening up opportunities in college women's sports.
"Title IX has been a federal law for 50 years," the report reads. "This milestone anniversary marks an opportune time to ask why aren't we there yet? How can we work together to eliminate sex discrimination in education? How can we succeed at providing equitable intercollegiate athletics participation opportunities; at using resources to provide equitable treatment and to create equitable experiences for all student-athletes; and at hiring and retaining diverse leaders who reflect the demographics of the increasingly diverse student-athlete population and serve as impactful role models?"
The report found that the number of women competing in college sports has increased significantly over the decades. The overall women's participation rate in college athletics was 43.9 percent in 2020, compared to 27.8 percent in 1982, when the NCAA started hosting women's championships across divisions.
"The number of women competing in college sports is an enormous lift from 50 years ago," said Richard Lapchick, director of the Institute for Diversity and Ethics in Sport at the University of Central Florida.
About 47 percent of athletes in Division I were women in 2020, compared to only about 26 percent in 1982. However, women made up 54 percent of the student body in Division I institutions in 2020, so the gender breakdown of athletes in the division was still out of pace with that of the student body.
Meanwhile, Divisions II and III had lower participation by women relative to their male counterparts. Division II had a 15.4 percent gap in participation rates between men and women's sports in 2020, and Division III had a 16 percent gap, according to the report.
Opportunities in men's college sports have grown at a slightly faster rate than women's sports in the last two decades. Male student athletes gained nearly 73,000 participation opportunities between 2002 and 2020, while female athletes gained more than 67,000.
"Sport was a domain dominated by boys and men in our country for many decades before Title IX opened the doors for educational and athletics opportunities for girls and women," Amy Wilson, NCAA managing director of inclusion and the author of the report, wrote in an email. "That 'head start' for men in the sports world in terms of acceptance and opportunities means we need continued progress for girls and women. I do not think the cause for lagging participation rates is that female student-athletes are less interested in college sports participation opportunities."
An especially stark finding was that Division I athletic departments typically spend twice as much on men's programs compared to women's programs, with the largest disparity in the Division I Football Bowl Subdivision, the roughly 130 institutions that play big-time football. The report found a 23 percent difference in total spending between men's and women's athletics programs in Division I and an 8 percent difference in spending in Divisions II and III. The gap in total expenses increased three percentage points in Division I, one percentage point in Division II and stayed the same in Division III over the last five years.
These findings come after an external review of gender equity in NCAA championships, commissioned by the NCAA and conducted by an outside law firm last summer, which found an approximately $35 million spending gap between the men's and women's basketball tournaments in 2019.
Across multiple reports on gender equality in sports, "we're seeing consistent findings in terms of clear increases in opportunities for girls and women," said Ellen J. Staurowsky, a professor of sports media at Ithaca College whose research focuses on equity in college athletics. "We're seeing findings that continue to affirm the fact that Title IX did not destroy men's sports. That misperception had been prevalent for so long. We're still seeing tremendous gaps in terms of resource allocation."
She believes there needs to be much more transparency regarding how athletic departments spend their budgets.
"We need to see more specifics about where the money is actually flowing," she said.
Wilson said she hopes the report motivates presidents, chancellors and athletic department heads to reflect on their individual institutions' practices and "prioritize equity in athletics."
"I hope the disparities in the overall data spur campus and athletics department leadership to recommit to reviewing their participation opportunities, athletics' financial aid and student-athlete experiences and treatment in their women's and men's athletics programs," she said.
Women also occupy relatively few leadership positions in college sports, especially women from underrepresented backgrounds. They hold about a quarter of NCAA head coaching and athletics director positions and 30 percent of conference commissioner positions. Meanwhile, only 16 percent of female head coaches of women's teams and female athletics directors were minority women.
Lapchick found the lack of women's athletic leadership noted in the report to be especially jarring. He believes it should be mandatory for athletics departments to have diverse pools of candidates for positions to ensure more gender and racial diversity and pointed to the "Russell rule," adopted by the West Coast Conference, as a model. It requires member institutions to include a candidate from a historically underrepresented background in the pool of final candidates for every athletic director, senior administrator, head coach and full-time assistant coach position in the athletic department.
"It's my hope that … 10 years from now, 20 years, whatever reports we issue show we're more closely following equality for both race and gender in the years ahead," he said.