You have /5 articles left.
Sign up for a free account or log in.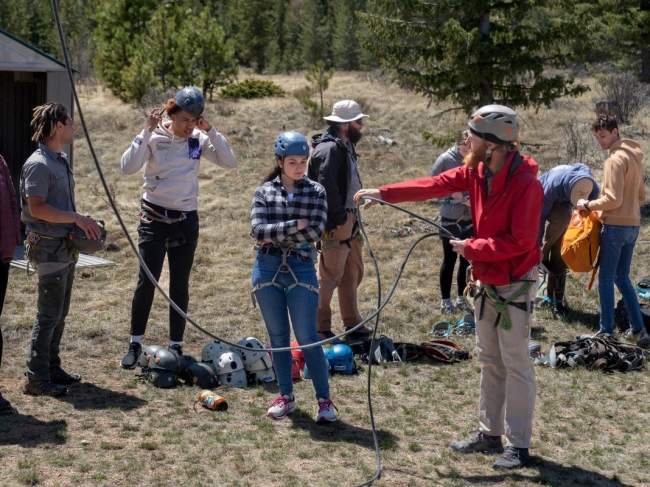 Wayne Armstrong/University of Denver
Tony Bisimwa, a rising junior at the University of Denver, has always liked spending time outdoors. He was excited to take part in a daylong student leadership program sponsored by the university in the Rocky Mountains, on the edge of Roosevelt National Forest. Bisimwa, then the president of the African Students United club, joined classmates for leadership workshops, a hike and a rope course challenge before the two-hour ride back to the main campus in downtown Denver.
Nature trips are going to be a regular part of the college experience at the University of Denver's new James C. Kennedy mountain campus. The campus opened to students for the first time this spring for day trips and will host all first-year and transfer students for a three-day program to kick off this upcoming fall. The goal is for all undergraduate and graduate students to spend some time on the property before they graduate to promote mental health, personal reflection and bonding among students.
"The downtown campus is in the middle of a city. There's so much distraction around you. Being there in the mountains, surrounded by less technology, less distraction, less noise from the highway, you get a chance to think critically," Bisimwa said. "I think that campus will improve on people's creativity and productivity and well-being."
The mountain site will be available to students and faculty members at different points throughout the year. Student groups can go there to engage in a range of activities, from hiking to yoga and meditation, and faculty members can go on retreats and incorporate visits to the new campus into their curricula.
Jeremy Haefner, the university's chancellor, said campus leaders looked at over 50 different ranch properties before settling on this one in the Red Feathers Lake region that felt like "quintessential Colorado," with hiking trails and mountain views. Donors paid for the purchase and renovation of the 720-acre property, the site of a former Girl Scouts camp, and will continue to pay for programming so every student can spend time on the campus for free. The campus has cabins that can house approximately 200 students at a time.
Haefner believes the new campus will help the university stand out to prospective students and their families.
"For us, this is a true differentiator," he said.
He sees the new campus as part of the "4D Experience," a philosophy the university adopted in 2019 that focuses on helping students thrive in four core areas: intellectual growth, well-being, character development and the pursuit of "careers and lives of purpose." To advance those goals, students are each assigned "constellations of mentors," including peer mentors, faculty advisers and career coaches, plus alumni mentors who are in their junior and senior years. Students also develop portfolios where they chart their advancement in the four categories.
College students are at a time in their life when "they're wide-open to new experiences," Haefner said. "It's just a rich moment in time. The magic that will happen up in the mountain campus is hearts and minds will change. They'll have opportunities to look at themselves differently but more importantly to look at others differently as well."
Academia Outdoors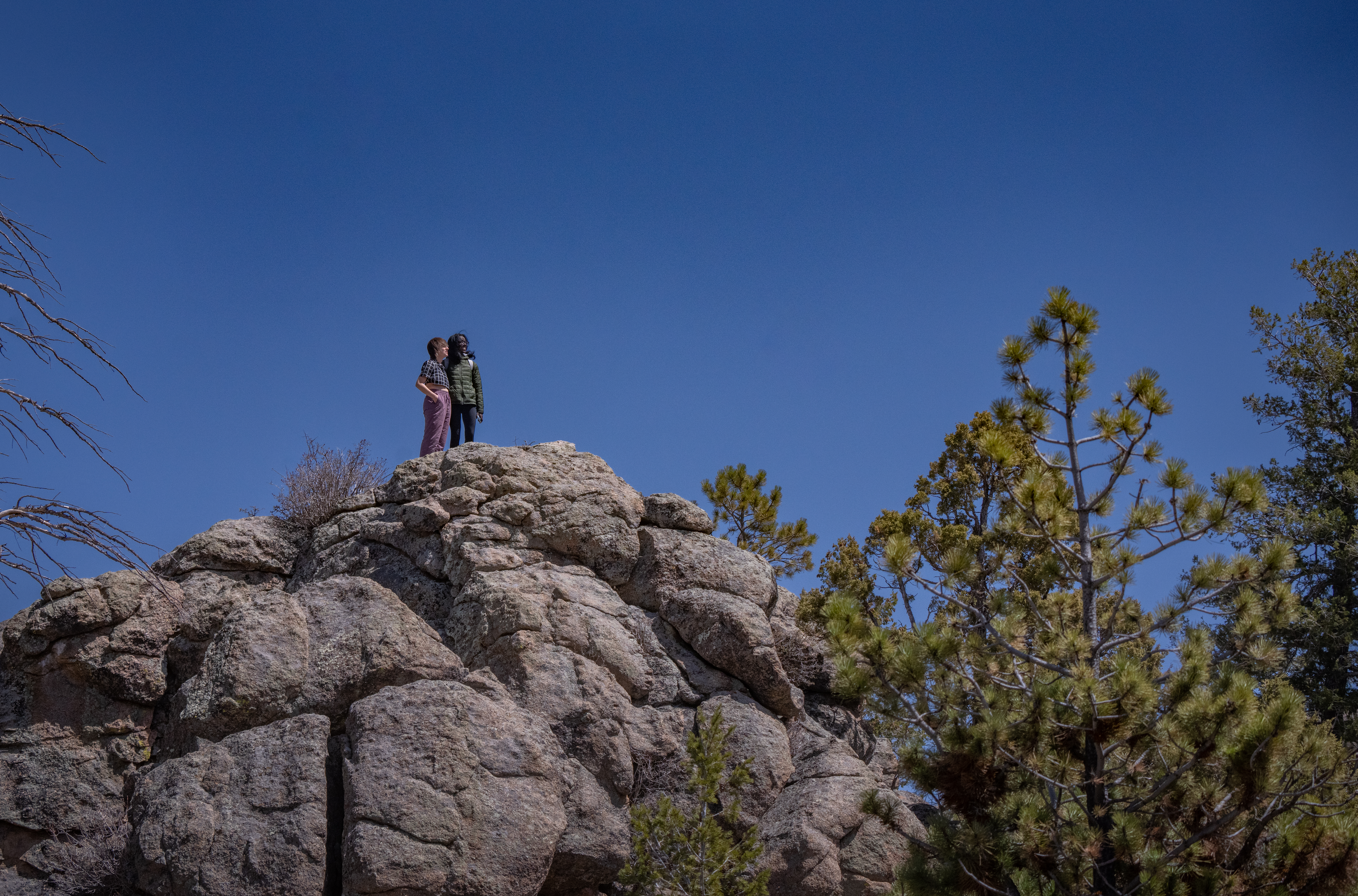 Administrators believe the natural surroundings also offer educational benefits.
Mary Clark, provost at University of Denver, foresees the campus having a range of academic uses. Her office and the Faculty Senate will be reviewing faculty proposals for ways courses can incorporate the mountain campus.
Among other ideas, professors suggested taking students to the mountain campus for lessons on sustainability and policy, especially on local issues like water rights in Colorado. Some chemists, biologists, botanists and other scientists plan to bring students there to conduct research on the surrounding landscape. The business school's hospitality program might have students manage the cabins and dining room for events to hone their hospitality skills. Administrators also discussed courses about the land's flora and fauna and Native American history taught by local tribal representatives or Native faculty members, she said.
Clark is considering turning one of the cabins into a writing retreat center for students working on graduate theses or dissertations and undergraduates working on capstone projects. She also sees the campus as a potential hub for the visual or performing arts classes.
"It's such a beautiful setting, such a serene environment, that I think it naturally lends itself, no pun intended, to the arts," she said. "It just lends itself to that kind of reflective activity, to a level of focus that I think in an urban setting can be more challenging."
Stu Halsall, associate vice chancellor of the mountain campus, as well as wellness and recreation, noted that nonacademic activities such as completing a ropes course—an outdoor obstacle course that involves high climbing—also encourage safe "risk taking" and teamwork, which can build a sense of community and have "tangible learning outcomes."
A New Approach to Mental Health
The opening of the new campus comes at a time when campus leaders across the country are trying to shore up mental health services in the wake of a pandemic that exacerbated already high rates of anxiety and depression among college students.
"I think it's important that as we think about how students live, learn and play that we engage them around their well-being and coming to some understanding of what they need to be healthy," said Todd Adams, vice chancellor of student affairs. "'You've got to be well to do well' is something we say with some frequency here."
Haefner sees the mountain campus as a core part of the university's approach to mental health.
"There's been so many rapid changes to the mental health of our students and our faculty and staff—they've been of course magnified by COVID, but the signs were even there before the pandemic," he said. "This is not business as usual, and any university that approaches this issue using the same practices I think is going to struggle really addressing the mental health struggles of our students."
The University of Denver isn't the only higher ed institution with a nature outpost. Colorado State University, for example, has a campus in the Rocky Mountains for field research and academic conferences. Middlebury College owns and operates a ski center in Vermont called the Middlebury Snow Bowl.
Nonetheless, "in a landscape of thousands of colleges and universities in, let's say, North America, I think there are probably few that have a secondary campus that is as differentiated" and made to be so integral to the student experience, Adams said.
Matthew Browning, associate professor in the parks, recreation and tourism management department at Clemson University, said research shows spending more time in nature reduces stress, anxiety, symptoms of depression and "ruminative brooding, thinking negatively about the past on and on, which is a big risk factor for depression." People also report feeling more able to have "vulnerable" conversations with one another in outdoor settings.
But college students don't appear to spend much time outside. Browning and Amber Vermeesch, an associate professor at the University of Portland School of Nursing, are conducting a randomized control trial tracking how much time 300 college students at Clemson and 59 nursing students at the University of Portland spend out in nature via an app to assess how increasing that time affects their mental health.
Students spent a median of 30 minutes per day outdoors, said Browning, who also directs Clemson's Virtual Reality and Nature Lab. Most of the time, that simply meant hanging out in green areas on campus versus going on walks or hikes beyond campus.
"We're finding that college students spend very little time in nature," he said. Clemson is near "beautiful forests and lakes, and very few students were visiting those spaces, even though you could walk to them or bike or drive. That was kind of depressing news for us."
Lincoln R. Larson, associate professor in the department of parks, recreation and tourism management at North Carolina State University, noted that satellite campuses in natural settings could especially be a resource for students from underrepresented and low-income backgrounds, who sometimes have less access to green spaces and their copious mental health benefits. Larson conducted a study during the pandemic on how college students' outdoor recreation changed and how that connected to their mental health.
"We know that certain groups of students, such as racial/ethnic minorities and students from lower-income families, are more likely to experience mental health issues," he wrote in an email. "We also know that these student populations tend to be the ones that spend less time in nature-based settings. That's not a coincidence. Anything that we can do to make green spaces more accessible and welcoming to these vulnerable students would help."
Students are already strategizing how they'll make use of the new campus. For example, Halsall said a group of graduate students in the university's school of social work want to bring a group of undergraduates there for a hiking trip focused on mental health.
Bisimwa hopes he and his classmates will have opportunities to go to the mountains before final exams to destress. He's already planning on heading up there for a wellness retreat next quarter.
"I'm really looking forward to having chances of going there next year," he said.