You have /5 articles left.
Sign up for a free account or log in.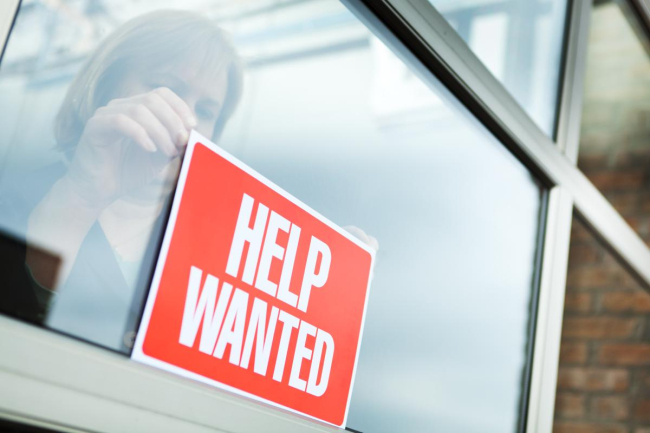 YinYang/iStock/Getty Images Plus
Now hiring: staff members at a college near you.
At scheduled sessions, happy hour chats and informal dinner conversations, a common theme popped up over and over again at this week's National Association of College and University Business Officers conference: colleges are seriously struggling to hire and retain employees.
The conference, held outside Denver, featured a number of sessions focused on staffing challenges in a new era of work reshaped by the coronavirus pandemic. Common issues include employees leaving for better pay, increased competition from the corporate sector, demands for remote work and rigid hiring policies that limit institutions from recruiting and retaining talent even as vacancies linger.
The Problems
Higher education, like many industries, pivoted to remote work at the onset of the COVID-19 pandemic, when many institutions shut down and shifted classes online. But while most have returned to a pre-pandemic normal, employee expectations haven't.
In higher ed as elsewhere, the traditional office environment has fallen out of favor with many workers. Runaway inflation and soaring gas prices have added to employees' frustration with the old way of doing things, And depending on an employee's work responsibilities, their physical presence may not be needed.
"One argument I heard recently was 'I drive to work to go on Zoom,'" Gerald Hector, senior vice president for administration and finance at the University of Central Florida, said on a panel.
But allowing an employee to work remotely—even if the entire job can be done online—is a nonstarter for many colleges. Some officials at the NACUBO conference cited resistance among top administrators, but legal concerns also factored into the discussion.
Eileen Goldgeier, vice president and general counsel at Brown University, wondered whether a college would fall under the jurisdiction of another state if it allowed employees to work there. Goldgeier added that some state laws favor employees, others employers.
State laws can also create additional regulations, and headaches, for employers. For example, some states require weekly pay, a stipend for working from home and mandatory training on topics such as harassment and discrimination, just to name a few.
There's also the question of who gets to work remotely. Depending on their job duties, some employees can work seamlessly from anywhere without any loss of productivity. Others, however, may need to be in the office to meet with students, employees or other constituents, giving them limited remote work opportunities.
Goldgeier urged colleges to look carefully at their job descriptions and the promises they make to employees. "Are you promising that you can work remotely or that hybrid is forever?" she asked.
Compensation was another topic that loomed large at NACUBO. According to live polling conducted during multiple panels, most attendees did not feel confident about their institution's ability to compete for the staff needed at their college—or its strategies for attracting talent. Many named compensation as a factor.
"Salt Lake City is a very urban environment where McDonald's is spending as much almost as some of our entry-level [positions]," panelist Jeff Herring, chief human resource officer at the University of Utah said, citing the competitive wage race for talent in the private sector.
The solution may seem obvious: raise salaries. Yet when participants on one panel at the NACUBO conference asked if institutions are changing their compensation strategies to keep employees, the response was anemic, with only about a quarter of participants raising their hands.
Beyond the discussion at NACUBO, a new survey of college officials conducted by The Chronicle of Higher Education and Huron Consulting Group found "shallow and weak" candidate pools for openings. According to the survey, 78 percent of leaders reported fewer applications for vacancies in the last year, and 82 percent said they'd received "fewer applications from qualified candidates."
The Solutions
The higher ed sector is hardly alone in struggling to fill jobs. NACUBO panelist Allison Vaillancourt, vice president at the Segal Group, a human resources consultancy, pointed out that there are nearly twice as many job openings in the U.S. economy, at 11.5 million, as there are unemployed workers—roughly six million.
Vaillancourt also cited data from the Society for Human Resource Management showing that the average resignation rate among workers between 30 and 45 years old was 20 percent higher in 2021 than in 2020, indicating that staffing issues extend well beyond entry-level positions to more experienced posts.
Citing Pew research from 2021, Vaillancourt noted that the top reasons employees leave their jobs are low pay, no opportunities for advancement, feeling disrespected at work, a lack of flexible hours and poor benefits.
Vaillancourt, alongside fellow panelist Helena Rodrigues, vice president and chief human resources officer at the University of Arizona, pointed out a number of ways in which higher ed offers pros juxtaposed by cons, which may drive job seekers away. Colleges offer good health insurance, for instance, but low salaries. Similarly, strong pension plans make it easy for employees to save for retirement, but many can't pay off the student loans they took out to even get in the door. And few colleges offer help paying down that debt. When attendees were asked if their institutions provide student loan repayment support, almost no hands went up.
Another issue Vaillancourt and Rodrigues raised was the glacial pace of hiring in higher ed. While the industry is known for thoughtful hiring practices, job seekers have often moved on by the time a college is ready to extend an offer, they noted. Likewise, those hiring processes can be unnecessarily rigid for certain entry-level positions, requiring candidates to provide materials that the private sector doesn't ask for, creating immediate barriers to entry. For example, they asked, does a cafeteria worker really need a résumé, cover letter and robust references?
When Vaillancourt and Rodrigues asked attendees if hiring practices were affecting their college's ability to fill jobs, an estimated 75 percent of the crowd raised their hands.
The debate over remote work, raised on multiple panels, revealed a variety of approaches and philosophies.
"The question that's on everyone's mind all the time is the fact that a lot of the work in higher education can be done remotely or minimally, can be done in a flexible way performed in nontraditional business hours, done in a hybrid fashion, or in some cases completely remotely—but are our campus communities ready for it?" Rodrigues asked. The answer, she said, is no.
Campus leadership is part of what's holding remote work back, Rodrigues said. To move forward, colleges have to identify the employees or departments where remote work is possible. At Arizona, she noted, that flexibility falls more to those in nonacademic departments.
Some colleges have looked to the corporate world to figure out how to manage remote work for out-of-state employees. For example, UCF documents note the university "contracted with Kelly Education which will allow departments (with appropriate approval) to allow certain employee types to perform services for UCF who reside out-of-state."
In essence, UCF employees who are in other states are now Kelly Education employees.
Ultimately, speakers on various NACUBO panels urged audience members to think critically about their promises to employees and establish a clear workforce strategy going forward, but also to emphasize their values in discussions about finding and keeping talented workers. Values, after all, are a major selling point for many employees in the higher education sector.
During their panel, Vaillancourt and Rodrigues pointed to a number of traditional selling points in higher education: job security, mission, work-life balance, perks and student energy.
"Now, our question for you at this point is, is this still working? Do we believe this still today, especially considering the last two and a half years of incredible disruption, and the changes—the forever changes—that we're still confronting with respect to the workplace and the workforce?" Rodrigues asked.
In a new era, where employees have unprecedented power, colleges that want to keep up with the corporate world can no longer count on mission-oriented individuals sticking with higher education, the panelists suggested. They have to listen to employees' needs—then act.