You have /5 articles left.
Sign up for a free account or log in.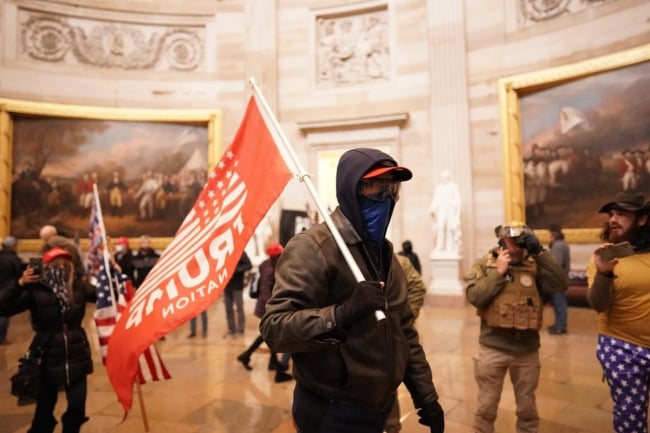 Kent Nishimura/Los Angeles Times
Two years ago today, a group of insurrectionists, whipped into a frenzy by former President Trump's false rhetoric about a stolen election, waged an attack on the U.S. Capitol, seeking to subvert American democracy. During the course of that tumultuous day, Trump made several calls to legal counsel—including to Mark Martin, a former North Carolina Supreme Court justice, who was then dean of Regent University School of Law and an informal Trump adviser.
Martin won't tell Inside Higher Ed what he told Trump that day, citing confidentiality.
But according to details in the final report from the bipartisan House of Representatives committee that investigated the Jan. 6 attack, "Martin advised President Trump that Vice President Pence possessed the constitutional authority to impede the electoral count" in a phone call that lasted seven minutes. That advice has since been debunked by numerous lawyers and independent fact checkers.
Now, two years after advising Trump during that deadly insurrection, Martin is slated to serve as the founding dean of the High Point University School of Law in North Carolina, which is set to open in 2024.
High Praise and Sharp Criticism
High Point University announced Martin's appointment as the law school dean last June, touting his time as the chief justice of the Supreme Court of North Carolina, as an associate judge on the North Carolina Court of Appeals and his role at Regent University.
The High Point news release made no mention of Martin's involvement with Trump on Jan. 6, which, while opaque, was well documented; The New York Times reported on Martin's questionable legal advice mere days after the insurrection, noting that he was part of a team of lawyers connected to Trump that intended to push ahead with a lawsuit based on unfounded claims of voter fraud.
Instead, the press release cited higher education leaders who heaped praise on the incoming dean.
"Mark Martin is the ideal person to be the founding dean of the new law school at High Point University. His experience as a lawyer, as Chief Justice of the North Carolina Supreme Court, and as a law school dean all make him superbly qualified to lead this new law school. With him at the helm, they are already far on the way to creating an outstanding law school," Erwin Chemerinsky, dean of Berkeley Law and president of the Association of American Law Schools, said in the press release.
Contacted for this story, Chemerinsky declined to comment.
"Chief Justice Mark Martin is an innovator and creative thinker. An extraordinary leader. High Point University could not have made a better choice in its selection of a Founding Law Dean," Peter Hans, president of the University of North Carolina system, said in the news release.
A UNC system spokesperson did not respond to a request for comment from Inside Higher Ed.
Neither Martin, nor High Point officials, nor various supporters who endorsed Martin's hire, are willing to talk about it. Neither Martin nor HPU officials would provide an interview to Inside Higher Ed, ignoring multiple requests and communicating only through emailed statements.
"Chief Justice Martin assured HPU that he never has, nor ever will, support a betrayal of the Constitution or an insurrection of any kind. HPU has also been assured that Chief Justice Martin did not attend, endorse, or help plan any part of the Jan. 6 rally or the breach of the U.S. Capitol. In fact, he has repeatedly condemned the violence that occurred that day. As it relates to the events of Jan. 6, more than 1,000 people were interviewed as part of the thorough work of the House Select Committee, and Mark Martin was not one of them," HPU spokesperson Pam Haynes said by email.
For his part, Martin has defended his actions without offering any specifics of his involvement.
"Regarding the 2020 presidential election, I was not retained as a lawyer by any individual or organization and did not serve as counsel of record in any legal proceeding," Martin told Inside Higher Ed, noting that he was not present for the events that unfolded in Washington on Jan. 6 and that he has "condemned the violence and lawlessness that took place" in the aftermath of the election.
On High Point's campus, there has been little pushback to Martin's appointment.
Faculty Senate chair Peter Summers said by email that while some High Point University faculty members raised concerns after the hire, "that was as far as it went, given our lack of authority."
Off campus, however, activists and local editorial pages have skewered Martin and High Point.
"Mark Martin's repeated attempts to help Donald Trump steal the 2020 election were a blatant violation of basic Constitutional principles," Blair Reeves, executive director of the advocacy group Carolina Forward, said in a statement. "Martin was an eager and willing participant in an effort to overthrow a duly elected American government, and helped inspire the horror of January 6th's right-wing terrorist assault against the U.S. Capitol. He is no longer fit to practice law, let alone guide the course of legal education based on a Constitution for which he shows pure contempt."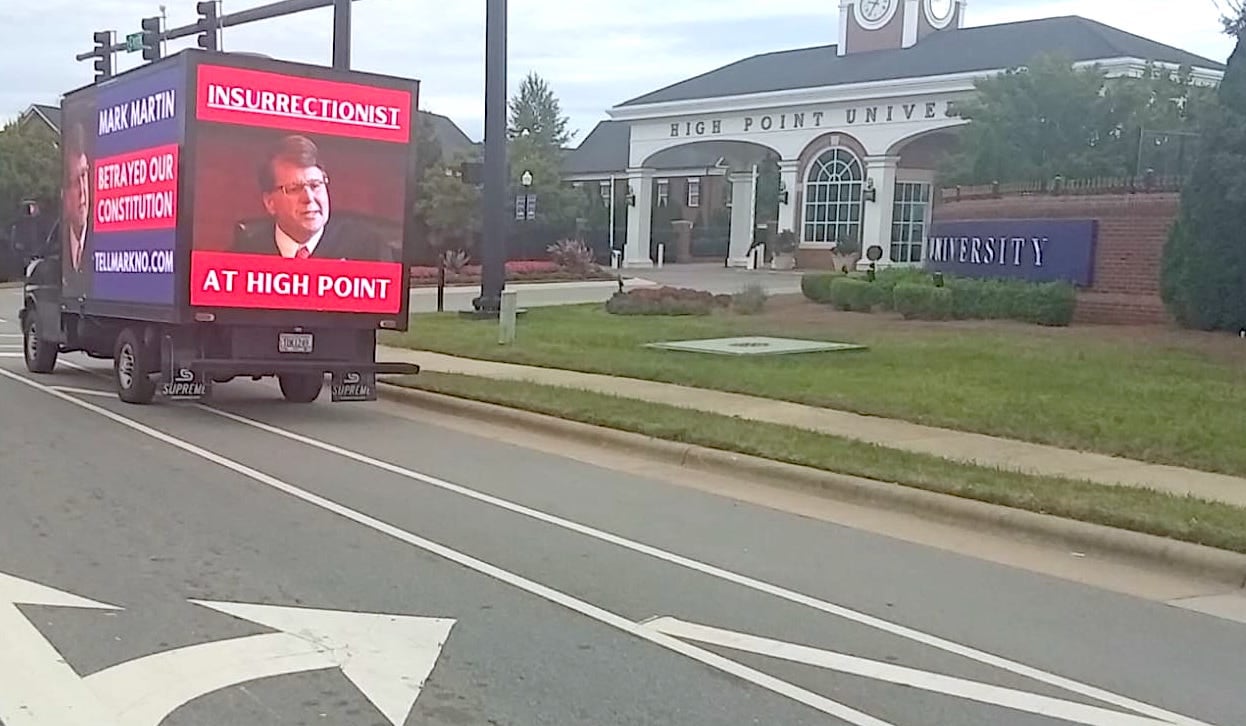 Local editorial pages have questioned the hire, with some claiming Martin went from a "moderate Republican" to an unexpected Trump loyalist providing legal advice that numerous experts have deemed flawed. The Triad City Beat asked, "What sort of law will they be teaching over there?"
That is a question that HPU officials and Martin appear unwilling to answer.
The Role of a Law Dean
As dean of the HPU School of Law, Martin will wield considerable influence.
Stephen Gillers, a professor at New York University School of Law and author of a textbook on legal ethics, compares the role of law school dean to the CEO of a company, albeit with a little less power, given the role of faculty in setting academic policies and curriculum.
"Among their most important tasks are fund raising, encouraging admitted students to choose the school, encouraging persons who have received offers to join the faculty to accept, and reaching out to alumni. Most deans teach a reduced load. A few may not teach at all," Gillers explained by email, noting that deans don't shape students' legal studies more than other faculty.
But the role of a founding dean differs somewhat from one leading an established program.
"It's daunting to think that you're setting up a law school and establishing a program," said Ellen Yaroshefsky, a professor of legal ethics and director of the Monroe Freedman Institute for the Study of Legal Ethics at Hofstra University's Maurice A. Deane School of Law. "You have to go through the entire process of dealing with the American Bar Association and getting accreditation. There are standards that govern ABA-accredited law schools, and that includes curriculum, diversity, student voices and student representation. It includes all kinds of programs and includes clinical education and a wide range of various issues affecting law schools."
Experts say that much of the work of a founding dean is in shaping the direction of the law school.
"A founding dean should be able to help other stakeholders develop their vision and mission for the law school," said Susan Fortney, a law professor and director of the Program for the Advancement of Legal Ethics at Texas A&M University. "If you're going into an established school, no matter where it is on the rankings food chain, there are already going to be preconceived notions about the vision and mission. But, I think, for a founding dean, it's someone who should really have the interest in helping others formulate what that vision and mission should be."
An effective dean, she added, can work with students and faculty of all political leanings. One concern, Fortney said, is that the perception of partisanship may complicate that mission, with students coming in with their own preconceived notions of the dean's political background.
'Baseless' Legal Advice
On paper, Martin's qualifications are considerable. But some legal experts say the flawed advice he reportedly gave Trump on Jan. 6 is so far beyond the realm of reality that it should have raised serious concerns for the HPU authorities who hired Martin.
Yaroshefsky noted, "We can have reasonable disagreements about the interpretation of the Constitution," but the guidance Martin reportedly gave Trump brings his judgment into question.
"That advice is so far afield for any reasonable viewer of the law that it can only be perceived as a false statement and should be viewed that way," Yaroshefsky said. "Would that mean that he shouldn't be the dean? No, it means the people who are making him dean should think twice."
Gillers agreed, saying that Martin's reported advice to Trump has no legal merit.
"Quite a few legal academics have said that this view is baseless, that there is no support for it at all. A school should be quite concerned about appointing a dean who may have made baseless legal arguments in public statements, especially given the foreseeable consequences here," Gillers said.
"But that's a decision for the appointing authority," he added.
HPU has reinforced Martin's argument that his conversations with Trump were confidential. Officials told local media that the university "does not comment on speculation or matters of attorney/client privilege." But Martin said Trump was never a client. Given that his role was as an informal adviser, experts say attorney-client privilege does not apply.
Martin noted that he was not invited to speak to the House committee investigating the insurrection. He defended his role in advising Trump amid efforts to thwart the 2020 election, arguing that it is consistent with his commitment to upholding the U.S. Constitution.
"The rule of law allows individuals and parties to contest election results in court if they believe the results were inconsistent with the law," he told Inside Higher Ed. "This is how the rule of law works, and this is what I support. It is consistent with who I am, my life's work, and the oath that I have taken to support the Constitution."
Ultimately, Martin wants to be judged for his lengthy legal career and not the widely ridiculed legal advice he reportedly gave Trump in a seven-minute phone call.
"It is my hope that reasonable people will take a close look at my lengthy public service career and not rush to judgment. With major challenges looming for our country both domestically and internationally, it is my hope that we will come together as Americans and heal as a nation," he said.