You have /5 articles left.
Sign up for a free account or log in.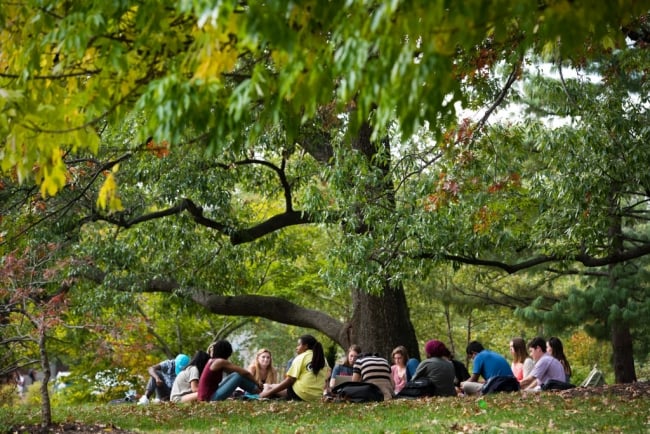 Sarah L. Voisin/The Washington Post via Getty Images
In Amy Morgan's vision, a group of undergraduates sit in a classroom, drawing, painting and making collages at their desks. The images they produce might run the gamut from abstract doodles to colorful narrative scenes. But this isn't an art class; the students will be illustrating their moods as part of a new one-credit course at the University of Maryland, College Park, that Morgan developed to teach students basic emotional regulation skills.
Cheekily titled U SAD? Coping with Stress, Anxiety, and Depression, the course is designed to give students the tools to manage negative emotions—and to help their friends and classmates do the same. Housed in the university's Department of Family Science, the course will meet once a week in two consecutive seven-week sessions beginning in the spring semester.
Morgan, an assistant professor in the couple and family therapy master's program, said she hopes offering a section that begins halfway through the semester will benefit students who realize they need extra support once classes are underway. (This paragraph has been updated to correct the name of the master's program.)
"We wanted to give faculty around the university the chance to identify students who were struggling in the beginning of the semester and then recommend that they enroll in the second section in the second half, so that we didn't have to capture students in that first week," she said. "We know sometimes issues come up around midterms."
Each class aims to equip the students with a handful of basic therapeutic skills, from identifying signs of anxiety to improving time management. Ultimately, students should come out of the course better able to handle their emotions, Morgan said—a vital skill, especially at a time when university counseling centers are stretched thin and off-campus therapy tends to be prohibitively expensive.
A 2019–20 survey by the Association for University and College Counseling Center Directors found that 45.6 percent of member institutions limit the number of one-on-one counseling sessions students can attend, usually per semester or year (AUCCCD did not measure this in its 2020–21 survey). Session limits are also more common at large universities, like UMD, which allows students eight sessions annually.
And although many campus mental health centers attempt to refer students to outside counseling, that, too, can have its challenges. An Inside Higher Ed Student Voice survey, conducted last year, found that just over half the students referred to outside counseling said the process was difficult.
Adam Hedelund, one of the course's two instructors—both first-year master's students studying counseling and family therapy—said he heard about the opportunity to teach the course through an email from Morgan. It immediately caught his attention largely because he was eager to help undergraduates address their mental health challenges—especially since he had trouble finding support when he was a college freshman struggling with depression.
"College students have this need," he said. "Instead of beating around the bush or trying to provide them with outside resources, let's give [this resource] to them," he said.
The demand seems to be there; according to Morgan, the course began filling up as soon as it was listed, even before the department began advertising it.
Learning the Skills
Unlike most college courses, U SAD? doesn't require students to buy textbooks or attend lectures. Instead, they are asked to watch videos and read articles about the topic at hand—anxiety, interpersonal communication or suicide prevention, for example—before launching into discussions and activities, such as practicing anti-anxiety skills with a partner or taking a walk as a class. The only assignments students must complete are written reflections on the skills they're taught in class.
While students will likely end up talking about their own mental health, Morgan said, on the first day of class students and teachers will develop ground rules and boundaries for the course—things like no "trauma-dumping," a term that refers to oversharing highly distressing experiences or emotions that might dominate the classroom discussion.
She also underscored that students should not view the course as analogous to group therapy, but rather, they should treat it as one element of their larger mental health journey.
"Therapy is not the only place where you can learn basic emotion-regulation skills. And I think therapy, especially in the D.C. area, can be so inaccessible," she said. "You, right now, could google 'anxiety skills' on the internet and find no less than 100 [examples] and just start practicing them yourself and decide, 'This one works for me and this one doesn't.' To do trauma processing, grief work, that deeper stuff, absolutely, you need to do that in therapy with a licensed professional. But learning skills on how to ask questions if someone is thinking of hurting themselves, or managing anxiety and depression, you can learn that other places, and this course makes that accessible."
Morgan and the course's two instructors will also talk to the students about how to identify whether they do, in fact, need further mental health support and, if so, how to find it.
'Mental Health Leaders'
U SAD? is one of a handful of courses in UMD's new Campus and Community Leaders in Mental Health Program (CCLiMH, pronounced "climb"), which uses experiential learning to build a network of "undergraduate mental health leaders" to help support their peers and build community on campus. (The program is primarily targeted toward family science majors, although U SAD? is open to all undergraduates.)
The program grew out of a grant from the university's Teaching and Learning Transformation Center for projects centered on experiential learning. Morgan and a group of other family science faculty members developed CCLiMH in an attempt to address the increasing mental health struggles they saw among students during the COVID-19 pandemic.
It was also inspired in part by Mental Health First Aid, a program by the National Council for Mental Wellbeing that teaches people how to identify and address various mental health and substance abuse issues. The eight-hour seminar is offered in both virtual and in-person formats through UMD's health center.
UMD students who complete the Mental Health First Aid training, along with a core course called Mental Health and Healing in Families and one other experiential offering—such as the U SAD? course or a book discussion group focused on racial stress—will earn what is tentatively titled the microcredential in mental health leadership, which they can list on a résumé or in an email signature.
"What we would like to see is students who feel conversant in mental health, meaning they know what it is, they know that it's not stigmatized, they know how common it is," said Kevin Roy, a professor in the Department of Family Science who worked to developed CCLiMH.
He also said that students who earn the credential should know "some basic things about how to deal with someone who's in crisis and how to help them and support them," as well as have an understanding of the mental health field and be knowledgeable about the unique psychological challenges faced by minority groups.
Carol Landau, a clinical professor of psychiatry and human behavior at Brown University and the author of Mood Prep 101: A Parent's Guide to Preventing Depression and Anxiety in College-Bound Teens (Oxford University Press, 2020), said she sees U SAD? as a beneficial—and innovative—resource for students.
She has seen mental health courses offered in the past, she said, but they are usually only for students studying psychology, rather than targeted at undergraduates at large. She also applauded U SAD? for specifically addressing contemporary mental health challenges, including the pandemic and social media.
Maryland's course offering may be unique, but other institutions are trying different approaches to expand their mental health resources beyond counseling centers, which are usually overbooked.
Some universities are hiring dedicated counselors to support individual academic departments, according to a recent article by the American Psychological Association, and others are hosting informal support groups or offering no-cost subscriptions to mindfulness apps, such as Headspace. Some institutions are even offering faculty more hands-on training to help them identify and support students in mental distress.
Landau said that colleges are rapidly becoming more interested in improving mental health support for students.
"I think that's part of changing the culture on campus, that we value this now," she said. "I was talking to somebody who is actually on a board of a small liberal arts college, and now when parents ask about a college, they ask about psychological services. Before the pandemic, you'd never do that."