You have /5 articles left.
Sign up for a free account or log in.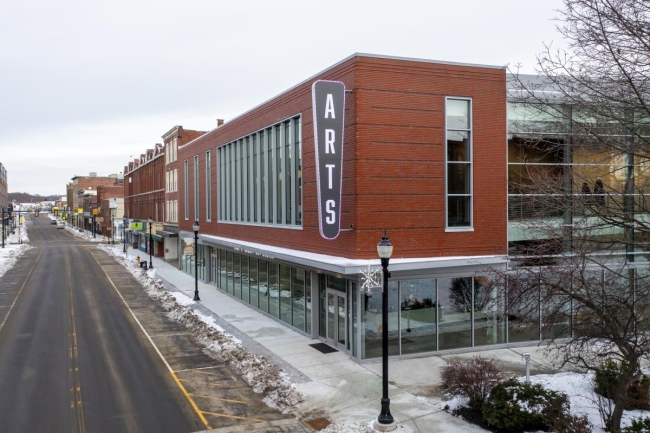 When David Greene became president of Colby College in 2014, the city of Waterville, where the Maine institution is located, was struggling financially.
Waterville's manufacturing base, which was centered around paper and textile mills, was long gone, and no other industries had replaced them over the two decades since they shut down. The city's economy had stagnated.
Greene brought together local elected officials and civic and business leaders to discuss ways to attract investment to Waterville and spur economic development in the city's downtown.
The discussions led a year later to a plan to revitalize the city using $200 million in private and public funds. Phase one of the revitalization plan was completed with the opening of Paul J. Schupf Art Center last month, an $18 million project developed in partnership with Waterville Creates, a nonprofit organization that promotes accessible arts and cultural programs, according to a news release from the college.
The new art center will incorporate arts programming and activities through Waterville Creates and will house the Ticonic Gallery + Studios, which offers art education classes; Studio 1902, a rehearsal space for the Waterville Opera that will also be rented out for receptions; and three cinemas operated by the nonprofit Maine Film Center.
"This is a major investment in the arts, both at the college and in the community, and I think it's going to be a really important way for us to be able to support creative, innovative work across disciplines," Greene said.
Shannon Haines, president and CEO of Waterville Creates, described the new center in the press release as "the embodiment of Waterville's belief and investment in the arts as core to our community's identity and an essential part of civic life." She added that it "will attract artists, performers, filmmakers and patrons from near and far and, most importantly, will ensure that all members of our community have access to outstanding arts experiences for generations to come."
Civic leaders and community members gathered last month at a gala to celebrate the opening of the new center.
"We knew we had work to do to bring our town along," Greg Powell, chairman of the Harold Alfond Foundation, which contributed $10 million toward the Waterville revitalization plan, said at the event. "We committed to bringing this town back, and back it has come."
Greene said it's important for Colby to strengthen its relationship with the surrounding community because of the historical lack of social, civic and economic ties between higher ed institutions and the communities or neighborhoods in which they are located.
"The world needs colleges and universities to be deeply engaged in their communities, to be solving problems for society," he said.
Garvan Donegan, director of planning, innovation and economic development for the Central Maine Growth Council, said the council helped direct more than $54 million in federally funded projects directly into downtown in the past two to four years, and approximately 25 to 30 new businesses have moved to the downtown area during that time frame.
"We're fortunate now, with the institutional backbone from the college, to be able to breathe new life into the community, not be kind of stuck in that time capsule that we may see in other communities," he said.
Students, faculty and staff say the institution's involvement in the community has had a positive impact on the culture of the college.
"It's really wonderful to see the kind of rejuvenation and revitalization, and I'm excited not just as a Colby faculty member but as a resident of Waterville," said Kerill O'Neill, professor and chair of classics at Colby.
"There's much more of a flow of students and faculty coming through Waterville," he said. "I just think this revitalization of Waterville is going to make it so much easier for us to keep hiring the best possible people to come and work at Colby."
He said spurring revitalization through the arts "is a massive incentive for people to actually stay and build a life with our families right there. And that can only be good for Waterville and Colby in the long run."
According to an economic impact report generated by Colby, the college's direct investment in downtown Waterville has already contributed to labor and wage growth in Waterville by 6 percent compared to Kennebec County, where Waterville is located, over all. The report also said the investments by the college have helped "Waterville to buck demographic trends while also directly addressing the region's (and Maine's) most critical problem—the attraction and retention of talented young workers," noting that "Colby is creating a brain gain: about 15 percent of alumni—about 3,700—work in Maine, and more than 1,600 who came to Colby from out of state have remained here."
"I think the college has done a great job of emphasizing those civic engagement opportunities and giving us students those opportunities as well," said Cat Merkle, a senior at Colby, referring to the Bill & Joan Alfond Main Street Commons, a housing complex for students, faculty and staff, which opened in fall 2018. (The Lockwood Hotel, which opened in March 2021, is also part of the revitalization plan).
"Students love the downtown apartment building—it's a great dorm, and it's a great way to get involved with the community," she said.
Merkle lived at the commons during her junior year and got involved with the community by volunteering at local elementary schools and a youth center.
"It's obviously important to acknowledge all of the great building that Colby is doing, but I think it's more than just infrastructure," Merkle said. "It's more about those relationships and building trust and community between the college and the town."