You have /5 articles left.
Sign up for a free account or log in.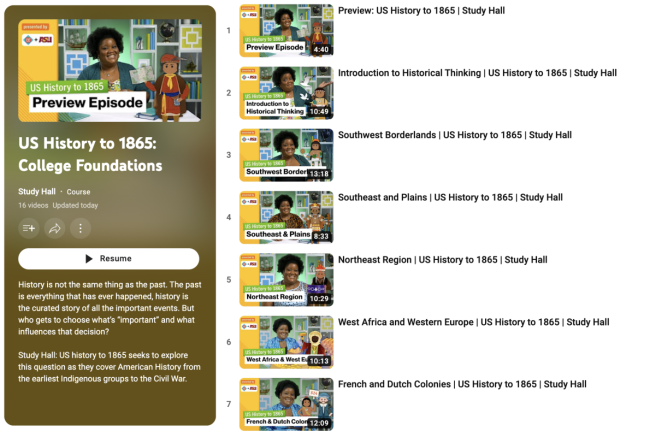 Arizona State University, YouTube and the video channel Crash Course announced a partnership this week that offers online, transferable, credit-bearing courses that begin on YouTube. The trio is championing the initiative as one that provides open, low-cost, flexible access to higher education. Students can sign up now for courses that begin in early March.
"We're meeting learners where they are," said Maria Anguiano, executive vice president of the Learning Enterprise at ASU. "Ultimately, they are on YouTube, and we're excited to democratize the access to information and opportunity." The new courses are a significant expansion of the current Study Hall platform, which is a collaboration between the three organizations and has nearly 42,000 subscribers. 
A higher education cocktail that mixes a university known for innovation, an experienced provider of compelling educational multimedia content and a behemoth online video-sharing website holds promise. But bridging the divide between fun, free educational videos on YouTube and the assessment and learning verification needs of online college will be a nontrivial challenge for the partnership. As experts eye ASU's latest initiative, they are watching with cautious optimism to see if the university has learned from some of its past efforts to counteract the intractable problem of engaging and keeping learners on the margins in online education, including high school graduates who decided not to attend college or those who dropped out of a two- or four-year college program. It also appears to be a twist on the strategy of free or low-cost content (like that on massive open online course platforms) as marketing channels or tasting menus for would-be for-credit students.
To be sure, a university could do worse than establishing a presence on the world's second-most-visited website (Google ranks first). YouTube's massive audience appears ravenous for content, including of the educational variety. Users watch more than one billion hours of video per day on the site. Among U.S. adults, approximately four out of five (81 percent) spend time on YouTube. But Americans comprise only a fraction of the audience, as more than 80 percent of YouTubers hail from outside the United States.
Crash Course, an educational YouTube channel with more than 14 million subscribers, once prompted Wired magazine to ask, "Why isn't school this cool?" The channel was started by early YouTube vloggers—or "vlogbrothers," since they are brothers—John and Hank Green, who "raise nerdy to the power of awesome" on a separate channel for their 3.5 million subscribers.
"It's not just that YouTube has a lot of eyeballs," said Richard Garrett, chief research officer at Eduventures, a research and advisory firm. "It's that plus Crash Course is bringing an aesthetic-design approach and pedagogic creativity that perhaps ASU by itself didn't feel that it has."
Here's how the new offering works: a student begins by watching free course content on the Study Hall YouTube channel. The fast-paced videos are designed to capture and hold viewers' attention. The U.S. History to 1865 course, for example, is taught by Danielle Bainbridge, an assistant professor of theater at Northwestern University and "history nerd" host of PBS Origins. Within the first minute of the course's preview, Bainbridge promises to share her excitement for the stories and lessons from history "in a way that hopefully won't put you to sleep."
Once she throws down that gauntlet, viewers are treated to ever-changing photos, sketches and video clips, over which word and text boxes zoom in and out to reinforce the friendly, energetic voice of the narrator. (Indeed, a viewer would be hard-pressed to fall asleep.) Current courses in Study Hall's "college foundations" offerings include English composition, college math, U.S. history and human communication. (The university expects to expand to offer 12 courses by January 2025.)
Students who are interested in formal coursework beyond watching the videos may pay a $25 fee to enroll in an ASU online course that includes interacting with other students and instructors. Upon completion of the seven-week course, the student receives a grade. At that point, the student can decide whether they would like to pay $400 to record the grade and receive ASU credit. The university does not limit the number of times a student may attempt a course, and the student only pays the $400 fee when they are satisfied with their grade.
High school graduates who did not attend or who left college before degree completion cited high cost, stress associated with college and uncertainty about future careers as reasons for opting out, according to a recent survey for the Bill & Melinda Gates Foundation. YouTube was cited in the study as one of many alternate avenues to which high school graduates turn for learning outside college. ASU appears to have taken that observation as a motivating factor in creating its new on-ramp to college.
Historically, online higher education has largely succeeded in adding convenience for those with little time, but it has been less successful in creating enjoyable student experiences, according to Garrett.
"The initial videos look really engaging, with the right tone and nice multimedia. You get drawn in," Garrett said of ASU's current initiative. "But how much of that is just that veneer?" When a student transitions from watching free, engaging videos to a conventional college course, they may experience a disconnect.
"Students can feel [online college] isn't the super-fun experience that they started with," Garrett said. "It can feel much more like dull, hard work."
The world turns to YouTube to learn, according to Katie Kurtz, managing director and global head of learning at YouTube. "Of our over two billion monthly logged-in users, nearly all of them report using the platform for knowledge and information."
But a YouTuber's conception of "knowledge and learning" on the platform may differ from a college student's conception of "knowledge and learning" in the presence of online college assessment and learning verification. Students on the margins who aspire to earn degrees sometimes find that general education, major and elective requirements can be a "slog," which contributes to high dropout rates, according to Garrett.
Arizona State knows this from experience. Its partnership with edX that launched in 2015, known as Global Freshman Academy, offered for-credit massive open online courses. That experiment, which enrolled hundreds of thousands of students in free online courses and a minuscule number who paid to receive college credit, never lived up to the hype.
But the pandemic has changed student perceptions of online education. National online universities have experienced a surge in young undergraduates attending college fully online, which correlates with a recent national survey indicating that the number of high school juniors and seniors planning to attend fully online colleges has more than doubled since before the pandemic.
"Maybe that's a reason to monitor [ASU's new partnership] carefully," said Sean Gallagher, executive professor of educational policy at Northeastern University. "Some of these video courses for younger college students haven't succeeded in the past. But are there new, emerging learning preferences that may have a better market now? The history of these types of initiatives seems to show that it can be difficult to get students coming right out of high school to be interested in online [college] and to succeed in online learning."
Institutions like Arizona State that offer enhanced opportunities for students to earn low-cost, transferable credit are often following through on important institutional missions that also serve the public good. But colleges that find themselves on the receiving end of transfer credit requests sometimes have reservations when for-profit companies are involved. ASU has addressed that perennial concern in its current initiative by including its faculty in course development. That way, credit is awarded on an Arizona State transcript and is expected to transfer to any college that accepts its credit.
Besides, low-bar, easy-entry college programs sometimes serve students in ways beyond college credit. When Western Governors University sought to improve its graduation rates, it grew more selective by turning away students who appeared less likely to complete a degree. So as not to close the door on such students completely, it referred them to StraighterLine, an unaccredited online course provider that does not offer degrees. When the university later reviewed its approach, it had admitted 94 percent of students who completed at least two StraighterLine courses, and year-to-year retention rates for StraighterLine course completers at Western Governors topped 90 percent.
This kind of on-ramp to college, which is at the heart of the ASU–YouTube–Crash Course partnership, may appease other colleges that only want to accept transfer credit from accredited universities. Also, the new pathway may bolster tentative learners' perceptions of their academic potential. That is, regardless of past academic experiences, students can bypass the college application hurdle and have an online learning experience that presents an opportunity to build confidence and earn college credit.
None of the student fees go to YouTube, according to Kurtz. The Crash Course channel, where some of the videos live, has advertising, but students may navigate the program via ASU's Study Hall channel on YouTube, which is ad-free. A YouTube spokesperson did not answer a question about its business model in the arrangement.
"We're still in the early days of the growth of these types of models, even though it has been about 20 years of online course experimentation," Gallagher said. Two decades, after all, is only a fraction of the centuries of growth higher education has already logged.
In the United States, higher education has developed as a fragmented industry, unlike the landscape of online video-sharing platforms.
"No one in higher ed has even 1 percent market share," Garrett said. "You don't have a big, dominant provider like a YouTube. If you want to look up a how-to video, where do you go? You go to YouTube. You don't typically think about any alternatives."
Without sizable market share, colleges have had difficulty justifying exorbitant up-front costs of producing and updating highly engaging multimedia content across multiple courses and programs. By broadcasting highly engaging content, YouTube may help ASU attract students to the free component of its new initiative or to the $25 component through which they can participate in an ASU online course. The trajectory beyond that is undetermined.
"If ASU can avoid the tension between that initial great experience and then a more ordinary online course experience, then that would be a breakthrough," Garrett said.
Breakthroughs are rarely simple. Costs associated with meaningful faculty-student interactions can be high. The same is true about retention efforts. Some of those efforts may be automated, but even automation has cost implications. Institutions may save money when delivering education at scale, but enrollment numbers in new programs can be challenging to predict. Nonetheless, Crash Course, with its accessible, engaging educational videos that incorporate storytelling, is a promising partner.
"Online college has been convenient but not super engaging. Or we've had massive interest in free online, but then once you make people pay or do any work, the interest drops off massively," Garrett said. "That's the square we're trying to circle here. How do you avoid these disappointments? Can we have it all? Can we have convenience and low price but also super engaging, great retention and great learning?"