You have /5 articles left.
Sign up for a free account or log in.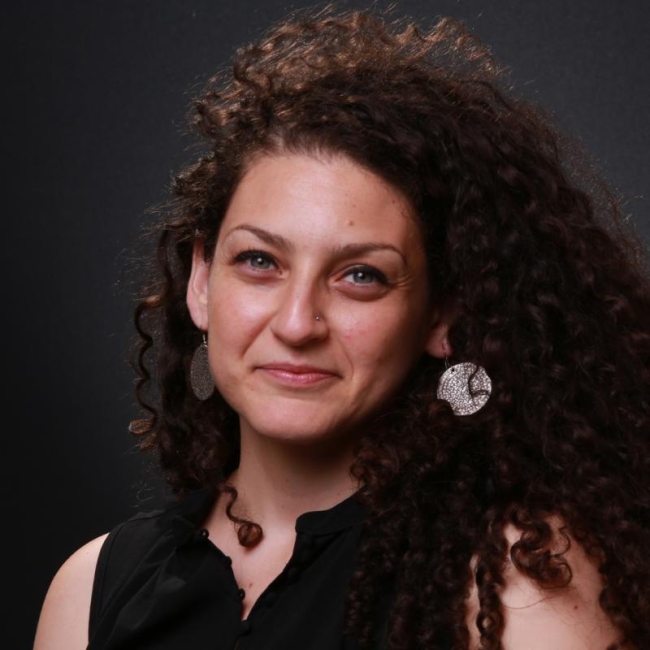 George Washington University
Jewish students at George Washington University and a pro-Israel group are accusing a diversity course teacher of antisemitism, and she has responded by saying they are anti-Arab and racist, in yet another college controversy fed by the Israel-Palestine conflict.
And, in what the professor, Lara Sheehi, calls a purposeful conflation, the controversy involves the argument over whether, and to what extent, criticisms of Israel or Zionism are antisemitic.
StandWithUs filed a complaint last month with the U.S. Education Department's Office for Civil Rights regarding Sheehi, an assistant professor of clinical psychology and co-author of the book Psychoanalysis Under Occupation: Practicing Resistance in Palestine.
Sheehi wrote Friday that George Washington "colluded with StandWithUs' misrepresentation of my classroom by being silent about a number of key issues of which they are well aware and about which they have supporting documentation that could have been used to publicly dispel these allegations."
The university didn't provide interviews Friday, instead sending statements on the matter.
"We have learned recently from media reports that an advocacy organization has submitted a letter to the U.S. Department of Education Office [for] Civil Rights," President Mark S. Wrighton wrote in a Jan. 13 statement.
"In such matters, it is critical to thoroughly examine all information from the individuals involved. We are committed to conducting such a thorough examination through an investigation by a third party," Wrighton wrote. "As such, it is not prudent at this time to comment on specific allegations. However, I want to be clear that we reaffirm that the George Washington University strongly condemns antisemitism and hatred, discrimination and bias in all forms."
"The university also recognizes and supports academic freedom, and the right of all members of our community to speak out on issues of public concern, understanding that they are not speaking on behalf of the university," he wrote.
The complaint, filed on behalf of an unclear number of Jewish and Israeli students in a required Professional Psychology Program diversity course that Sheehi teaches, uses the language of diversity to accuse the professor of a double standard.
"In a class designed to educate future therapists about different identities and sensitize the students to bias experienced by those identities, Dr. Sheehi singled out the Jewish students and deprived only them of an opportunity she afforded all other students—defining their own identity and what it means to experience discrimination based on that identity," the complaint says.
On Aug. 29, the first day of class, Sheehi told a student, "It's not your fault you were born in Israel," the complaint states.
On Sept. 30, during the Jewish High Holidays, a guest lecturer invited by Sheehi to campus "demonized Israel," "noted that appropriate resistance includes throwing stones" and "lionized" a 13-year-old Palestinian who participated in the stabbing of a 13-year-old Jew, according to StandWithUs.
On Oct. 3, the complaint says, Jewish students confronted Sheehi in class about that lecture. The complaint doesn't name the students.
"[A student] noted that one of the books that the cohort had read said that it is important to understand that when people of color explain that an issue is about race, it is about race," the complaint says. "The student requested that the same courtesy be extended to all groups when they say they have experienced harassment and discrimination. She asked the class to accept with equal validity claims by Jews who describe their experiences of Jew-hatred."
"The student said she felt unsafe in a program that would invite a speaker who endorsed violence against Israeli civilians and who, therefore, may celebrate the murder of her Israeli relatives," the complaint says. "In response, [during the class] Professor Sheehi called the student's comment a 'damaging Islamophobic anti-Palestinian' comment and added that 'a stone is nothing compared to an army.'"
The complaint says Sheehi eventually retaliated against the students with discipline after they reported her to administrators.
The Education Department didn't respond Friday when questioned about the status of the complaint.
Sheehi didn't respond to requests for comment, but she published a lengthy statement Friday on CounterPunch. She said the complaint failed to mention that the Oct. 3 lecture wasn't mandatory and that her diversity course doesn't count toward students' grade point average. She said no student got less than an A.
"If StandWithUs were to release what I believe is a recording of a clinical psychology class discussion taken without consent of me or any other student, the transcript would reveal that I absolutely and categorically agree that antisemitism is undeniably real," Sheehi writes.
"Despite an alarming level of anti-Black and anti-Arab racism that was sadly articulated by these students that day, I (and other cohort members) made countless efforts to 'call-in' (and not shame) students who voiced their concern," she wrote.
Sheehi said a student eventually said of the lecturer that "I am certain that she would readily dance on the grave of my seven-year-old niece." Sheehi also said there was a comment "insinuating" the lecturer was a "terrorist."
"I similarly remained patient and understanding even when the voluntary brown bag [lecture] was likened to 'a talk that would discuss how Black men commit crimes,'" she writes.
"While pro-Israel activists allege that carefully documenting the ways in which StandWithUs intentionally defames scholars, activists and students evokes age-old antisemitic tropes about Jewish conspiracies, the organization's stated political intention, and the playbook it uses to whip up right-wing social media to intimidate and harass scholars is not a conspiracy," Sheehi writes. "One only need look at its stated mission to see that it is a shameless fringe political activist group prosecuting a right-wing pro-Israel agenda."
"I have been targeted specifically because I am an Arab woman whose scholarship and activism advocates for Palestinians and, in the process, critiques Israeli settler-colonial Apartheid," she writes.
"I went out of my way to explicitly distinguish between political Zionism (a political ideology and movement attached to a national state project) and spiritual Zionism (a religious movement within Judaism that has looked to Palestine as a locality for spiritual renewal while making no political claims to the land)," she writes.
As for retaliation, Sheehi writes "'remediation' was initiated after a semester-long, multitiered and extensively deliberated process because these students were disruptive, yelled at and berated a professor twice, and used explicitly pejorative, demeaning, inflammatory and racist language against Black people and Arabs."
Roz Rothstein, co-founder and CEO of StandWithUs, said in an email that "attempts by some, including Dr. Sheehi herself, to rebrand this situation as a mere political disagreement, only compound and exacerbate the problem in an effort to divert attention from the very real antisemitic conduct experienced by these Jewish students."
The Middle East Studies Association of North America is defending Sheehi. Zachary Lockman, chairman of the part of the association's Academic Freedom Committee that deals with North America, expressed concern about calling all criticism of Israel antisemitism.
"If you label everything antisemitism, then you're watering down," Lockman said. "And you have to make sure antisemitism gets called out, but things that are not antisemitism don't get labeled such because people don't want to hear them."
"Of course, Jews disagree about Israel, they disagree about Zionism," he said.
Outside of what Sheehi allegedly said in the classroom, the complaint, redacting profanity, says she has tweeted the following: "Israelis are so f****ing racist," "Israelis can and will be cruel," "Zionists are unhinged," "you can't be a Zionist and also a feminist," "F*** Zionism, Zionists …" "F*** every person who is not yet an anti-Zionist" and "Zionists are so far up their own a****."
Sheehi's statement doesn't deny the tweets. She recounts growing up in Lebanon, where "I became inured to Israeli war planes breaking the sound barrier as I played outside as a child, later when I went to school, and as I became politically active in college."
"Eventually, my family and I were evacuated from Lebanon, an inauspicious departure for graduate school with 10 kilos of belongings that I had deemed 'most important' as we fled," she writes.
She also recounts being detained and questioned about a research project in Palestine.
"A male Israeli agent, acting as representative of the State—hence my use of blanket 'Israeli'—specifically threatened to hit me if I did not sit down," and another threatened to send her to Lebanon to be "raped and beaten by Hizbullah," she wrote.
"My anger, in those tweets, and in what fuels my liberatory fire, is justified," she writes. "My anger at an Israeli who threatens to have me raped and beaten angers me. My anger towards an Israeli male who threatens to hit me if I do not listen angers me. My anger against an occupying army and occupying state that has stolen so much from me, my people and my Palestinian siblings is not contextless, capricious or religiously based. It is a political anger."