You have /5 articles left.
Sign up for a free account or log in.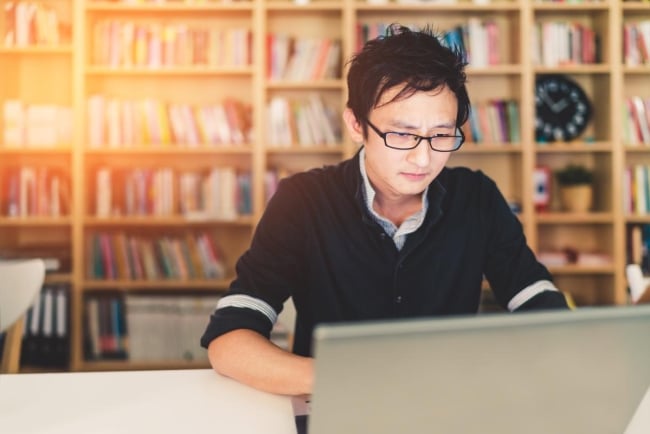 Sushiman/iStock/Getty Images
China's Ministry of Education will no longer recognize online degrees from overseas colleges, per a Jan. 28 statement from the Service Center for Scholarly Exchange in Beijing. The announcement, which arrived without notice and was effective immediately, impacts Chinese students enrolled at foreign colleges who had been studying online in their home country. These affected students are now scrambling to make travel arrangements to attend their overseas institutions in person or are in search of exemptions.
Some students, educators and analysts welcomed the news as an opportunity to open more in-person international exchanges. But others worry that the Chinese government's understanding of online education lacks nuance.
The news came on the heels of the country's recent reversal of its strict zero-COVID policies. For over two years during the COVID-19 pandemic, Chinese students had been permitted to enroll in online international degree programs on a temporary basis.
"At present, the borders of major study destinations have been opened, and institutions outside the country have fully resumed offline teaching," the center wrote in the statement (translation provided by Google Translate). The action was necessary to "maintain educational equity," according to the statement.
Before the pandemic, the Chinese Ministry of Education had "never" recognized online distance learning in place of study abroad programs, and these programs will "never be recognized in the long run," according to Jon Santangelo, a spokesperson for the Beijing Overseas Study Service Association and China Alliance, who provided a translation of a statement released by Chinese secretary general Chenxing Sang.
"China is a very big market—not just in terms of international students coming to the U.S. but also in opportunities for U.S. universities to provide online degrees in China," Jenny J. Lee, professor of educational policy studies and practice at the University of Arizona, said. "They want to better regulate the quality of education that's being delivered."
Missing Nuance
The Chinese government has justified its ban on international online programs as necessary to ensure quality.
"Some agencies defrauded students with distance-learning programs that were packaged as Ministry of Education–recognized, foreign degree programs," Sang wrote in the translated statement. "Students should take their courses on-site in light of the announcement, or their diploma will not be recognized. If students are admitted through traditional programs but complete their coursework online, they should switch to on-site learning as soon as possible."
The government's focus on purging bad actors from its higher ed landscape is reasonable, according to analysts, though many would like to see more nuance in the ministry's distinction between in-person and online courses.
"If you say, 'You absolutely cannot participate in any online experience at a U.S. university,' that's actually compromising quality," said Brad Farnsworth, principal of Fox Hollow Advisory, which advises higher education institutions on international strategy. "There are instances where you may actually want to be online." Earlier, Farnsworth served as vice president for global engagement at the American Council on Education. Reputable U.S. institutions hold their online and face-to-face courses and degree programs to the same standards, he said.
Philip Altbach, research professor at the Boston College Center for International Higher Education, speculated about the impact of the ban within China.
"This may be an effort to flush some nonprestigious online universities out of the market or to convince Chinese students that they can do just as well at a home university," Altbach said. "But there are problems, as always, with the way the Chinese authorities do things."
Scrambling Students
On Jan. 28, the inbox of Amanda White, associate professor of accounting at the University of Technology Sydney in Australia, was flooded. Her online Chinese students sought assistance in making sense of the news. With classes set to begin in weeks, White was eager to help. In an apparent acknowledgment that her students were not the only ones with questions, the Chinese government released an additional statement the following day—on Jan. 29—with answers to frequently asked questions about the development.
"I rely on—with hope—the adequacy of Google Translate," White said of her efforts to parse the language in the Jan. 29 statement. At first, she wondered whether her university needed to respond on behalf of the students. But she soon learned that "the onus is on the student, who must gather all their evidence and apply for an exemption."
Beginning in the spring 2023 semester in the Northern Hemisphere—which is the autumn semester in the Southern Hemisphere—the center will no longer provide accreditation services for foreign online diplomas. Students who are unable to secure an in-person spot at their overseas college, those who are in their last semester of a degree program and those whose online colleges are in Ukraine or Russia, given the war, may apply for exemptions, according to the memo.
Many of White's students are eager to return in person, so White is working to open new sections of face-to-face courses.
"Many have commented that learning online, especially not in their native language, is more difficult than when they're not immersed in culture and language," White said.
But some who are eager to attend in person remain uncertain about their plans. Securing affordable flights for specific dates on short notice has been difficult. Sydney's rental housing market is also tight. And arranging interviews for required student visas takes time, White said.
Meanwhile, students who have applied for exemptions await news of their requests, which will be considered on a case-by-case basis.
Changing Times
The United States has long been a top destination for Chinese students seeking to study abroad. Before the pandemic, in the 2019–20 academic year, more than 370,000 Chinese students studied in the United States, according to Open Doors, a U.S. State Department data portal. That number sank, due in part to pandemic travel restrictions, to approximately 317,000 students in the 2020–21 academic year. Then it sank again to approximately 290,000 students in 2021–22.
At the same time, the United States has faced increasing competition, including from Australia, as a destination for Chinese college students. In recent years, Australia experienced similar declines in the number of Chinese students who headed Down Under for higher education. But the proportion of Chinese students studying in Australia relative to the size of Australia's population (approximately 116,000 Chinese students among 26,290,000 Australians) is more robust than the analogous proportion for the United States (approximately 317,000 Chinese students among 334,000,000 Americans).
"The criticism of the U.S. is relentless in the Chinese media, and Chinese families are thinking whether the U.S. really is the best place to go," Farnsworth said. Inside Higher Ed reached out to several U.S. colleges to inquire about their experiences in this regard, but none were able to respond before the deadline.
China's ban on online overseas colleges takes place amid rising geopolitical tensions with the United States. The tension flared recently when a Chinese balloon entered U.S. airspace, prompting the United States to shoot it down on concerns that it was intended to surveil.
International education exchanges, whether in person or online, have often sought to foster ties between countries, even when relations are frayed. In this sense, limiting exchange programs, especially in this Zoom-enabled, balloon-shooting era, concerns some.
"I'm worried that China will put 'closing cooperation with the U.S. in higher education' on a decoupling agenda, which would be terrible for both countries," Farnsworth said.