You have /5 articles left.
Sign up for a free account or log in.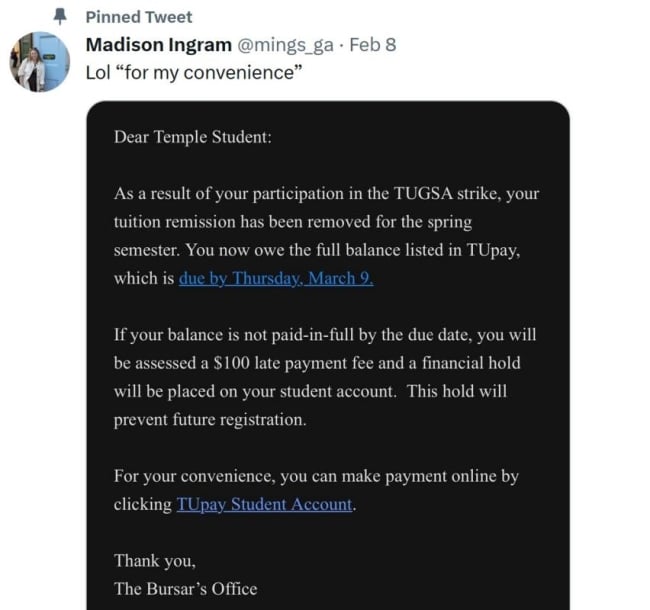 Temple University has cut off striking graduate student workers' health coverage and is demanding they pay tuition by March 9.
"The withdrawal of a tuition waiver is unprecedented," wrote Andrew Crook, an American Federation of Teachers spokesman, in an email.
Temple said its records show that more than 80 percent of the graduate student union members weren't striking as of Thursday—the day after it emailed the demand to pay tuition. The teaching and research assistants' walkout began Jan. 31.
"We definitely have at least twice as many people as what admins believe," said Matt Ford, a member of the negotiating team for Temple University Graduate Students' Association, or TUGSA, which is affiliated with the American Federation of Teachers. TUGSA represents roughly 700 workers.
"We feel good about where we're at," Ford said, "mainly because people are joining every day—to the point that we're having trouble keeping up—including in departments and colleges where, you know, we don't traditionally have as much union participation."
Temple spokesman Steve Orbanek wrote in an email that "TUGSA noted that the number of TUGSA members who continue to work is at more than 60 percent. Regardless of whose numbers you rely on, the objective evidence is that the vast majority of TUGSA members do not support this strike."
Ford said TUGSA is under the authority of the Pennsylvania Labor Relations Board, not the National Labor Relations Board. He said that, alongside issues such as increasing the number of parental leave days, the strike is about pay.
"Over the last few years, it's just like the cost of living has gone up, but our pay hasn't," he said.
"A lot of other schools have given stipend or wage increases to their graduate student workers, and Temple hasn't, and our members know that, and they're very aware of that fact," he said. "And it's schools in the area—it's schools all across the country."
A Temple email that spread Wednesday on Twitter said, "Dear Temple Student: As a result of your participation in the TUGSA strike, your tuition remission has been removed for the spring semester."
Orbanek wrote to Inside Higher Ed, "In communications with TUGSA members dating back to the Fall, university representatives have been clear and repeatedly stated that the loss of tuition remission and subsidized health care payments would occur should they choose to strike." He said the withdrawn health-care benefit pays for graduate students' premiums.
Regarding the demand to pay tuition, Ford said, "Ultimately, you know, this is a choice that Temple is making. They're under no obligation to do this. We see it as unnecessary and needlessly cruel that they've made this decision."
"They cut off people's health care, and there's been people who have missed prescriptions," he said.
In a statement, Randi Weingarten, president of the American Federation of Teachers, called the benefit cuts "a slap in the face to the Temple grads and all of the work they do to serve their students. The AFT stands in solidarity with TUGSA as they continue to fight for a living wage and a fair contract."
American Association of University Professors president Irene Mulvey also issued a statement supporting TUGSA.
"The vindictive act of cutting graduate student health care and tuition benefits rather than simply sitting down at the table to negotiate is a shameful tactic meant to break the will of the hard-working graduate students whose contributions make Temple University the premier university it is," Mulvey said. "The fact that this cruel tactic unjustly punishes low-income students simply trying to get an education is reprehensible."
Orbanek wrote that "the union is demanding 50 percent pay increases and free health coverage for families in addition to other benefit increases. As previously noted, their own health care coverage is provided free of charge."
"Our only proposal has been to increase TUGSA members' pay," he wrote. "In addition, we've added proposals that increase family and bereavement leave during the negotiating process in response to their proposals."