You have /5 articles left.
Sign up for a free account or log in.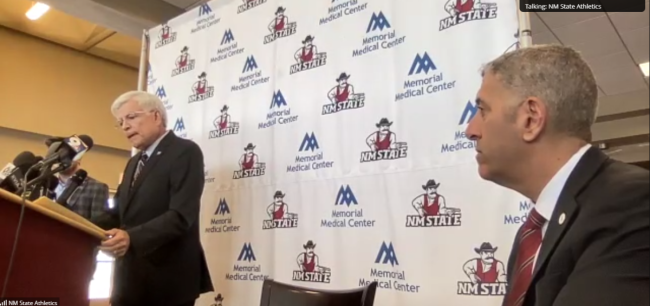 After suspending its men's basketball program last week and firing the team's head coach amid allegations of repeated sexual hazing of a player by teammates, New Mexico State University's top administrator said an internal investigation has started and an outside review will be launched.
The university's Office of Institutional Equity, which investigates Title IX violation complaints and reports of sexual misconduct, along with campus police, and the university's Dean of Students Office are "among the groups working on this particular investigation" of the players' conduct, a university spokesman said in an email.
Chancellor Dan Arvizu said during a press conference Wednesday that the university will also seek out an "independent" review to examine university processes.
He said questions about how and why the hazing occurred are being asked of campus officials charged with safeguarding students, and that those questions extend beyond the athletic department.
"There's obviously responsibilities that go into the athletic department. There are also responsibilities in other functions of our institution that relate to student safety and privacy," Arvizu said. "We're examining all of those processes to ensure that even where things might be legally sufficient, maybe they weren't adequate."
Arvizu defended the institution's top athletics official, Mario Moccia.
The only person fired immediately in the wake of the allegations was first-year head basketball coach Greg Heiar, who was let go Tuesday after the university suspended the basketball program indefinitely Feb. 10 and placed the coaching staff on paid administrative leave. The following day, the university announced the suspension would extend for the rest of the current season. Moccia said Wednesday that the plan is for men's basketball to return to the courts next season.
"I regret the outcome," Moccia said when asked whether he regretted bringing on Heiar to lead the men's basketball program. "But more, I regret what's happened to the victim."
Jamie Bronstein, a history professor and vice chair of the university's Faculty Senate, criticized the institution for caring too much about its image at the expense of other concerns.
"Speaking only for myself, I think there are more people implicated in this issue than just the head coach, and I wish the habitual posture of the university were to be transparent about problems instead of immediately moving into public relations mode," Bronstein said in an email.
She said faculty members were told that mental health counseling services would be made available to students who want help.
Arvizu and Moccia did not share details of the alleged hazing that Arvizu denounced as a "culture of bad behavior" within the men's basketball program, which had been riding a wave of success with four NCAA Tournament appearances in the last six years.
But the good times did not extend even into the first months of Heiar's short run as the head coach. A New Mexico State player in November fatally shot a University of New Mexico student in the early morning hours of a day when a game had been scheduled between New Mexico State and the University of New Mexico. State police said both the player, Mike Peake, and the University of New Mexico student were shot. Peake sustained a leg wound. No criminal charges have been filed against Peake, who was suspended from the team. Three other team members who the university said arrived at the scene after the shooting were suspended for a Dec. 7 game. The university in December announced the hiring of a law firm to conduct an external review of the events and the university's response to the shooting.
A campus police report on the recent hazing incident filed Feb. 10 described an unknown player who provided details about instances of spanking and touching of a player's scrotum, which had been going on since about July or August of last year.
"He stated that the most recent incident occurred on Monday February 6th 2023 inside the basketball locker room. He stated that the 3 of the previous named players held him down with him facing down, removed his clothing exposing his buttocks and began to 'slap his ass,'" the report states, also noting that the player "advised that this has been an ongoing" issue both at home and away games, happening "in front of the whole team and that no one intervened."
The report also noted allegations that another player possibly had been subjected to similar treatment.
The names of the reported victim or victims have not been released, nor have the names of any players accused of hazing.
Arvizu denied any prior knowledge about hazing in the men's basketball program and said that Moccia "has been extremely transparent with me about all things that he knew when he knew them."
But Arvizu said his not knowing about the hazing also raised questions.
"It's that process that has given me pause to say, why not?" Arvizu said.
He went on to detail what he described as a "deficiency" when it comes to complaints like those filed with an institution's Title IX office, though it wasn't clear if Arvizu was referring to the specific hazing alleged to have occurred within the men's basketball program.
In a Title IX case, "when they are not able to complete their process by whatever, for whatever reason, students don't respond or whatever, then they don't report" to his office, Arvizu said.
"That's a deficiency," he said. "They don't let me know, 'Hey, there's a concern in some particular aspect of our institution that you need to, you may want to take a look at.'"
Arvizu's comment referred to privacy limitations on the sharing of information, a university spokesman, Justin Bannister, said in an email.
"To clarify the Chancellor's remarks—he understands that there are privacy provisions that are needed for Title IX investigations, but he feels it would be helpful for him to receive more information about certain allegations when they are made," Bannister said.
The police report noted that the player who came forward "wanted to remain anonymous and does not want to pursue criminal charges at this time."
It's not surprising that a victim of extreme locker room hazing would hesitate about coming forward, said Michael S. Carroll, a professor of sport management at Troy University in Alabama, who has written about hazing in college sports.
"If you read what allegedly happened in this case, it's embarrassing to admit as a college young man that's what happened to you," Carroll said. In general, "it really isn't until you get major hazing cases, where someone is really hurt or demeaned, that you see victims coming forward."
Moccia, New Mexico State's athletic director since 2015, spoke Wednesday about measures that were already in place to try to prevent hazing.
"At the beginning of each year, there's a full squad meeting with all of our student athletes where hazing is discussed," he said, adding that the campus also complies with an NCAA-mandated meeting for athletes to discuss sexual violence prevention, intervention and response. A handbook for student athletes also includes a section on hazing, Moccia said.
Carroll said that while it isn't clear what hazing-prevention measures are in place for athletes at most universities, the best message is one of zero tolerance.
That also involves establishing a "comprehensive definition" to explain, "Here's what hazing means," as well as setting up a system to report hazing complaints and making sure those complaints are taken seriously, Carroll said.
Examples can drive home the point, he said: "'This incident occurred at this school, and this happened as a result. I want you to think about your future at this university.'"
Brandon Larrañaga, 22, a student at New Mexico State, said he tried to attend as many of the team's home games as he could and went to about six this season.
He said he was disappointed about the allegations, which he said are "ultimately what becomes a reflection of our university from the outside looking in."
Larrañaga said he agreed with the decision to cancel the season and expects it will take a long time to rebuild the men's basketball program, but he said it's important that it's done right.
"I just hope the administration responsible for that rebuild really makes an effort and takes the time to ensure that someone is put in place for the team and the program that best reflects the community and the campus and all the university. There's a lot of people really invested in this program and have a lot of pride in the university," he said.