You have /5 articles left.
Sign up for a free account or log in.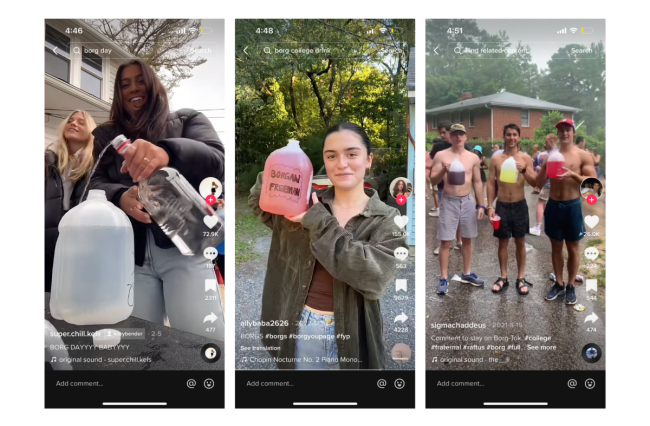 super.chill.kels, allybaba2626, sigmachaddeus/TikTok
The latest college drinking trend is as simple as it is potent: equal parts water and liquor, combined with some sort of sugary flavoring. And while some see the beverage as just another way to get drunk quickly, others consider the fad a safer alternative to drinking games of yore, such as Slap the Bag or Edward Fortyhands.
Called a borg—short for "blackout rage gallon"—the beverages have been around since at least early 2020, when the first recipes for the concoction were posted on the video-sharing app TikTok. But borgs have garnered increased attention in recent months as more and more TikTokers, often college students, post videos of themselves making or drinking them.
Borg parties, in which every attendee makes, names (something punny like Ruth Bader Ginsborg, U.S. Borger Patrol or Soulja Borg) and drinks a borg, are especially popular fodder for viral videos. The drinks are often consumed over the course of a daylong party or tailgate.
The recipe for a borg is simple. First, take a plastic gallon jug of water and drink (or pour out) half of it. Then, refill with liquor, typically vodka. The quantity can vary, but many recipes opt for a fifth—approximately 16 shots—of alcohol. Then, add flavoring, which can contain caffeine, like MiO Energy, or electrolytes, like Liquid I.V.
Despite its somewhat hostile name, the drink has actually gained attention as a potential harm-reduction tool, given that diluting the alcohol with water—and drinking it over the course of a day—ostensibly makes it safer. In addition, as TikTok user erin.monroe_ pointed out in a video with over 4.3 million views, because borgs are sealable containers that drinkers create themselves, they always know what they're drinking.
"We were drinking gin buckets and jungle juice out of plastic containers and trash cans in the basement of frat houses," she said in the video, noting that she is credentialed in substance use prevention in New York. "Gen Z said, 'No, we want better for ourselves.'"
Other proponents have applauded borgs for keeping drinkers hydrated and incorporating electrolytes—which some believe help prevent hangovers—and for being more sanitary than shared drinks and punches.
But not all substance use experts are excited about the trend.
Ashley Linden-Carmichael, an associate research professor at Penn State University's Edna Bennett Pierce Prevention Research Center, appreciates that individual portions and sealed containers can keep students safe from being drugged, but she believes that the harm of drinking 16 shots of liquor in one day generally outweighs the potential benefits of borgs.
"If someone is having 16 drinks in one sitting, even if it's mixed with water, that still counts as high-intensity or extreme drinking," she said, noting that binge drinking is defined for men as having five or more drinks in a sitting, and, for women, four or more. "Adding water to it is not necessarily making someone less intoxicated. It's a myth that drinking water or having caffeine or taking a cold shower lower your blood alcohol content."
She also noted that alcohol and caffeine can be a dangerous combination because caffeine, a stimulant, can mask the effects of the alcohol, making students feel more sober and causing them to take risks they otherwise wouldn't, such as drinking more or driving while intoxicated.
Christine Cockley, development coordinator for Moderation Management, a nonprofit that helps people address alcohol dependencies, noted that borgs aren't the only option for those who want to be in control of mixing and carrying their own drinks; individual bottles of beer or homemade cocktails mixed in a standard-size water bottle achieve the same goal.
"I think that is a little more mindful than drinking a full gallon," she said. "I see how people could make the argument that it's safer and more hygienic and you know what's in it, but at the same time, that's true about so many tools."
Student Perceptions
Students themselves seem to see borgs primarily as an efficient and tasty way to get drunk, with the water diluting the flavor of the vodka while also, they hope, helping stave off a hangover.
"You don't taste any alcohol. This is deadly," said one TikTok user, sipping a combination of Grey Goose vodka, water and MiO Energy in a borg tutorial video that has received more than 236,700 views.
One student currently attending a large public institution in the South, who asked to remain anonymous, said that although he doesn't drink alcohol, he does attend parties, and his impression of borgs is that they're mostly consumed by people who want to get extremely drunk.
"A lot of people have the feeling that they're not going to have a good time at a party unless they do a borg and they black out," the student said. "They'll walk around at a party, like, 'Borg, borg, you want to do a borg?'"
And while it is important to know exactly what is in your drink and how much you're drinking, the borg doesn't inherently help with that; some video tutorials show individuals pouring a partial bottle of vodka into their borg without measuring.
Cockley said that it should be obvious from the name "blackout rage gallon" that the students drinking borgs are more interested in getting wasted than the potential harm-reduction benefits of the trend.
Still, she believes borgs could be used to help college students be more mindful of their alcohol use, but that would have to be the drinkers' intention. For example, a student could consciously decide they want to have three drinks at a party, fill the bottle just those drinks and consume only the borg throughout the night.
"If it was more internal reflecting that helped them create a plan … I could see this being really helpful," she said.
Thus far, universities have been largely silent—or in the dark—about borgs. Inside Higher Ed reached out to 12 universities and university systems to ask whether the trend had reached their campus and, if so, how it was impacting students. Only one institution, the University of Wisconsin at Stevens Point, provided a response.
"Universities across the country have long been concerned about binge drinking among students and have worked to address this. The University of Wisconsin–Stevens Point is no exception," the university said in an emailed statement. "While familiar with the borg concept, UW–Stevens Point Dean of Students staff have no reported incidents of university policy violations involving this method."