You have /5 articles left.
Sign up for a free account or log in.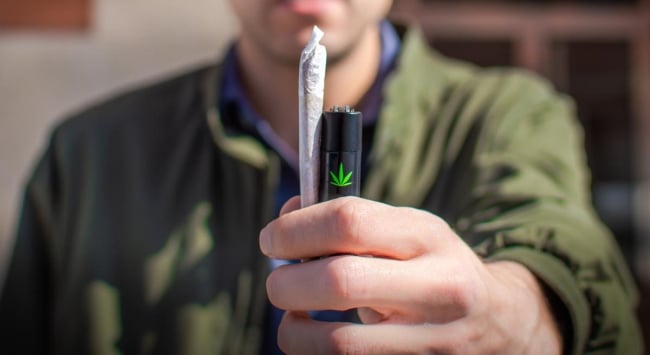 José Antonio Luque Olmedo/iStock/Getty Images
Opponents and proponents of legalizing marijuana have long debated whether prohibiting or decriminalizing it would lead to increased usage of the drug by young people. The jury may still be out on who's right, although some studies have shown that recreational cannabis use increased by 20 percent in states that legalized it.
Twenty-one states, along with Washington, D.C., and Guam, have legalized the sale, use and production of marijuana; 27 states have decriminalized it, and research data have shown an increase in cannabis use on college campuses across the country even as alcohol consumption has declined.
A recent study on the use of marijuana on college campuses in Texas found that nearly 40 percent of students use it and more than 26 percent have used it on their campuses. The study, which was conducted by a University of Texas at Austin doctoral student, used data from the UT Austin Tobacco Research Evaluation Team and surveyed 14,000 Texas college students at 19 institutions.
The study data showed that students who vape marijuana were 2.35 times more likely to use marijuana in a public location on campus outside of a dorm.
"My research has been focused on understanding the intersection between vaping and marijuana since vaping devices have become more common," said Caroline North, a doctoral student at UT Austin who conducted the study with Alexandra Loukas, associate dean for research and graduate studies.
The study's findings indicate that marijuana use on college campuses is common and the ability to vape marijuana may increase usage on college campuses, including in public locations such as classrooms and libraries.
North said colleges and universities often try to emphasize drug-use prohibitions on campus, but they don't try to create ways to prevent it.
"I was specifically interested in just understanding whether college students are using marijuana on campuses so that colleges, especially colleges in Texas, can understand what students are doing to better inform their efforts," North said.
Some institutions have taken steps to counter the spread of cannabis, such as those taken by St. Peter's University, a Jesuit institution in New Jersey, which filed a lawsuit last August to stop a marijuana dispensary and lounge from opening up near a new residence hall. Other colleges and universities, including Colorado State University at Pueblo, are creating courses and programs to train students for jobs in the cannabis industry and the science about the drug as more states legalize marijuana.
Syracuse University partnered with Green Flower 2020, a cannabis education company based in California, which helped create the university's curriculum in cannabis studies. Students can earn noncredit certificates in cannabis law and policy, business, health and medicine, and agriculture and horticulture.
John Schulenberg, a professor of developmental psychology at the University of Michigan and a research professor at its Institute for Social Research, said in a press release that the university's annual tracking of substance use among young adults ages 19 to 22 found an 8 percent rise nationally in continued and increasing daily use of marijuana in from 1980 to 2020. The data are included in the 2020 Monitoring the Future survey report.
"We know from our research and that of others that for college students, heavy marijuana use is associated with dropping out of college and poor academic performance," Schulenburg said in the release.
The survey found that daily marijuana use among college students increased in 2020, to a historic high in the past four decades of 44 percent.
"Daily marijuana use is a clear health risk," Schulenberg said in the release. "The brain is still developing in the early 20s, and as the Surgeon General and others have reported, the scientific evidence indicates that heavy marijuana use can be detrimental to cognitive functioning and mental health."
Research has shown that the more frequently college students use cannabis, the lower their GPA tends to be, the more they report skipping class and the longer it takes them to graduate. Schulenburg also said that almost one in 12 college students used marijuana on a daily basis as of 2020.
"The landscape of cannabis use is changing, so continued research is needed regarding the negative consequences of heavy use," he said in the press release.
There is limited modern research examining marijuana use behaviors that occur on college campuses, according to North, the University of Texas doctoral student. She said her study is intended to inform Texas college leaders of the extent of marijuana use on college campuses in the state so they can create preventive measures to help address it.
"No one has really tried to understand if students are using on college campuses and what they're using and where they're using them, which can really help educate campuses on their efforts at trying to minimize and prevent use among students," North said.