You have /5 articles left.
Sign up for a free account or log in.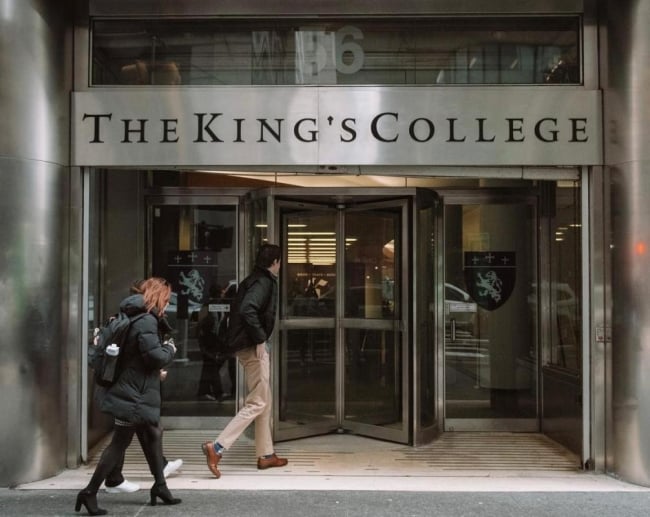 The King's College/Facebook
Facing financial pressures, the King's College made a recent appeal to donors for $2.6 million to meet immediate needs, warning that the small evangelical institution located in the heart of Wall Street is at risk of closure if it can't quickly fundraise its way out of a dire situation.
The deadline to raise the $2.6 million was Feb. 15. So far, the college has raised $178,000, according to an email sent to supporters earlier this week. While officials have described Feb. 15 as an artificial deadline to spur donors into action, the fundraising results thus far fall so short of what's required that the goal seems out of reach.
College officials have said the money is needed to meet basic needs such as rent and payroll.
Meanwhile, the King's College is exploring partnerships even as it courts donors, hoping a higher education savior will step up if the generosity of philanthropists doesn't come through.
Meeting Immediate Needs
In a virtual prayer meeting on Feb. 3, Interim President Stockwell Day—a former Canadian minister of finance—noted that the college wasn't close to hitting the $2.6 million mark but downplayed the possibility of a closure. Still, he noted, students are worried. And while college officials may not want to talk about an abrupt closure, students are having those conversations.
"Nobody knows the hour," Day said on Feb. 3, making a scriptural reference to uncertainty, "but I can tell you and you can tell students, parents and others, it is our every intent and goal to get to the end of the semester here. If anything changes, we absolutely will tell you, and yes, we are required to have a plan for a teach-out—that's actually a requirement of [our accreditor]."
The King's College did not provide a comment despite multiple requests from Inside Higher Ed. (The college also removed an Inside Higher Ed reporter from the Feb. 3 virtual prayer meeting, though the link was publicly available.)
Since then, information has dripped out in twice-monthly community updates—held after the college's regular Monday public readings of Scripture—and regular emails to alumni.
The news has not been promising. Fundraising is stagnant. And a potential partnership with another institution—one that Day referred to in the Feb. 3 meeting as a "significant university"—has not yet manifested due to the lack of unanimous support from that institution's governing board. Conversations with another possible partner, also unnamed, are ongoing.
"We haven't seen a proposal yet from them, but I can tell you, people are very interested," Day told the virtual prayer meeting attendees.
He also noted that the King's College accreditor, the Middle States Commission on Higher Education, requires a teach-out plan for students, which the college is working on.
"In order to be prepared for any scenario, King's has been working with a number of colleges and universities to develop preferred transfer agreements. These agreements would be put in place should we need them, and our academic affairs staff would assist students with this process," members of the college's executive committee wrote in a Feb. 14 email update to constituents.
The same email noted that the college intends to hold its graduation as scheduled on May 6, and "at this time, there is no plan to close the College before the end of the [spring] semester."
The Financial Squeeze
Higher education experts look at various metrics to determine a college's financial health: enrollment trends, reliance on tuition dollars, assets, expenditures and so on. But students at the King's College have another metric: free Chick-fil-A.
The college typically provides students with free food from Chick-fil-A at its weekly public reading of Scripture. But when recent budget cuts forced the college to temporarily pause those offerings, students were stunned, said Melinda Huspen, a junior at the King's College and managing editor of The Empire State Tribune, the student newspaper.
"What people always told each other is, 'We'll know when the college is really in trouble when they can't offer free Chick-fil-A anymore,'" Huspen told Inside Higher Ed. "And sure enough, in the budget cuts, one of the first things they said was they wouldn't be offering free Chick-fil-A anymore. And that's kind of when everybody went, 'Oh, no, this is real. This is really real.'"
(After a four-week absence, free Chick-fil-A recently returned, thanks to an anonymous donor, Huspen noted.)
Students living in residential housing also grew concerned when late-rent notices were slipped under their doors in early February—letters that college officials said should have been sent to the administration.
"The initial response, especially among the freshmen, was definitely panic," Huspen said, adding that the college has since assured the student body that they won't lose housing this semester.
Publicly available financial reports for the King's College suggest that fiscal issues at the institution have been simmering for years. The college has been running at a financial deficit since fiscal year 2019, with liabilities increasing and assets shrinking.
The volatility extends to the college's pricing structure. In January 2022, officials announced they were dropping annual tuition from $37,000 to $21,000 for students entering that fall. But once the semester rolled around, they reversed the tuition cut, raising the price for domestic students to $35,000 a year.
And most students at the King's College pay close to full tuition, according to the Department of Education's Integrated Postsecondary Education Data System, which shows that in the 2020–21 academic year, students at the lowest income levels paid an average annual tuition of $26,239, and those at the highest paid $37,153.
The college is currently trying to sell the lone building it owns, DeVos Hall, named for the DeVos family—including former education secretary Betsy DeVos. (The DeVos family donated millions to the institution, and the King's College has a tribute page to the late megadonor Richard DeVos, the former secretary's father-in-law, on its website.) Officials noted in the Feb. 3 meeting that an offer is on the table for the building, though they did not provide any specifics on the purchase amount or closing date.
The Donor Dilemma
The King's College has sent a frequent and consistent message to donors: without immediate financial support, it will be forced to close.
But the "donate now or we need to close the doors" appeal is a difficult one, said Bill Stanczykiewicz, director of the Fund Raising School at Indiana University's Lilly Family School of Philanthropy. "That type of fire alarm fundraising very often is not successful. And the reason is that donors can easily say, 'Well, what happens when this amount runs out? Are we just delaying the inevitable?' And to the credit of King's College, they do have a next step plan in place."
Day told campus constituents the college—which has fewer than 350 current students and 6,000 alumni—could raise the money if each graduate donated as little as $500.
In the past, the King's College attracted multimillion-dollar donations from big-name philanthropists. But some notable donors who sustained the institution appear to be no longer writing checks to the college. Both Richard DeVos and his wife, Helen DeVos, passed away in the past few years.
Then there's Bill Hwang, another megadonor who pumped $3.7 million into the King's College over the course of a decade through his Grace & Mercy Foundation, according to Bloomberg. While Hwang, a billionaire, made headlines over the years for his generous support of religious institutions, he's in the news for altogether different reasons these days—namely a financial scandal that rocked Wall Street, which led to him being charged with racketeering and fraud in 2022.
Now, as the King's College faces immediate needs and an uncertain future, its biggest donors are no longer in play, leaving the college scrambling to raise $2.6 million—an amount that is existential for the institution but "a nickel in the sofa cushion" of total charitable giving, Stanczykiewicz said, noting that Americans gave $485 billion to charity in 2021.
Though the college's needs are pressing, Stanczykiewicz said the institution has a number of benefits working in its favor, especially its unique mission as an evangelical university located in the heart of Wall Street. That, he said, gives the King's College a strong platform to fundraise from.
And while the money hasn't come in yet, Stanczykiewicz said there is still cause for hope.
"Candidly, on Wall Street, somebody could write a $2.6 million check out of their desk drawer. And maybe they're talking to some of those folks who can write a six- or seven-figure check," Stanczykiewicz said.